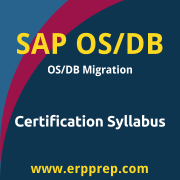 You can collect all the information about SAP OS/DB Migration Certification Exam (C_TADM70_21) from this page. The SAP BASIS certification is mainly targeted to those candidates who are from SAP NetWeaver & business consulting background and wants to build their career as a SAP OS/DB Migration consultant. The SAP BASIS Certification Exam verifies that the candidate possesses fundamental knowledge and proven skills in the area of SAP OS/DB Migration for SAP NetWeaver. This exam validates that the candidate has a good and overall understanding within this consultant profile, and can implement this knowledge practically in projects under guidance of an experienced consultant.
SAP OS/DB Migration Certification Details:
SAP OS/DB Migration Certification Exam Topics:
C_TADM70_21
Topic Areas

Topic Details, Courses, Books

Weighting

SAP System Migration

Clarify what is a homogeneous or heterogeneous system copy, which tools are available, what is the Going Live OS/DB Migration Check Service, and from where to get information about the migration procedure.

TADM70 (NW AS 7.52)

> 12%

Advanced Migration Techniques

Identify the Time critical steps in an R3LOAD / JLOAD based system copy. Describe the Methods/strategies to save time during system copy.

TADM70 (NW AS 7.52)

> 12%

Control and Data File Structure for System Copies

Explain the purpose, contents, and structure of the R3LOAD and JLOAD control and data files.

TADM70 (NW AS 7.52)

> 12%

SAP Migration Tools

Recognize the tools that are required to perform a SAP OS/DB migration and describe their functions.

TADM70 (NW AS 7.52)

8% - 12%

Technical Background and Troubleshooting

Describe how Data Classes are used to map tables to database storage units and how Data Classes are handled by R3LDCTL and R3LOAD. Explain the purpose of table DBDIFF, and describe how the R3LOAD/JLOAD data access works. Distinguish between the R3SZCHK behavior if the target database type is the same or different than the source database type.

TADM70 (NW AS 7.52)

8% - 12%

Special System Copy Procedures

Describe the scope of special system copy procedures. Describe the NZDT/MDS system copy method, and distinguish between the classic migration to Sap HAN and the database Migration option for SUM

TADM70 (NW AS 7.52)

8% - 12%

The System Migration Process

Describe the migration procedure and explain the steps required to migrate an ABAP and Java based system.

TADM70 (NW AS 7.52)

8% - 12%

Export and Import of System Copies

Evaluate the database-specific and non-specific options for performing SAP homogeneous or heterogeneous system copies (OS/DB Migrations).

TADM70 (NW AS 7.52)

8% - 12%
The SAP Education has created this certification exam for the assessment of SAP skills, such assessments are defined based on the understanding of SAP OS/DB Migration for SAP NetWeaver. The SAP offers certification for associate, professional, and master levels, they have defined this certification levels considering the candidate's actual experience and domain expertise. To ensure success in SAP OS/DB Migration Certification Exam (C_TADM70_21), SAP recommends combining education courses and hands-on experience to prepare for your certification exam as questions will test your ability to apply the knowledge you have gained in training and professional experience.