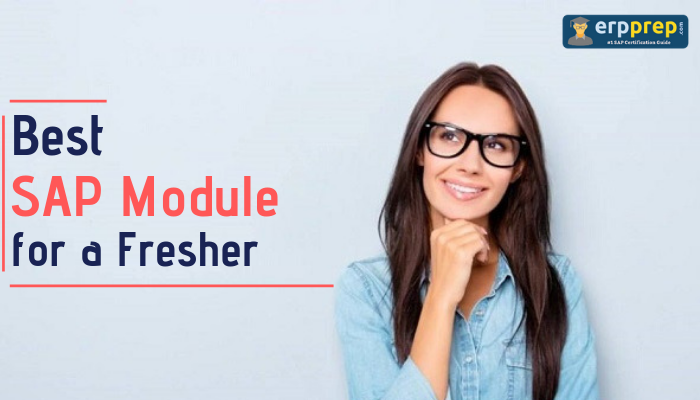 The SAP is an Enterprise Resource Planning solution (ERP) that allows a firm to control databases from a single unified system for different processes. SAP ERP systems offer 25 modules out of which these 6 (listed below) have the particular relevance and are chosen by most of the people especially freshers. Every module in SAP has its demand. SAP modules are divided into technical and functional modules
While Making a Choice for any Certification or Module, You should Consider three Aspects:
Career prospects in the select module

Academic background

Work experience

Career goals

Interest
Best SAP Module for a Fresher
1) SAP Materials Management (MM)
SAP material module deals with management, procession, and production of the material. System management carries four different types of procurement processes. Popular sub-constituents of SAP MM module are invoice verification, purchasing, inventory management; consumption-based planning, vendor master data, etc.
SAP MM Exam Details:
Job profiles:
SAP MM Functional Consultant

Purchase Executive

SAP Trainer

Team Leader
2) SAP Human Capital Management (HCM)
In an enterprise, HCM module takes hold on the data management and work process within the HR department. This module enables the experts, i.e., HR to evaluate performance, hiring, managing promotions, payroll compensations, etc. The management of details, and maintaining the flow of task are some essential functions that are to be carried out by a potent HR. SAP courses would be helpful to maintain this flow.
SAP HR Exam Details:
SAP HCM Functional Consultant

Project Manager SAP

SAP HR Functional Consultant

HR Operations Executive

SAP ABAP Hr Consultant
3) SAP Financial Accounting (FI)
SAP FI module, in an enterprise, deals with financial transactions. It is the most flexible and functional module which work well during the financial crisis. It functions well for reporting requirements. This module helps the team to administer data involved in business transactions. SAP FI combines with other SAP modules for better results.
SAP FI Exam Details:
Job profiles:
SAP FICO Functional Consultant

Accounts & Finance Executive

SAP FI Consultant

SAP FICO Trainer

SAP Finance Consultant
4) SAP Controlling (CO)
The controlling module supports the whole process by planning, monitoring and reporting business operations. It manages and organizes the budget for financial reporting. The involved process runs by a strategy of planning about outlays. It incorporates configuration and management of master data, which covers Operating Concern, Controlling Area, Profit Center, Profit Center Hierarchy, Cost Center, and Cost Center Hierarchy, etc.
SAP CO Exam Details:
Job profiles:
SAP Co Consultant

Lead

Team Leader

SAP FICO Consultant

Internal Auditor
5) SAP Production Planning (PP)
SAP PP module incorporates software designs for production planning and management. To accomplish the production procedure, it comprises transactions, system configuration, and master data. To deal with production management this module team up with product planning which involves cost, material requirements, distribution resource, sales, and operations master data planning, etc.
SAP PP Exam Details:
Job profile:
SAP PP QM Consultant

SAP PP Functional Consultant

SAP PM Consultant

SAP PS Consultant

Production Engineer
6) SAP Sales and Distribution (SD)
This module has a broad management range and deals with subject related to pricing, quotations, proposals, and other inquiries. It works effectively in inventory control and management. The respective module comprises shipping and Transportation, Transactions, System Configuration And Master Data, Credit Management, Sales Support, Sales Information, System Sales, etc.
SAP SD Exam Details:
Job Profiles:
SAP SD Consultant

Business Analyst
7) SAP Quality Management (QM)
SAP QM module helps in quality management in an organization. To touch the heights of success, this management module keeps a check on quality by different processes which take up a structured and functional approach of quality managing. This module unites audit management, control, inspection, organizing, production and procurement for sales.
SAP QM Exam Details:
Job Profile:
SAP PP QM Consultant

Software Engineer

Manager

Advisory Consultant

Application Consultant
SAP Certification is so elaborate that it cannot be covered in a lifetime. Even one certification requires enough time to reach a professional approach. You can go for SAP Courses to acquire the required skills. You can study Sap Course Online for basic knowledge.