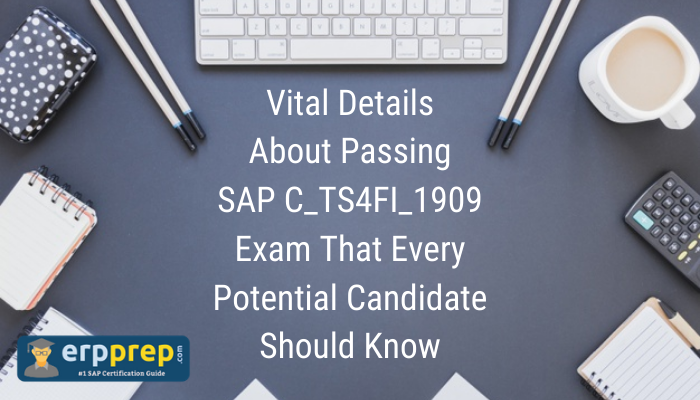 In the past few years, SAP certifications have gained immense popularity both among the college students and the IT professionals, and therefore earning SAP certification offers a significant boost to one'sone's career. To get the most out of the quick data processing and analytics of the SAP HANA database, S/4HANA Finance offers a modern User Experience (UX) through SAP Fiori software. SAP offers certification for finance professionals who want to become certified in SAP S/4HANA Finance. The qualification is referred to as the SAP S/4HANA Financial Accounting - C_TS4FI_1909 Certification.
Originally named SAP Simple Finance, it is quite easy compared to the full-featured Financial Account and Controlling (FI/CO) module of the SAP ERP suite.
What is SAP S/4HANA Financial Accounting C_TS4FI_1909 certification?
The SAP S/4HANA Finance Certification officially named the "Financial Accounting Associates (1909) Certification," demonstrated to the truth that an SAP consultant has gained a certain level of expertise with the tool. Being SAP certified indicates that a consultant can execute system-specific knowledge on a practice basis under the direction of an experienced consultant. The 1909 certification is considered as an entry-level certification. It helps a consultant to get familiar with financial accounting projects on SAP. The next step in the certification procedure is to obtain the certification entitled "SAP Certified Application Associate - SAP S/4HANA for Financial Accounting Associates (SAP S/4HANA 1909)."
Becoming certified requires passing an exam that confirms the applicant's basic knowledge and attested skills working with SAP S/4HANA Finance. The exam measures the applicant's knowledge of financial policies as they refer to the SAP S/4HANA Finance software package. These comprise "closing the books'' on a financial accounting period, general ledger accounting, payables and receivables, and accounting for assets. The exam also assays knowledge of SAP HANA, S/4HANA, and Fiori.
Preparing for the SAP C_TS4FI_1909 exam requires in-depth knowledge about the following topics:
Financial Closing

General Ledger Accounting

Accounts Payable & Accounts Receivable• Asset Accounting

Organizational Assignments and Process Integration

Overview and Deployment of SAP S/4HANA

SAP Financials Cross Topics

SAP HANA, SAP S/4HANA, & SAP Fiori
Who Should Obtain SAP S/4HANA Finance C_TS4FI_1909 Certification?
SAP S/4HANA Financial Accounting C_TS4FI_1909 certification is designed for professionals who desire to build a career or improve knowledge. This certification is best suited for the following professionals:
Support Consultant

Application Consultant

SAP FICO Consultant

Project Manager

SAP HANA Consultant

Chartered Accountants, CPAs, CMAs
Things to know before applying for SAP C_TS4FI_1909 Exam certification exam
There are definite things that you must know before you register for your exam. They are as follows:
Duration of the exam

Passing Score

Exam pattern

Sample questions (if they are available)

Topics to be included as per the syllabus of the exam

Areas of the subject

Essential training for the exam
How to Start Preparation for SAP C_TS4FI_1909 Certification Exam?
For many, the SAP C_TS4FI_1909 exam is not easy to take; this only goes to emphasize how important it is to prepare properly for the SAP certification exam. Here are our few tips for exam success.
Everyone Has a Special Way of Learning
Some people learn better through writing; some choose to listen, while others can learn from a combination of both. Below are the tips that will help in preparing for your SAP S/4HANA C_TS4FI_1909 exam, and you can pick the ones that suit you the most.
Online Study Groups
Online community groups on LinkedIn, Facebook, and other platforms can enable you to share with others and learn from their experiences. Online groups involve not only the exam applicants but also the ones who have successfully passed SAP certification exams. So, ask your doubts and learn through sharing.
Study Material
To start with, you will have to be prepared to study hard. The most suitable study material is the appropriate SAP course that can be found on the website certification, and in complement to the same, you will have to back the training up with a few months of a profound experience. The notes you get on the course stand out to be beneficial. Along with the official SAP course, there is much other content available to study for SAP certification exams.
SAP C_TS4FI_1909 Practice Tests
One of the best tips for the SAP C_TS4FI_1909 exam preparation is to practice, practice, and practice even more. It is always recommended that you become familiar with the syllabus or kind of questions that are going to be asked to appear in the exam. One way to do this is to take SAP S/4HANA C_TS4FI_1909 practice tests. The practice test is the last key here, and there is nothing better than practice tests in this consideration.
Benefits of Taking SAP C_TS4FI_1909 Practice Tests:
Measure your preparedness

Make familiar with the exam atmosphere.

Improve time management skills

Enhance your answering accuracy

Accelerate your revision

Stimulate your memory
SAP certification is Rewarding
While you might feel like you are missing the motivation to study more, know that great professional opportunities are just a few tests away. SAP certifications uplift your position amongst a group of applicants. Why do you say NO to a better-payed job and a better future?
Benefits of Passing SAP SAP S/4HANA Financial Accounting Certification Exam:
You'llYou'll be certified by a leading vendor - SAP

Access to jobs

Attractive salary packages

An Edge among Other Candidates

Career Growth

Being SAP certified proves Your Dedication to Learn
Conclusion
We want that you to pass the SAP S/4HANA for Financial Accounting Associates (C_TS4FI_1909) Certification exam at the very first try. In this regard, the preparation tips discussed above, if followed precisely, will work as a supportive friend. So, be confident and pursue success!!