SAP certification relates to a range of credentials that demonstrate skills across the SAP landscape. There are three SAP certification levels, which applicants must achieve in order: Associate, Specialist, and Professional. All certifications demands passing one or more precise exams. SAP exam preparation requires both theoretical learning and extensive hands-on SAP experience.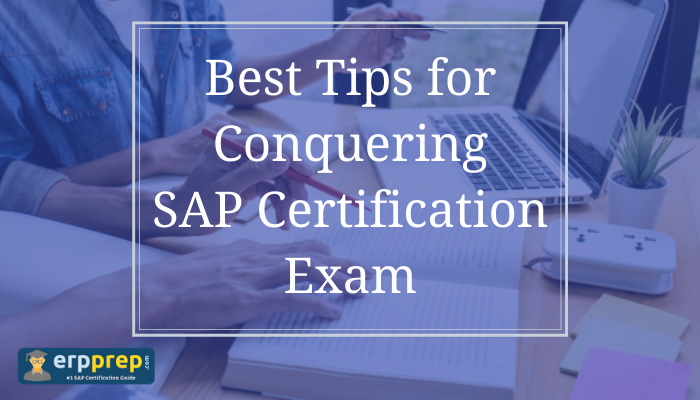 To prepare for any SAP Certification exam, SAP study materials are the best source. Learning from the SAP certification study materials is exactly the key to passing the exam. Moreover, it is fairly important to review all the suggested questions and practice well before the exam. The exams are commonly built around the book content.
Essential Tips to Successfully Pass the SAP Certification Exam
To make the SAP exam preparation easy, it is segregated exam guidance into two parts.
Preparation Phase (Pre-Exam)

During Exam
Pre Exam Preparation Tips for SAP Certification Exam
1) Use Assessment Questions from SAP certification exam materials
The best resources for SAP exam preparation are eBooks, SAP Study Guides, online videos, and practice tests. Moreover, SAP official site provides all the necessary information if you don't understand something. Furthermore, you can participate in an online forum or community, if required.
2) Study, Study & Study it All
There is a lot of content to study for the exam. Thus, you must spend a good deal of time to study all the topics of the SAP certification exam. It is not a kind of exam which you can pass the night before the exam. You should plan and start preparing for exam months before the scheduled exam date. A night before the exam, you should have a good sleep, so as to be thoroughly active and cool mind during the exam.
3) Take Practice Tests
To prepare for any SAP certification exam, nothing is better than performing practice tests. SAP practice tests will give you a distinct idea of the real exam. After each session pf the practice test, you can assess your performance and focus more on weak topics. Keep in mind, Practice tests should be in accordance with the same structure as in the SAP certification exam as well as they should have similar questions.
4) Don't Stress
Reach the exam center before half an hour of the scheduled time. If you appear for the SAP cloud-based exam, be ready soon. Being late is a major stress factor. So, eliminate as many extra stress factors as possible.
Tips to Help You During the SAP Exam
1) Mark Doubtful Questions
While you answer all SAP exam questions, there may be some which questions you are not sure about. Mark those questions and come to them later. This allows you to concentrate on a limited number of questions only instead of spending too much time in one question.
2) Have Confidence in Your First Choice of Answers
Research has revealed that your first selection of answers for a question is generally correct than that of the second choice. So cautiously read the question in the first attempt and entrust first is careful with coming back to questions and answers too many times.
Don't bother too much about time. In most exams, you'll be able to go over the questions two or three times.
3) Don't Rush
Most of the time, every part of a question is important, so go through the question carefully. This is to say, read the question twice to understand it. There is enough time, so don't rush.
SAP doesn't give marks for half a correct answer as it doesn't deduct too the marks for a wrong answer.
How to choose the Right Answers
1) Describe the Question in Your Own Words
Read the question many times, and make sure you understand the question by describing it in your own words. Then, see the answer options and read through all of them carefully. Even if it's a multiple-choice and you find the right answer, always read all given options.
2) Exclude the Answer that Apparently seems Incorrect to Lessen the Trouble
Some answers explicitly don't make sense or are certainly wrong. Normally one of the wrong answers stands out as wrong. Finding and eliminating it first will leave you with lesser options. Thus, better would be the possibility of choosing the right one.
3) Follow Reverse Method in True or False Category
There is a category where you required to select one correct out of two. (True or false type). Here if you cannot find the correct answer, follow the reverse method. This is to say, understand both options and try to identify which one does not go in synchronization with the question i.e., wrong. Finding the wrong one would definitely leave you with your correct answer.
4) Look out for the Differentiators in the Question
Questions might seem similar or might include the same topic. Though SAP evades having too many questions that overlap, it does happen. Look out for the differentiators in the question and answer options, and address them as new questions.
Conclusion
Gaining the knowledge to pass the SAP certification exam is crucial. SAP Certification is a precious tag in the job marketplace. It does confirm at least a specific level of knowledge. However, in the Information Technology field, particularly, innovation never stops. You must work hard all the time and stay updated. For the SAP certification exam preparation acquire knowledge from SAP study materials, take persistent practice tests, and continuous learning.