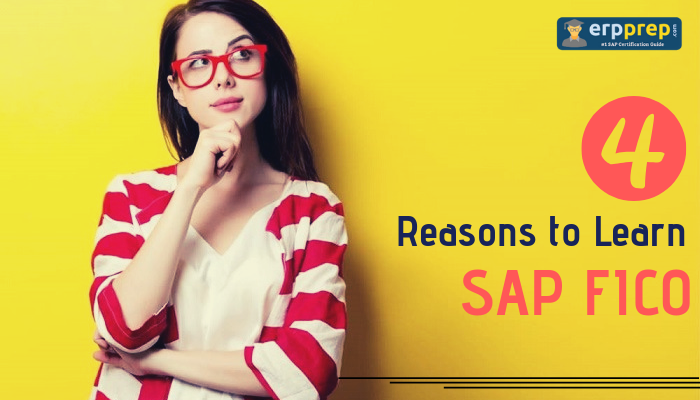 SAP is the largest software application provider for businesses the world over. When it comes to Enterprise Resource Planning (ERP), and its implementation, there is no name more well-known than that of SAP. There are various ways in which SAP has been providing enhancements in Management across business and IT domains. SAP FICO aspirants have plenty to learn and many tasks to accomplish. This article explains about SAP FICO and its various sub-modules.
SAP FICO is one of the essential functional modules in SAP ERP components which help the organization to manage all of its financial data. The primary purpose of SAP FICO is to support the organization to produce and handle all the financial statements for analysis and reporting and also assist with effective business planning and decision making. SAP FICO comprises of two modules, i.e., SAP Finance (FI) and SAP Controlling (CO), each of these modules are used to carry out specific financial processes. SAP FI module focuses on complete financial reporting and accounting while SAP CO emphasis on planning and monitoring costs. SAP FI and SAP CO were originally released as separate modules, but now these modules are integrated so strongly that most of the people are referring them as a single module.
SAP FI Module
SAP Financial accounting module is linked with the development of financial management ideas in the businesses. In every industry, finance is the most crucial part, which needs flawless management abilities. Presently, it is a difficult and challenging task to manage complete financial accounting manually. Thus, the SAP FI module has appeared as a popular module which is executed successfully in most of the organizations to carry out the financial and accounting processes smoothly. The complete set of SAP FICO module helps the organization to manage the financial requirements and accounting activities flawlessly. It enables to analyze the financial position of an organization in the real-time market. SAP FI modules comprise of the following components:
Account Receivable, General Ledgers, Asset Accounting Account Consolidation, and Accounts Payable
SAP Financial Accounting (FI) Exam Details
Exam Name: SAP Certified Application Associate - Financial Accounting with SAP ERP 6.0 EhP7
Exam Code: C_TFIN52_67
SAP FI Exam Cost: $500 (USD)
Duration: 180 mins
Number of Questions: 80
Passing Score: 60%
SAP FI Books: TFIN50, TFIN52, TERP20, TERP01
SAP FI Sample Questions: SAP FI Certification Sample Question
Recommended Practice: SAP FI Certification Practice Exam
SAP CO Module
SAP controlling, i.e., SAP CO is another module of SAP FICO. With the help of this module, every enterprise can supervise, maintain, justify, and plan various processes. Controlling module is directly connected with the financial accounting module because it helps to view and manage the associated costs. SAP CO comprises controlling and user and involves master data, configuration, and reporting. Masters data includes cost elements, cost centers, profit centers, internal orders, functional area, statistical vital figures and activity types, whereas cost elements consists of all the cost and revenue accounts, cost centers and profit centers include all the departmental components that manage cost and profit of a business, internal orders consists of all the essential events, etc. SAP CO implementation enables an organization to view the cost of data which is involved within internal management. With the help of this module, the organization can quickly view the financial reporting and manage records as well take the essential business decisions associated with the organization. Using the SAP FICO module, an organization can manage the reporting and information database according to the business requirements.
SAP Management Accounting (CO) Exam Details
Exam Name: SAP Certified Application Associate - Management Accounting with SAP ERP 6.0 EhP7
Exam Code: C_TFIN22_67
SAP CO Exam Cost: $500 (USD)
Duration: 180 mins
Number of Questions: 80
Passing Score: 56%
SAP CO Books: TFIN20, TFIN22, TERP01, SM001E
SAP CO Sample Questions: SAP CO Certification Sample Question
Recommended Practice: SAP CO Certification Practice Exam
Reasons to Learn SAP FICO
With the help of SAP FICO, Financial management is being advanced continuously in an organization. Currently, SAP FICO is evolving as one of the famous modules and thus provided an increase in the career opportunities for many aspirants. Well, there are other various reasons to learn SAP FICO.
1) Growing Importance of SAP FICO
Financial statements, master data, etc. can be migrated to SAP FICO system. SAP FICO also helps in well organizing the financial management systems which result in better record management and ease in the decision-making process. Managing modifications, product costing as well as production cost has become easy. Across processes, there is more activity based costing. For notable events, now organizations can keep track of costs where profitability and sales reports are being generated using internal or external measurement.
2) Status of Market Overview
The demand for FICO professional is not restricted to major cities; it is shared globally. Besides SCM experts, LE, and SAP BASIS the FICO is the most required SAP modules. In these areas, there are limited FICO professionals with strong commercial experience. There has been an emerging trend in the volume of SAP FICO work. SAP FICO professionals help the end user to distinguish the technical features of the module.
3) Most Demanding Module at Present
G/L Configuration, Accounts Payable (A/P), Bank Configuration, and Accounts Receivables (A/R) Configuration, Asset Configuration, Cost Center Configuration, Configuration concerning Analysis of Profitability, Configuration concerning Profit Center and so on. Classic G/L is assigned with an extension in the form of new G/L along new functionalities. The Data structure has been extended. Co and FI attain Real-time integration. For parallel accounting, non-leading ledgers are also furnished.
4) ERP FICO
It is quoted as ERP finance and control. It consists of a real-time function. If a new event occurs, it will update automatically. Earlier conventional systems did not provide the real-time analysis of a company's financial health, but now it is also possible using the ERP FICO. FICO module of ERP also meets the requirement of external reporting. It is a standard utility to direct the documents concerning multiple currencies, companies, and countries.
How to Become a Successful SAP FICO Consultant
Becoming an SAP FICO functional consultant is not a straightway process. To become a successful SAP FICO consultant, the candidates should know the complete summary of the SAP FICO module. In the beginning, the candidate should not expect much salary. The only reason for many to enter in this field is profitable incomes, but they may lose themselves in the pool of SAP resources. It is required for you to invest a lot of time and money before you could have chances to find a good job in SAP FICO domain. For the last few years consulting companies are searching for the experienced candidates who could come into projects immediately because they may face a high risk of recruiting an SAP fresher.
It takes more than six months to get into an entry-level position in a company as an SAP FICO consultant. If any candidate does not have any financial background, it is suggested that he/ she should take a few months to learn basic accounting process and accounting entries which support them to understand the process flow in an easy manner. Most of the companies wish to have an SAP FICO consultant with domain experience because they can understand the process better with SAP.
How to Become SAP FICO Consultant
1) A Candidate Should Undergo With the SAP FICO Training from SAP
SAP provide training in both the modules of SAP FICO, i.e., SAP FI and SAP CO. According to the candidate's requirements, they can learn any of these modules or both. At the end of the training, the aspirant can take the certification exams which will award you FI or CO certificates from SAP. These certificates are essential to get a job in the field of SAP.
2) Take Online Practice Tests
Try to attempt practice tests online. ERPPREP.COM is offering Best practice tests for SAP FICO certification. By taking the Practice test, one will be able to understand how much he is prepared for the actual exam. He can have a glimpse of real-time SAP FICO exam. You can also get to know whether you can complete the exam in time or You need to be quick while answering. You will be able to know the areas where improvements are needed.
3) Experience
A candidate with domain experience of three to five years can join the big IT companies such as Accenture, IBM, etc. Most of the companies want to have an experienced person rather than a fresher and then train them into their internal project to learn SAP FICO.