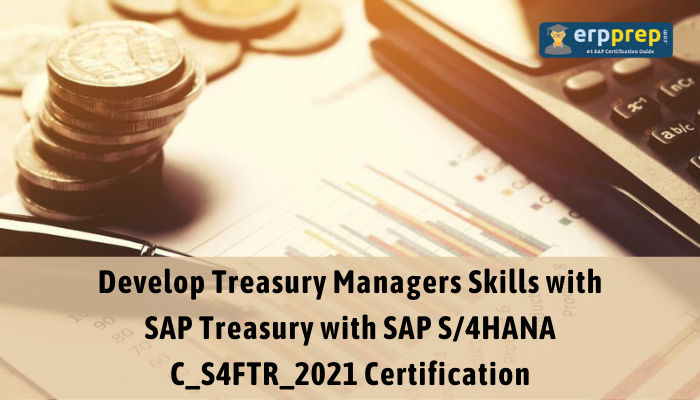 Managing cash well is important for businesses of all dimensions. Even the most profitable organizations can fail if there is not enough cash on hand to pay bills and fulfil other financial liabilities. Through treasury management, organizations are better qualified to monitor the amounts and timing of cash entry and exit. The SAP Certified Application Associate Treasury with SAP S/4HANA certification sets out the rules in the treasury profession and is an international mark of excellence. This certification can be obtained by passing the SAP C_S4FTR_2021 exam.
Overview of SAP Certified Application Associate Treasury with SAP S/4HANA _S4FTR_2021 Certification
The SAP Certified Application Associate Treasury with SAP S/4HANA certification exam authenticates that the applicant holds the basic and core knowledge needed for SAP S/4HANA Cash Management and Treasury and Risk Management solution. This certification assures the applicant has comprehensive knowledge and in‐depth technical expertise to contribute as a member of a project team.
This SAP certification exam is recommended as proof the consultant is qualified to work significantly on Treasury implementation and Cash Management projects. It puts the consultant in a position to be on boarded to an implementation project promptly and to lead to the project's success straight away. This certificate is the ideal means to start a career as a Cash Management and Treasury consultant on SAP S/4HANA.
SAP C_S4FTR_2021 Exam Details
The Treasury with SAP S/4HANA (C_S4FTR_2021) is comprised of 80 questions that have to be completed in 180 minutes. The cost of the SAP C_S4FTR_2021 exam is $560. Though, prices may differ from place to place. The exam is available in English and needs at least a 60% score to pass the exam.
SAP C_S4FTR_2021 Exam Objectives
Cash Operations - > 12%

Liquidity Management - > 12%

Bank Account Management - > 12%

Transaction Manager - > 12%

Financial Risk Management - > 12%

Hedge Management - 8% - 12%

Payment Processing - 8% - 12%
How to Study for the SAP C_S4FTR_2021 Exam?
If you're interested in taking the SAP C_S4FTR_2021 exam and achieving certification, you may find it useful to learn best practices for thorough exam preparation. You can consider the following steps to study for the SAP Treasury with SAP S/4HANA C_S4FTR_2021 certification exam:
1. Take Into Consideration Your Budget
As you think of taking the SAP C_S4FTR_2021 exam, invest time evaluating your financial plan. Along with the SAP C_S4FTR_2021 exam and exam cost, various training courses and study resources often come with different costs. Setting funds for yourself can help you direct these options and determine which ones work best for you.
2. Gauge Your Knowledge and Skills
A self-assessment can help you gauge your skills before starting preparation for this SAP Treasury certification exam. By doing so, you can understand your strong and weak and create a practical study plan. You can carry out a casual self-evaluation by reading through the SAP C_S4FTR_2021 exam syllabus topics easily assessed on the SAP official website. This information outlines the various functional areas being measured and their weights on the exam.
3. Study Smarter Not Harder
There are many learning methods and techniques you can use to prepare for the SAP C_S4FTR_2021 exam. Taking a self-assessment of your favored learning style can help you identify which method works best for you. At this point in your preparation journey, you can explore conventional studying practices, like practice exams, study groups, training courses, study guides, and so on. As stated, you can evaluate your options while exploring them to find out whether they fit your budget and other requirements. You can also consider various learning techniques to boost exam preparation, such as making short notes and flashcards.
4. Create a Study Plan
Creating a study plan will help you stay focused and prepared. This study plan can differ based on your scheduled exam date, the learning methods you select, and your personal or professional obligations. For instance, some people may require a few days or weeks to study, while others may spend five to six months in exam preparation. Doesn't matter how much time you have left; assign at least one hour per day to keep yourself focused.
5. Take SAP C_S4FTR_2021 Practice Test
Practice tests can help you get ready for the SAP C_S4FTR_2021 exam. Erpprep.com provides SAP C_S4FTR_2021 practice tests that help you to take the exam in time-bound conditions. Practice tests can help you evaluate your capabilities in the various functional areas of the exam, helping you select where to focus your further learning. SAP C_S4FTR_2021 practice tests on Erpprep.com also provide a result, helping you understand your weak and strong areas and direct your preparation.
6. Manage Your Time Wisely
SAP Treasury with SAP S/4HANA C_S4FTR_2021 exam takes three hours to complete. It's crucial to monitor the given time to ensure you answer all the SAP C_S4FTR_2021 exam questions. When you manage your time wisely, it can also help you overcome your stress and avoid hurrying. If you feel you had enough time to answer the questions thoughtfully, you may feel more confident as you finish the exam.
What are the Advantages of Earning SAP Treasury with SAP S/4HANA Certification?
Here are some advantages of earning SAP Treasury with SAP S/4HANA Certification:
Big Paycheques: A SAP C_S4FTR_2021 certification can help you set yourself apart within the field and prepare you for higher-paying jobs in accounting, organizations, and corporate finance.

Job security: Preparing for the SAP exam demands you to master core concepts, which can make you a sought-after candidate for many jobs in the financial industry.

Career Flexibility: A SAP Certified Application Associate - Treasury with SAP S/4HANA certification may qualify you for distinct job positions, which could offer you flexibility in your career to flourish within the industry or receive a promotion in your contemporary position.

Relevancy: Because you have to recertify your SAP Treasury with SAP S/4HANA Certification every five years, you can stay updated with the latest developments in the financial field and practices and continue to prepare for growth within your industry.
At the End
As corporate treasury management develops more complex, an applicant with SAP Treasury Certification is in great demand. Though the SAP Treasury with SAP S/4HANA Certification you may receive a salary hike, it is more likely to provide extra job security. So, give your best shot and crack the SAP C_S4FTR_2021 exam.