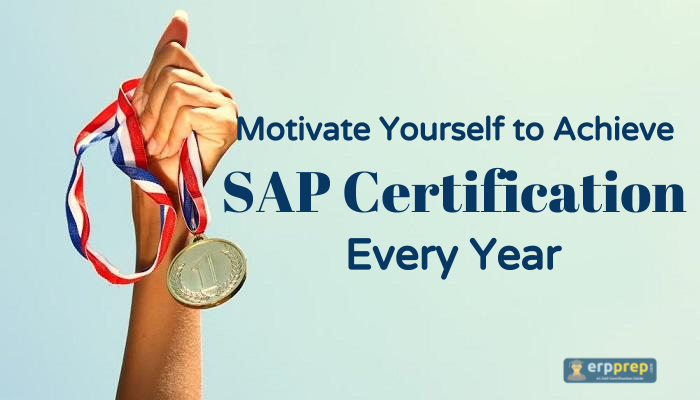 By reading this article, surely you can set a goal to obtain 5 SAP certification in next three years. There are few guidelines to follow which you can reflect on your SAP career starting from today. You can achieve most out of your SAP certification and career by reading this article. Here are five golden rules to obtain a higher number of SAP certification for boosted career path.
Be motivated:
It is the fact that you required recovering the huge amount invested in training and development. Your keep motivation essentials to dive deeper than the shallow allure of earning money with SAP certification. At one point, the fulfillment recognized from the creation of wealth levels up, and money cannot buy happiness. With real intention, those that have touched at this level flow out their money. You have an example of Zuckerberg, Bill Gates and others. A permanent motive is to crack problems sincerely.
Give value, Get value:
Being a SAP consultant, real fulfilling aspects of the job is that you resolve actual glitches for clients that protect those tons of cost. In detail, just performing your tasks in a suitable way towards a successfully planned project go-live saves the customer and your expensive employer overruns. SAP projects do not typically come discounted, and overruns could exploit the wallet. So, therefore, be with your value by giving value to your customers and organization. SAP certification force you to learn and practice what you need to, to offer real value to the client. Give value, Get value.
Feel improved every day:
Do not get satisfied with current knowledge and job profile, achieve excellence and be perfect. It is a significant suggestion and in erpprep.com's opinion the top-secret of assured career evolution. Endeavor to certify that the absolute quality of your job task is at least a notch improved than it was yesterday. Solve problems faster, better and smarter than you ever did before. With this attitude, passing a SAP certification is just like a walk in the park!
Always be resourceful for SAP Certification:
For SAP career, this is the powerful quote - "SAP consultant, because miracle worker isn't an official job title". You are the superhero in the eyes of your client with your current SAP consulting job and superhero++ if you are SAP certified! You get respect ever even your customers produce pen or space shuttle. Those impudent client requirements have a way of insistent you towards great. For those who are looking for the first SAP project breakthrough, you know how tough it can be to 'get into SAP.' Maybe this is your grooming at learning the much-required perseverance and endurance desired for your selected SAP career - don't give up!
Get encouraged:
Thomas Edison said that "Genius is one percent inspiration, ninety-nine percent perspiration." Being just 1 percent, we often discard it all together. Inspiration keeps you sane while going through the pain. It's the hope that keeps your game, knowing your effort will not be in vain. Keep your inspiration. Here is my inspiration. What's yours? Your greatest inspiration should be aware that you are empowered to solve someone's problem and ease their pain. Money just follows solving problems.
If you look after 5 years and you are able to achieve eight SAP certifications, they are just by-product of your commitment to above five thoughts. We hope, this article will lead you towards being an outstanding SAP consultant.