This is a tough question, and it is tough to explain how to select SAP module or the best SAP module to learn. Of all the professional certifications, SAP certification is recognized as most valued and has proved its worth to thousands of SAP consultants who are working over the globe.
There are technical and functional modules in SAP, and a few are a combination of both. Take some time and see which one you like and think you would like to learn then see what module is in demand then take a decision.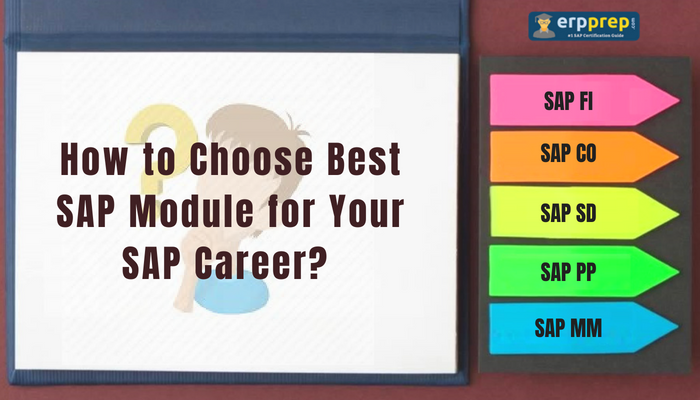 Important factors that should consider before choosing the SAP module:
Before applying for the SAP course, take a moment and go through the elements that can assist you to choose the right SAP program for you. Have a look.
1. Available SAP modules
SAP offers 160 Certification for different SAP profiles; many modules are much used by the companies which are dependent on SAP for business success
There are SAP certification courses that aid one in achieving the desired certification, easily and effectively.
2. The Career Goal
This is often the most overlooked although a basic factor in selecting the module of choice. Before selecting any SAP module, one requires to recognize whether one's passion, ability, and career goals lie in the achievement of the SAP course with dedication and also working in that work sphere.
3. Educational Background
The third step towards SAP certified professional would be dipping into one's educational background and work experience. The current SAP modules are domain specific, therefore; one needs to take the one that fits the required domain. One will have to ask questions such as "What's your domain?" "What experience are you having in your domain?" to assist one in choosing the aspired SAP course easily.
The educational background of professional plays a significant role in the selection of the SAP module in a career. The educational background makes it easier for a professional to comprehend business processes and other related traits involved in the field which has been learned during the academic acquisition of knowledge. The professional will be able to articulate ideas in the same business language as the industry users, making use of enterprise jargon. It is a daunting task for both business and consultant users not sharing enterprise backgrounds to stay on the same communication frequency during project discussions. It is also challenging for process comprehension and understanding amongst such disparate team members, even taking up an inordinate amount of time. Therefore re the educational aspect is of paramount importance in the selection of a SAP module.
SAP has various modules that suit every aspect of the industry. The process understanding between SAP end user and SAP consultants often become complicated and time-consuming due to lack of domain knowledge and insufficient experience. So, the educational aspect is essential in evaluating how to choose SAP module. Let's have a look at various SAP modules and the associated career paths in them. Following are some of the most popular SAP modules used by companies:
SAP ERP Component Business Process Knowledge, Educational Background or Professional Experience.
FI

Accounts

CO

Finance

SD

Sales and marketing

MM

Procurement, logistics or supply chain management (SCM)

EAM

Enterprise Asset Management

PP

Production and operations management,

an engineering

degree in any discipline

PS

Project management including PMP certification

QM

Logistics or supply chain management (SCM)

HCM

Human resources management

BASIS

Computer science or computer engineering

ABAP

Computer science or computer engineering
SAP Finance (FI):
SAP FI (Financial Accounting) helps to increase financial management in organizations. Finance is the essential part of every business, and hence perfect management is necessary. It becomes stressful and frustrating to manage the entire financial accounting by a human being. If you have a commerce or finance background and has a minimum of six months of domain experience, then SAP finance (FI) is a correct module for you.
CAs, CIMAs, ACCAs, CPAs (Certified Public Accountant), CFAs, CMAs can also undergo training in SAP FI module.
SAP Material Management (MM):
SAP MM (Material Management) covers business functions such as procurement or purchasing and inventory management. The procurement can be for materials or services and can be both local or imports (foreign procurement). Almost all major manufacturing firms & delivery firms implement SAP with SAP MM module. To become a good SAP MM Professional, the first and foremost thing is to understand the business processes running in material management.
SAP Sales & Distribution (SD):
SAP SD (Sales & Distribution) covers business functions such as inquiry, quotation, sales order management, and credit and debit memos. It also includes rebates handling, as well as exports sales. If your majors are in Marketing, Sales & Distribution techniques, channel management, then SAP SD module is ideally a right choice for you. SAP SD module is utilized by a vast number of companies across the globe.
SAP Production & Planning (PP):
SAP PP (Production & Planning) covers all aspects of production, including the time it takes to set up machine, the product manufacturing time as well as labor hours consumed in producing a product. Production wastage, scrap, by-products, and co-products are all within the scope of the PP component. SAP PP is an essential module of SAP. It tracks and presents a record of the manufacturing process flow, the planned and actual costs. A prospect must have business knowledge in the area of supply chain planning & Manufacturing.
Project System (PS):
SAP PS (Project System) module covers business processes to manage the project of any size effectively and includes Work Breakdown Structure (WBS), Network, milestones, and confirmation on the progress of project completed. SAP Project Systems (PS) is a technical module that includes project management functionality. Organizations use project management tactics to execute different strategies. The PS module empowers an organization to gain insight into projects, increase transparency and enhance accountability. If you intend to undergo SAP PS module, you must have experience in project management & implementation, with basic knowledge of processes in logistics & accounting.
Human Capital Management (HCM):
SAP HCM (Human Capital Management) module offers a complete and integrated set of tools to help you effectively manage your people. With SAP HCM you can automate your core HR processes to significantly improve your workforce performance, improve planning accuracy, streamline HCM processes, cut operational costs and increase margins with important talent intelligence. If you are an expert in knowledge of business process in the area of HR / Organization Management, then SAP HCM is the ideal SAP module for you.
SAP Advanced Business Application Programming (ABAP):
SAP ABAP is a high-level 4th generation programming language designed by SAP. It is used as the language for programming the SAP Application Server. The SAP Application Server is a component of its NetWeaver platform that is used for building business applications. Both ABAP and SAP NetWeaver are technical components of the SAP ERP system. The best part of ABAP certification is that you need not necessarily have any prior work/domain experience before undergoing training. What requires is programming and analytical skills with a strong hold on database & OOPS concept.
If you work as SAP consultant in a consulting firm, you will get the good number of chances to travel, meet new clients, implement SAP ERP projects for different enterprises and learn new features and functionality of SAP ERP with its every new release. With each new project or implementation, you career graph will exponentially rise and so will be your compensation.
Conclusion
SAP has been providing immense opportunities for those who have well-defined career goals. But before applying to any SAP module, it is advisable to take some time and weigh the reasons why one would want to go for a particular module. Is the module required for a stop-gap job, or a long-term career? Having a decisive answer to this is essential. Once a candidate sifts through the decision factors, he/she will be able to choose the right SAP module and initiate a rewarding journey towards becoming a SAP professional. Online Practice exam for SAP that is available at erpprep gives great help to get you where you want to go in your career. They are bound to impart the necessary amount of detailed knowledge and practically based hands-on usage of SAP modules at the time of the candidate's choosing.