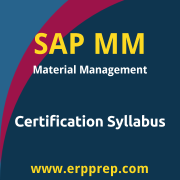 You can collect all the information about SAP MM Certification Exam (C_TSCM52_67) from this page. The SAP MM certification is mainly targeted to those candidates who are from SAP ERP & business consulting background and wants to build their career as a SAP MM consultant. The SAP MM Certification Exam verifies that the candidate possesses fundamental knowledge and proven skills in the area of SAP Material Management. This exam validates that the candidate has a good and overall understanding within this consultant profile, and can implement this knowledge practically in projects under guidance of an experienced consultant.
SAP MM Certification Details:
SAP MM Certification Exam Topics:
C_TSCM52_67
Topic Areas

Topic Details, Courses, Books

Weighting

Define Procurement Processes

Describe the components of commonly used procurement processes.

TSCM50 OR SCM500, SCM520 OR TSCM5E

> 12%

Describe configuration using Procurement

Outline the configuration settings required to support the procurement process.

8% - 12%

Define Organization Levels and the Master Data

Define Organization Levels and set up Material and Vendor Master records.

TSCM50, TSCM52 OR SCM500, SCM520

8% - 12%

Describe configuration using Organization Levels and Master Data

Configure Vendor Master, Material Master and Organization levels.

8% - 12%

Define Purchasing Optimization

Describe the features of the procurement application which support optimized purchasing.

8% - 12%

Define Inventory Management

Process Goods Receipts, Goods Issues, Transfer Postings and Special Inventory Processes.

8% - 12%

Define Valuation and Account Determination

Describe account determination and valuation set up.

8% - 12%

Define Logistics Invoice Verification

Describe Invoice Blocks, Subsequent Debits/Credits, Tolerances and Special Settings for LIV.

< 8%

Define Material Requirements Planning

Set up MRP Parameters in Configuration and Application sides.

< 8%

Describe configuration using Inventory Management

Set up Movement Types, Documents and Plant Parameters.

< 8%

Define Physical Inventory

Differentiate the types of Physical Inventory.

< 8%
The SAP Education has created this certification exam for the assessment of SAP skills, such assessments are defined based on the understanding of SAP Material Management. The SAP offers certification for associate, professional, and master levels, they have defined this certification levels considering the candidate's actual experience and domain expertise. To ensure success in SAP MM Certification Exam (C_TSCM52_67), SAP recommends combining education courses and hands-on experience to prepare for your certification exam as questions will test your ability to apply the knowledge you have gained in training and professional experience.