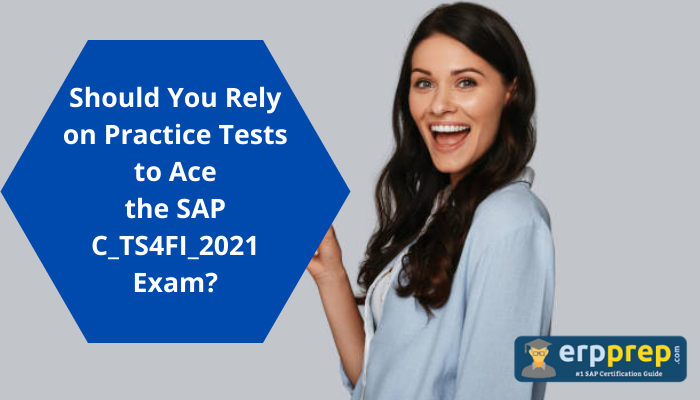 Get access to the C_TS4FI_2021 practice tests and sample questions to learn more about your preparation level. Rely on rigorous practice to become SAP Certified Application Associate - SAP S/4HANA for Financial Accounting Associates (SAP S/4HANA 2020).
Overview of the Certification:
C_TS4FI_2021 or the SAP Certified Application Associate - SAP S/4HANA for Financial Accounting Associates (SAP S/4HANA 2021) certification exam validates that the candidate possesses the fundamental knowledge and proven skills regarding SAP S/4HANA Financial Accounting.
What Does the C_TS4FI_2021 Certification Test?
The C_TS4FI_2021 certification tests if the candidate possesses good knowledge within the consultant profile and can use his knowledge practically while doing projects under the guidance of a senior consultant.
What Is the Level of the C_TS4FI_2021 Certification?
The C_TS4FI_2021 certification is suggested as an entry-level qualification to allow consultants to get familiar with Financial Accounting projects. Therefore, the C_TS4FI_2021 certification could be the ideal starting point for a professional career as a Financial Accounting consultant on SAP S/4HANA.
Aspirants who gain experience in SAP implementation projects of Financial Accounting over several years can validate their professional career by taking a second exam, SAP Certified Application Professional - Financials in SAP S/4HANA for SAP ERP Financials experts.
Domains Covered Under the C_TS4FI_2021 Certification:
The C_TS4FI_2021 exam covers the following topics-
Overview and Deployment of SAP S/4HANA

Organizational Assignments and Process Integration

Asset Accounting

Accounts Payable & Accounts Receivable

General Ledger Accounting

Financial Closing
Steps to Get Your C_TS4FI_2021 Certification:
Enroll Your Name for the C_TS4FI_2021 Exam:
SAP exams are not so easy to crack. Therefore, get an effective schedule to learn the topics properly. Make the first step by registering yourself with Pearson Vue. If you do the registration at the beginning, you get to know the exam date and plan your exam smoothly.
Get Your Grip Stronger on Syllabus Topics:
You must go through the official page to learn about the weightage of each topic. When you take a close look at the C_TS4FI_2021 exam syllabus, you can find that there is not much difference in the weightage of the topics; thus, every section becomes vital.
Ease Out Your Preparation with the Help of A Schedule:
Covering the C_TS4FI_2021 syllabus should not be a burden on you. Therefore, make a schedule and decide how to learn the exam objectives. You can create a chart and plan out the topics you want to cover daily till the exam day. Try to learn a few topics and write down the essential points to boost your memory. Recalling the complete syllabus during the exam is important, and making notes will help revise the topics with ease.
Reduce Stress by Studying Daily:
You must act smart when getting ready for the C_TS4FI_2021 certification. Devote your productive time in two to three hours of daily study and cover the syllabus topics gradually.
Improve Further with C_TS4FI_2021 Practice Test:
You must learn about your mistakes and work on them to improve further in the C_TS4FI_2021 exam preparation. Attempt C_TS4FI_2021 practice test questions once you are confident about the syllabus topics. These time-based C_TS4FI_2021 practice tests would help you to discover your strengths and weaknesses, and if you work more, you can build your confidence by learning the weaker sections.
What Is SAP S/4HANA Finance?
SAP S/4HANA Finance solution helps businesses to use in their financial operations. The future-oriented in-memory technology SAP HANA especially simplifies financial operations. The system offers clear measures based on real-time data at the same time. A central interface brings together information from heterogeneous sources.
Benefits of Using SAP S/4HANA Finance:
Accelerated Financial Close:
S/4HANA significantly redefines the process of planning month-to-month, quarterly, semiannual, or yearly finance closes. S/4HANA Financing Cloud gives nearly instantaneous visibility on P&L, therefore boosting your ability to make decisions based on analysis of real-time numbers and trends.
Integrated Business Planning:
Access through a Microsoft Excel-based interface enhances the financial planning method. Creating the transfer of financial data (e.g., cost center, profit center, internal order, and P&L planning) into S/4HANA Finance Cloud streamlines and gears up the process. It also makes real-time reporting and analysis of the fact.
New Asset Audit:
The new asset accounting functionality included in the Finance Cloud platform is also a major step forward. It helps the user to manage the parallel evaluation of assets through journals and accounts. So the days of recording depreciation areas are over. And again, it's all carried out in real-time across all evaluations.
Get Finance Reports:
The new finance reports are just one of the beneficial features of the platform. They are lightning-fast and provide access to a comprehensive suite of analytical tools.
Cash management:
The innovative cash management attributes in the S/4HANA Finance Cloud can manage a bank account, liquidity forecasting, and help in liquidity planning. All use real-time data. The platform offers to finance a toolset that permits you to fine-tune cash management and maximize working capital.
Bottom Line:
Earning the C_TS4FI_2021 certification is the key to boosting your knowledge regarding SAP S/4HANA Finance. After this certification, you can bag jobs in finance organizations or grab any desired job due to your understanding.