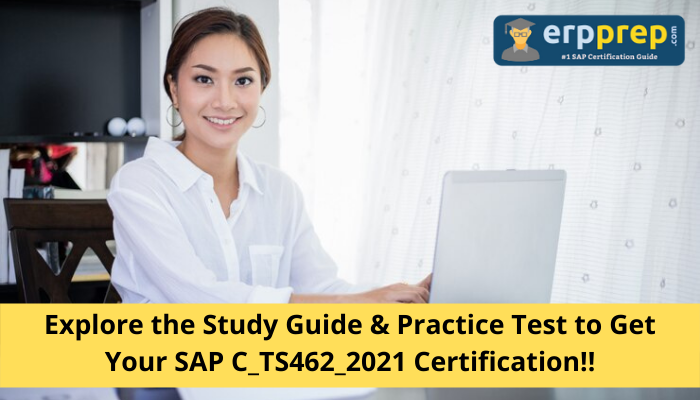 Here are the study tips to help you clear your SAP C_TS462_2021 exam. You can also learn about the valuable practice tests and explore more about the benefits of SAP S/4HANA through this blog.
Overview of the C_TS462_2021 Certification:
C_TS462_2021 or the SAP Certified Application Associate - SAP S/4HANA Sales 2020 certification exam is all about validating your fundamental and core knowledge needed to work on the SAP S/4HANA Sales profile.
Through the C_TS462_2021 certification, you prove your overall understanding and in‐depth technical skills to join as an SAP project team member under a mentor's guidance.
What Is the Level of the C_TS462_2021 Certification?
The C_TS462_2021 certification exam is recommended as an entry-level qualification; therefore, if you are new to the field of SAP, you can opt for the certification. The C_TS462_2021 certification you will earn stays valid for five years.
What Topics Are Covered Under the C_TS462_2021 Syllabus?
The C_TS462_2021 exam covers the following topics-
Availability check and Advanced ATP

Organizational structures

Basic Functions (customizing)

Pricing and condition technique

Master data

Shipping Process and Customizing

Billing Process and Customizing

Cross-functional Customizing

Sales Process and Analytics

Sales Documents (customizing)

Customize Your System
Study Strategies You Should Follow to Pass the C_TS462_2021 Exam:
Plan in Advance for the C_TS462_2021 Exam:
If you want to pass the C_TS462_2021 exam, you must plan, and you can do it by registering early. Take your first step by registering yourself with Pearson Vue and getting the exam date. Once you have an idea about the total exam preparation time, you can plan it properly.
Make Your Base Stronger with the C_TS462_2021 Syllabus Topics:
Success in the C_TS462_2021 exam is highly dependent on your grasp of the syllabus topics. Visit the official page to check the weightage of each syllabus section, and cover every section from the core. The most interesting thing about the SAP syllabus is that it almost equally focuses on the syllabus topics. Therefore, you won't get much scope to skip any syllabus domain. Focus on deep learning so that your practical projects in the future stay unhampered.
Schedule Out Your C_TS462_2021 Preparation:
Syllabus completion could feel like a task to a few candidates, but it won't feel so if you proceed with a schedule. Plan out how you want to cover the syllabus in this schedule. Calculate how many days are left and write down which topics you want to cover daily. For a hassle-free preparation, you must try to cover at least two to three topics daily. Level up your learning by writing down some notes. Make these notes in an organized manner to use them for a faster revision.
Study Smart by Learning Daily:
When getting ready for the C_TS462_2021 certification, the two things that matter most are taking ample time to prepare and study daily. Don't just stop by making the schedule; keep the mentality to follow the schedule and accomplish your daily learning goals. Devoting two to three hours daily could be helpful, but you can plan accordingly if you need more time.
Improve Further with C_TS462_2021 Practice Test:
You must be aware of your mistakes and work on them to improve further in the C_TS462_2021 exam preparation. Attempt C_TS462_2021 practice test questions once you are confident about the syllabus topics. These time-based C_TS462_2021 practice tests are helpful in offering valuable insights into your strengths and weaknesses. Invest time in rigorous practice to familiarize yourself with the actual exam structure and become better with time management. Work on the areas you face difficulty in and improve your chances to score better in the final exam.
What Is SAP S/4HANA?
SAP S/4HANA is an all-in-one solution that comes with a significant advantage. With SAP S/4HANA, you can adapt your SAP Business Suite in collaboration with your industry. Specific SAP S/4HANA modules are there to offer you the exact features needed for your organization and all its subsidiary departments.
Here Are the Benefits of Using SAP S/4HANA in Your Business:
Make Your Workflow More Innovative:
SAP S/4HANA and future-oriented technologies go hand in hand, making an organization's workflow more efficient. Inventions such as Machine Learning, Internet of Things Artificial Intelligence, or Robotic Process Automation can be smoothly integrated into the SAP S/4HANA platform. The mentioned solutions keep your business productive and make your organization future-ready.
Speed Up Your Performance:
With the underlying SAP HANA database technology, SAP's newest ERP platform offers real-time data insights and overall faster access to the entire data volume. The solution allows you to perform big data analysis, which helps you in your corporate-wide planning, better decision-making, and completing complex transactions in less time.
Simplify Your Processes:
One of the benefits of deploying SAP S/4HANA is that it restructures your IT structure to be more transparent and centralized. After the integration, the organization's entire workflow and corresponding business processes run more effectively and become easier to handle due to the automation possibilities. By deploying SAP S/4HANA, all departments of an organization benefit hugely.
Enhance the User Experience:
Another major benefit of SAP S/4HANA is that the platform is more comfortable with usability. Due to SAP Fiori, you receive an intuitive and customizable user interface that always offers you clear insights into all your corporate data and transactions.
Bottom Line:
Certifications and exams help explore more about a solution and implement it for career growth. Therefore, get the C_TS462_2021 certification, and explore more in the area of SAP S/4HANA Sales for your organization's growth.