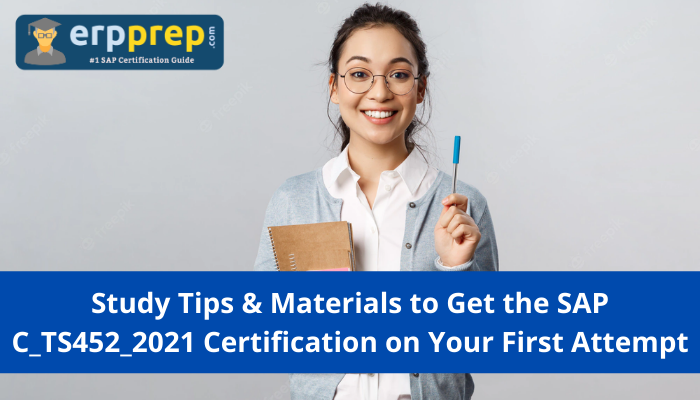 On your first attempt, you can pass the C_TS452_2021 exam and get the SAP Certified Application Associate - SAP S/4HANA Sourcing and Procurement certification with some essential proven tips and materials like sample questions and practice tests.
Overview of the C_TS452_2021 Certification:
C_TS452_2021 or the SAP Certified Application Associate - SAP S/4HANA Sourcing and Procurement certification exam checks your fundamental and core knowledge about sourcing and procurement needed to work on the consultant's profile.
The C_TS452_2021 certificate proves that the candidate has an overall understanding of the subject matter and can implement the knowledge practically in projects to participate in the success of the planning and implementation phases in a mentored role. Previous project experiences are helpful but not mandatory to pass the exam.
Syllabus Topics Covered Under the C_TS452_2021 Certification:
The C_TS452_2021 exam covers the following topics-
SAP S/4HANA User Experience

Analytics in Sourcing and Procurement

Consumption-Based Planning

Sources of Supply

Invoice Verification

Inventory Management and Physical Inventory

Purchasing Optimization

Valuation and Account Assignment

Enterprise Structure and Master Data

Procurement Processes

Configuration of Purchasing
How Should You Prepare for the C_TS452_2021 Certification Exam?
Stay Devoted Towards the C_TS452_2021 Exam Preparation:
Once you take the registration and get to know the exam date, staying devoted to the exam schedule becomes easy. Registration for the C_TS452_2021 certification is quite costly; therefore, if you are serious about getting the SAP Certified Application Associate - SAP S/4HANA Sourcing and Procurement certification, devote your time wisely from the beginning.
Learn the C_TS452_2021 Syllabus Topics:
If you want to stay ahead of other candidates, attempting a maximum number of questions is key. Therefore, try to improve your knowledge regarding the syllabus topics. You might be confused while you decide which sections are most important. SAP exam syllabus divides the syllabus almost equally; therefore, there is not much scope for any section from the syllabus. Cover every section from the core and have a study chart to stay organized.
Daily Studying Is Essential:
Do not be in a rush to cover the syllabus topics. Some candidates plan to cover the syllabus in one go, but studying becomes stressful in that matter. Prepare yourself for daily studying and cover two to three topics during your study hours. If you are determined to accomplish your daily goals, the preparation goes in a flow. To make your preparation more effective, make some notes and keep them in indexed format for easy preparation.
Assess Yourself Frequently with C_TS452_2021 Practice Tests:
Assess yourself throughout the preparation, then proceed to take the C_TS452_2021 certification exam. The C_TS452_2021 practice tests could help you get valuable insights regarding your strengths and weaknesses regarding the exam topics.
Several C_TS452_2021 practice test series and dumps are available in the market. But, you must choose the practice test material wisely to get success on your first attempt. The best method to choose any material is to do a google search, read the reviews, and look for the budget-friendly option.
Stay Optimistic Throughout Your Preparation:
Exam preparations are tiring; therefore, you must stay positive while you get ready for the C_TS452_2021 exam. Don't stress out, as it will reduce your productivity. Have a healthy meal, and stay optimistic throughout the exam preparation to get success soon.
The Role of SAP S/4HANA in S/4HANA Sourcing and Procurement:
SAP S/4HANA solution allows value-driven, compliant, and scalable procurement.

Centralized purchasing offers flexibility and visibility across the organization.

The embedded machine learning-based analytics of SAP S/4hANA help to predict contract consumption for improved negotiations and material management.

The solution helps to get automatic recommendations for new catalog items, contract creation for materials without an existing contract, and matching material groups for the needed free-text item.

SAP S/4HANA helps in automated payables matching and clearing with proposals for items that could not be cleared automatically.
Benefits of Using SAP S/4HANA Sourcing and Procurement in Businesses:
Get Purchasing Insights:
Get extensive insights on purchasing spend.

Analyze purchase requisitions, purchase orders, invoices, and contracts.

Check supplier performance with access to real-time data.
Simple Purchasing:
Buy goods and services directly while following the policies for preferred suppliers and pricing.

Bundle demands, generate processes and simplify approval and release.
Manage Sourcing and Contract Management:
Collect, assign, analyze, and access every sourcing data point in one system.

Support automated and manual methods for creating and managing all types of procurement documentation.
Central Procurement:
Lower procurement costs and increase catalog use.

Consolidate requisitioning across business units and geographies with one central approval workflow instead of multiple approvals.
Support Commodity Procurement:
Support commodity procurement and make commodity contracts based on market quotes.

Generate price calculations, streamline invoicing, and extend ERP functionality through the business.
Supply Chain Risk Management:
Enhance supply chain visibility to identify and form relationships with an optimal mix of suppliers.
Join with partners that can best serve your strategic vision and reduce supply chain risk.
Bottom Line:
Getting a certification helps to improve your knowledge base and pushes you one step forward in your career. Therefore, get the C_TS452_2021 certificate and SAP S/4HANA Sourcing and Procurement in your future projects.