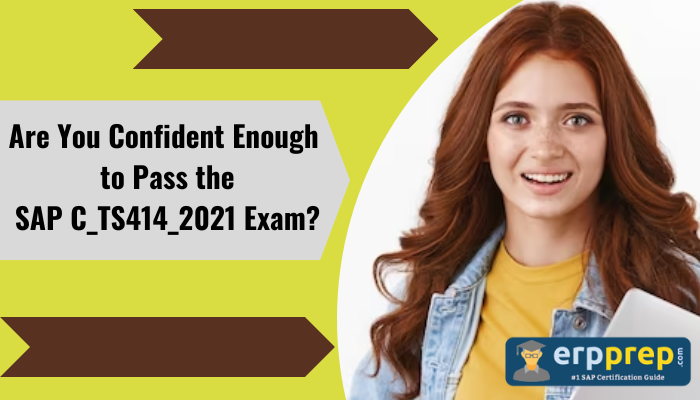 If you need more confidence regarding the C_TS414_2021 certification exam preparation, stop worrying, the real exam-like practice tests are here to boost your skills. Learn more about the certification exam preparation through this blog.
What Is the C_TS414_2021 Certification All About?
C_TS414_2021 or the SAP Certified Application Associate - SAP S/4HANA Quality Management certification exam for the essentials edition proves that the candidate possesses the SAP onboarding fundamentals and core knowledge regarding the Quality Management line of business area needed to work on the consultant profile.
The C_TS414_2021 certification proves that the candidate has the overall knowledge and in‐depth technical skills to work as a member of SAP S/4HANA OnPrem with a focus on Quality Management in a mentored role.
What Is the Level of the C_TS414_2021 Certification?
The certification exam is suggested as an entry-level qualification. The certificate issued after passing the C_TS414_2021 exam stays valid for 5 years.
What Topics Are Covered Under the Syllabus?
The C_TS414_2021 exam covers the following topics-
Audit Management

Quality Management in Sales and Distribution

Quality Planning

Quality Inspection

Quality Improvement

Quality Management in Procurement and Inventory Management

Quality Management in Manufacturing
How to Prepare for the C_TS414_2021 Certification Exam?
Focus on Learning from the C_TS414_2021 Training:
It's important to undergo training for C_TS414_2021 to increase your knowledge and achieve the certification with greater ease. Remember that building a strong theoretical foundation is crucial, but having the practical experience to excel in future projects is equally important.
Plan the Exam:
If you want to excel in the C_TS414_2021 exam, planning ahead is essential. Begin by approaching the registration process with a serious mindset, and choose a date for the exam early on so that you can plan accordingly. It's recommended to schedule the exam at least two months after registration to give yourself enough time to prepare. While covering the syllabus in one month is possible, allowing yourself more time will help you balance your daily responsibilities and preparation more effectively.
Cover the C_TS414_2021 Syllabus Topics from the Core:
While some IT exams prioritize certain topics, the SAP C_TS414_2021 certification places almost equal weight on all syllabus sections. As a result, it's important to thoroughly cover all syllabus sections in order to maximize your ability to answer questions on the actual exam. Be sure to study all sections of the syllabus equally, from the core material to peripheral topics.
Be Devoted Towards Your C_TS414_2021 Exam Study Hours:
Creating a study plan is the most effective way to prepare for the exam. It's recommended to set a goal of covering two to three topics each day and to remain committed to achieving your daily objectives. Determine the most convenient time for studying, whether early in the morning or late at night and dedicate these hours to exam preparation in a focused, uninterrupted manner.
Enhance Your Memorization Power:
Studying strategically is important to succeed on your first attempt at the C_TS414_2021 exam. Since the exam is multiple-choice, you must be able to recall the entire syllabus and important details at once. One effective way to improve your memory is by developing a habit of writing. Create notes from the essential topics, as these will be helpful during revision and serve as a useful reference.
Build up Your Confidence with C_TS414_2021 Practice Tests:
Effective time management and self-evaluation are crucial for succeeding in the C_TS414_2021 certification exam. Taking practice tests for C_TS414_2021 exam can be helpful in both regards. Regular self-assessment will assist you in determining your readiness for the exam. It's recommended that you complete all the syllabus topics and then enroll in practice test sessions to gain insight into your level of preparation.
To gain a realistic exam experience, improve time management skills, and identify areas where you need to work, it's essential to take the exam and analyze your performance. This will gradually increase your confidence. While some candidates may use C_TS414_2021 dumps to prepare, they may miss learning about their strengths and weaknesses.
What Is SAP S/4HANA Quality Management?
SAP S/4HANA Quality Management is a module within the SAP S/4HANA ERP system that provides businesses with tools and functionalities to manage and control quality-related processes and activities. The module offers end-to-end quality management capabilities, from planning and inspection to tracking and reporting of quality-related data.
How Does It Benefit Businesses?
With SAP S/4HANA Quality Management, businesses can set up quality control procedures, manage inspection plans, and perform quality inspections on goods and materials received from vendors or produced in-house. The module also enables businesses to track quality-related issues and defects, perform root cause analysis, and initiate corrective and preventive actions.
Furthermore, SAP S/4HANA Quality Management integrates with other SAP modules, such as Production Planning, Materials Management, and Sales and Distribution, to provide a comprehensive quality management solution across the entire supply chain.
Overall, SAP S/4HANA Quality Management helps businesses ensure that their products and services meet or exceed their customers' quality expectations while complying with industry regulations and standards.
Bottom Line:
Certifications are meant to make you skilled and help you proceed toward a better career and salary. The C_TS414_2021 certification exam proves your specific skills regarding the SAP S/4HANA Quality Management and easily boosts your knowledge to face potential employers. Therefore, gain confidence with practice tests and prepare to pass the exam.