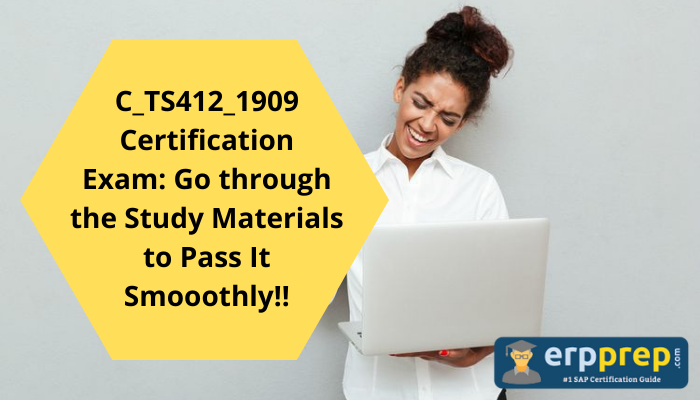 Are you looking for the proven study materials to pass the C_TS412_1909 exam and bag the SAP Certified Application Associate - SAP S/4HANA Project Systems certification? You are at the right place to get an overview of the exam and exam acing materials.
Overview of the C_TS412_1909 Certification:
C_TS412_1909 or the SAP Certified Application Associate - SAP S/4HANA Project Systems certification exam validates that the candidate has the fundamental and core knowledge of sourcing and procurement needed for the consultant profile.
The C_TS412_1909 certification also confirms that the candidate has an overall knowledge regarding SAP PS and can implement his knowledge practically in projects to contribute to the success of the planning and implementation phases of a project team in a mentored role. Though helpful, previous project experience is not mandatory to pass the exam.
Topics Covered Under the C_TS412_1909 Syllabus:
The C_TS412_1909 exam covers the following topics-
Reporting

Revenues and Payments

Cost and Budgets

Dates

Resources

Material

Project Structures
What Is the Exam Structure?
The C_TS412_1909 exam is a multiple-choice exam with 80 questions. You need to get a 51% mark to pass the exam. Passing the C_TS412_1909 exam earns you the SAP Certified Application Associate - SAP S/4HANA Project Systems certification.
Explore the Exam Acing Tips:
Set Your C_TS412_1909 Exam Study Strategy At the Beginning:
The first important task during any exam preparation is to set your strategies. If you take the registration for the C_TS412_1909 exam, at the beginning of your exam preparation, you can stay organized throughout the preparation. Early registration means you have already set an exam date, and you must complete your preparation within the time.
Enjoy What You Are Studying:
Exam preparations could get boring sometimes. Suppose you are doing self-study, then you can make your preparation enjoyable by making a chart, calendar, or flashcards. Be determined to follow this chart rigorously, and keep it at a place where you can view it regularly. Use different colors and mark the topics already completed and topics to be reviewed with different colors. Once you start enjoying studying, syllabus completion and grasping the topics become easier.
Try to Grasp Every C_TS412_1909 Syllabus Domain:
SAP C_TS412_1909 syllabus is made up in a manner that every section has an almost equal percentage, and covering all of them becomes essential to score well in the exam. Therefore, try to grasp each section from the core and focus on daily study rather than completing the whole syllabus in one go.
Fix Your Study Hours:
If you are keen to earn success on your first attempt, the random study won't help. Therefore, study for at least two to three hours daily and develop the habit of writing and making notes, and you can use the notes later during revision.
Do Rigorouss Practice with C_TS412_1909 Practice Tests:
The C_TS412_1909 practice test resources are helpful in offering you the real exam experience and they offer valuable insights regarding your strengths and weaknesses. So, practice rigorously to level up your confidence.
What Is SAP PS?
SAP PS or Project System is a project management solution that aids organizations manage projects throughout their complete lifecycle, from creation to execution and completion, all while staying on time and budget. SAP Project System's tight integration with SAP's Finance and Logistics modules makes it an ideal tool for complex projects such as production, construction, service, and investment within all industries.
How Does SAP PS Helps Organizations?
Time Scheduling Is Done Smoothly:
Once you have set up the project structure, the time schedule comes into play. For those the schedule with WBS elements, this is a manual process that works on entering planned dates on each WBS element. Scheduling with networks, on the other hand, aids the system in automatically calculating planned dates.
Structure Your Project Smoothly:
SAP PS offers several ways to structure a project, including network diagrams and Work Breakdown Structures (WBS). You can create your project structures manually, based on the template, or even automatically use sales documents. No matter what type of project structure is helpful for your business demands, SAP PS can help you make it work.
Cost Planning:
SAP PS users can either plan their project costs manually in the WBS or automatically through networks and assigned orders similar to time schedules. The former helps to use profiles to enter quantities (such as materials or internal/external activities) to each WBS element. The latter helps copy plan data to new projects a breeze, not to mention that cost planning shifts automatically with activities if parts of a project end up getting rescheduled.
Bottom Line:
SAP S/4HANA's features, the user can find the all-in-one solution for lifting his corporation to the next level. Through your C_TS412_1909 certification knowledge, optimize your supply chain management, improve your financial planning, and enhance your manufacturing or R&D processes. Through the application of SAP PS, the business suite will improve every department of your company and instantly generate added value for your organization. Therefore, study hard and grab your C_TS412_1909 certification.