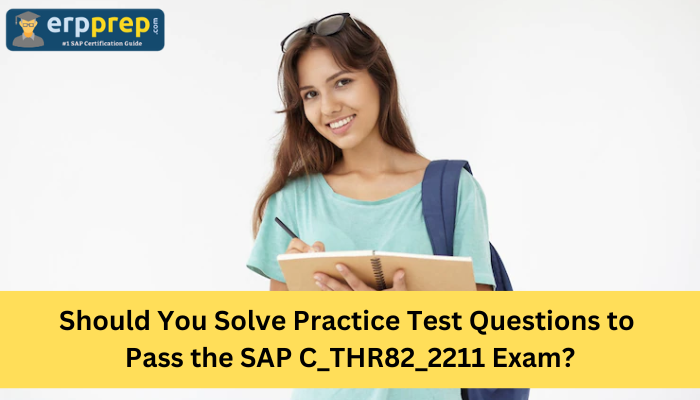 Your path to success in the C_THR82_2211, SAP Certified Application Associate - SAP SuccessFactors Performance and Goal Management 2H/2022 exam is confirmed now with practice tests. Through this valuable self-assessment tool, you can crosscheck your preparation level, work hard to improve it, and finally achieve the certification easily.
What Does the C_THR82_2211 Certification Exam Confirm?
C_THR82_2211 or the SAP Certified Application Associate - SAP SuccessFactors Performance and Goal Management 2H/2022 certification exam confirms that the candidate possesses the basic knowledge regarding the SAP SuccessFactors Performance and Goal Management application.
What Is Proved through the C_THR82_2211 Certification Knowledge?
Having the C_THR82_2211 certification means you are versed with the basic and overall knowledge within the consultant profile of the industry solution, and you can use this knowledge practically in projects under the guidance of a senior consultant.
What Is the Level of the Certification?
The C_THR82_2211 certification is suggested as an entry-level certification to familiarize consultants with the fundamentals of SAP SuccessFactors Performance and Goal Management.
For guaranteed success in the C_THR82_2211 exam, SAP suggests combining education courses and hands-on experience. You need to prepare both theory and practical as the exam questions asked will test your ability to apply the knowledge you have gained in training. Attending the SAP SuccessFactors Performance and Goals hands-on workshop will allow students to widen their product knowledge through guided case studies and exercises.
Topics Covered under the C_THR82_2211 Certification Exam:
The C_THR82_2211 exam covers the following topics-
Translations

Continuous Performance Management

Route Maps

360 Reviews

Configuration of Performance Management

Performance Rating and Permissions

Competencies

Calibration

Form Templates

Goal Plans
What Strategy Should You Follow to Pass the C_THR82_2211 Exam?
Plan Early to Utilize Your Time Well:
Schedule an exam date with Pearson Vue so you can plan for the C_THR82_2211 exam according to the time you have until the exam day. You must take at least two months to get ready for the C_THR82_2211 exam, and planning is essential to cover the syllabus topics within a specific time. Therefore, don't just think of taking the exam; start preparing with a proper plan to earn easy success.
Cover Every Syllabus Section with Devotion:
SAP exams are quite special regarding syllabus percentage distribution. Some C_THR82_2211 syllabus sections cover more than 12% of the syllabus, and some are less than 8%. Yes, your focus should be high for the higher percentage section, but completing other sections also plays an important role.
You must cover the whole C_THR82_2211 syllabus to earn easy success in the exam on your first attempt. Studying daily and investing quality time in the preparation helps you to learn in a stress-free manner. Try to stay away from electronic gadgets during your study hours.
Writing Habit Helps in Effective Learning:
Only studying and memorizing the C_THR82_2211 exam topics for a few hours won't help. But, if you start writing while you study, it helps to boost your recalling capacity.
Join the Training from SAP and Follow Reference Books:
SAP offers the official training for the C_THR82_2211 exam. It is always advised to take practical training to boost your scope of passing. Therefore, follow the reference books like THR80, THR82, etc.
Depend on C_THR82_2211 Practice Tests Over Dumps:
Study material selection is an important step of your preparation. Only learning is not enough; you must learn how ready you are to face the exam. Including a reliable practice test in the preparation process helps in assessing your preparation gradually. Always try to score the maximum number in the mock exam attempts to be sure about attaining better marks in the actual exam.
It is strongly advised to avoid dumps for the C_THR82_2211 exam preparation. Dumps are easily available and cost low, but they do not give you the assessment power.
On the other hand, the C_THR82_2211 practice test results help you to track the syllabus sections you cannot answer. A strong focus on the guided sections would help you to score more on the sections you are weak. Therefore, keep on practicing with practice tests and gradually boost your confidence.
Overview of SAP SuccessFactors Performance and Goal Management:
SuccessFactors Performance and Goal Management is a solution that helps to evaluate and find top talent and align the strategies and goals with the employee performance management software.
How Does SAP SF PMGM Help Organizations?
Goal Management Is Easy:
Set goals easily and align them with team and organization objectives, so the workforce stays focused on the right business objectives.

The user can make goals using recommendations from the smart goal wizard.

Assure goal-linked activities stay on track throughout the year.
Steady Performance Management:
Support the ongoing performance and development conversations, so employees get the required guidance at the needed time.

The manager gets visibility into employee goal progress and performances throughout the year.

Employee performance improvement is continuous by providing ongoing direction.

Earn simple feedback and coaching at any time and from anyone within the organization.
Better Performance Assessments:
Have employees with meaningful performance evaluations to perfectly evaluate and reward their contributions.

Have formal assessments that assure fairness, accuracy, and legal compliance.

Chalk out employee achievements and feedback tied to performance and development goals.

Visually compare and adjust the team's performance based on competencies.
Bottom Line:
SF PMGM is a valuable solution for many organizations to maintain employee performance. Through the C_THR82_2211 certification, you prove your knowledge regarding SAP SF PMGM, and it helps you to start a fruitful associate-level career.