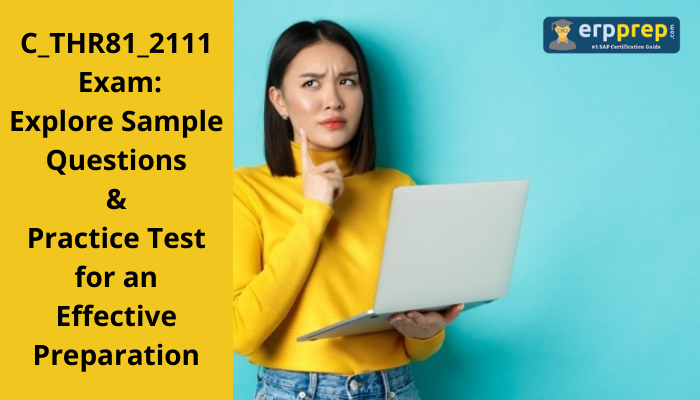 Making a career with the C_THR81_2111 certification could be easy if the candidate explores the proven set of sample questions and practice tests to pass the exam.
Overview of the C_THR81_2111 Certification:
C_THR81_2111 or the SAP Certified Application Associate - SAP SuccessFactors Employee Central Core 2H/2021 or the C_THR81_2111 certification exam confirms that the candidate possesses the basic knowledge regarding the SAP SuccessFactors Employee Central Core application.
The C_THR81_2111 certification is proof of a candidate's basic and overall understanding to work on the consultant profile of the industry solution. The C_THR81_2111 solution proves he can practically implement his knowledge in projects under an experienced consultant's guidance.
What Is the Level of the C_THR81_2111 Certification?
The C_THR81_2111 certification is suggested as an entry-level exam to allow consultants to get familiar with the fundamentals of SAP SuccessFactors Employee Central Core.
What Topics Are Covered under the C_THR81_2111 Syllabus?
The C_THR81_2111 exam covers the following topics-
Security, Settings, and Languages

Event Reason Derivation

Workflow Configuration

Business Rules

Importing and Exporting Data

Generic Objects

Foundation Objects

Employee Data

Data Models
What Should Be Your Study Plan to Pass the C_THR81_2111 Exam?
Learn the Syllabus Topics and Utilize Book Resources:
Books are always the best resources to prepare for an exam. A candidate must follow books like THR80, THR81 to complete the syllabus topics. Every aspirant must go through the syllabus topics and chalk out the plan to learn in a way that suits them.
Following A Study Schedule Is Must:
If you don't follow any schedule, you won't be able to prepare well for the C_THR81_2111 exam and may end up losing valuable preparation time. If you set a schedule for yourself, your approach would be more serious. Try to engage at least two hours daily for the C_THR81_2111 Certification exam. Work on two to three topics daily and make short notes out of the topics.
Learn from the C_THR81_2111 Training:
Whatever your method of studying or speed of grasping regarding the theoretical part is, you must join the C_THR81_2111 training and learn from the experts to strengthen your practical base.
Keep Practicing for A Better Score:
You might be very confident about the exam preparation, but you must never ignore the importance of taking practice exams. Taking the C_THR81_2111 practice test would help a candidate assess his preparation level. You can easily detect your strengths and weaknesses through the C_THR81_2111 practice test and work on those areas to improve performance.
What Is SAP SuccessFactors Employee Central?
SAP SuccessFactors Employee Central is a flexible, global core HR solution that supports core HR processes and employee self-services for your total workforce.
SuccessFactors Employee Central offers the option to manage key HR operations and contains HR master data like employee identification, name, user name, etc.
What Are the Important Features of SuccessFactors Employee Central?
The essential features of Employee Central are listed below −
SuccessFactors is a cloud solution and works quarterly, so the user can easily accommodate an organization's changing workforce structure.

SuccessFactors Employee central manages different events occurred in the life cycle of an employee. The user can track basic events like new transfer and a new assignment, hire, promotion, and other activities in Employee Central.

Integration of SuccessFactors Employee Central to ERP is more robust and provides better quality HR solutions.

It provides additional functionalities like increased cloud solution portfolio, integration with third-party products, outsourcing function, etc.
What Are the Benefits of Using SAP SuccessFactors Employee Central?
Manage Master Data and Organizational Data:
SuccessFactors Employee central records and maintains all relevant employee and organizational data; employee and manager self-services; data integration with talent management modules, flexible workflows for the approval of data entries.
Position management Is Easy:
SAP SuccessFactors Employee Central records and updates positions and job families.
SuccessFactors Employee Central Helps in Absence management:
You can file work schedules, local holiday calendars, and holiday allowances and regulations, administration of several types of absences, requests for approvals, and leaves.
Better Visualization Skills:
All SAP SuccessFactors modules include the embedded edition of SAP Analytics Cloud Reporting. People Analytics helps you use the power of SAP Analytics Cloud Business Intelligence in the HR Suite. The SuccessFactors Employee Central allows the user access to stunning visualization possibilities, analyzing people-related information in real-time, and telling compelling stories with data.
Bottom Line:
With SAP SuccessFactors, your HR processes keep moving. SuccessFactors Employee Central module meets all the modern, high-performance HRIS system requirements. The solution is the heart of your HR system and the basis for all HR processes in any organization. SAP SuccessFactors Employee Central scores with fully integrated employee and manager self-services, simple approval processes, and cool mobile applications. Therefore, grab the C_THR81_2111 certification and make employee management simple.