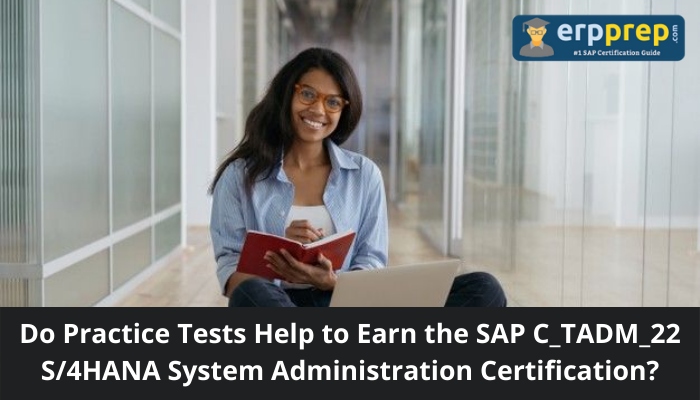 Do you want to pass the C_TADM_22 exam and get the S/4HANA System Administration certification? The path is so easy. To attain faster success, you need to follow a proven study guide and utilize the tested practice test.
Overview of the C_TADM_22 Certification:
C_TADM_22 or the SAP Certified Technology Consultant – SAP S/4HANA System Administration certification exam proves that the candidate can assist the clients and employers in managing and executing critical technical administration and configuration works.
What Else Is Proved through the C_TADM_22 Certification?
Earning the C_TADM_22 certification proves that the candidate is armed with an understanding of SAP system administration, and he can use his knowledge practically in SAP projects. Furthermore, the SAP Certified Technology Consultant - SAP S/4HANA System Administration certification exam confirms the candidate's knowledge to install SAP HANA 2.0 needed by an SAP HANA 2.0 technology consultant profile.
Topics Covered under the C_TADM_22 Certification:
The C_TADM_22 exam covers the following topics-
Technology Components for HTTP-based Communication

SAP System Concepts

SAP Fiori Fundamentals and Administration

Installing and Updating of SAP Systems

Database Administration SAP HANA

System Administration (AS ABAP; AS Java Basics; User Management Basics)

Describing and Using Transport Management (Software Logistics)
Here Are the Preparation Tips to Ace the C_TADM_22 Exam:
Discover the C_TADM_22 Syllabus & Have a Firm Grip on It:
Do you want to pass the C_TADM_22 exam? Your success depends highly on your syllabus completion capability. Before starting the exam preparation, look at the syllabus percentage distribution to learn the topics successfully. Knowing the exam structure and syllabus topics from the beginning would help take the exam with ease.
The C_TADM_22 exam is an associate-level certification, and it asks 80 questions. You must get a 65% mark to pass the exam. Facing the multiple-choice type exam becomes easy if your knowledge base of the syllabus is strong. For a practical study approach, register first and then start studying.
Be Focused on the Short-term and Long-term Goals:
Once you start preparing for the C_TADM_22 exam, always start with making a study goal. Your short-term study goal should be working on two to three topics daily, and long term goal should be covering the syllabus topics within a specific time. Your preparation would become easy if you take the time of at least two to three months to prepare for the C_TADM_22 exam. Therefore, take ample time before you appear in the C_TADM_22 exam.
Enhance Your Chance of Success with Daily Devotion:
Daily studying is essential, as it would keep you organized, and you would be able to cover the syllabus smoothly. Find out the productive time from your daily routine and use these hours for study. Once you are able to study in a distraction-free manner, studying for only two hours is enough to grasp maximum topics within a limited time.
Be Serious about Taking C_TADM_22 Practice Tests:
Perfection on the C_TADM_22 exam topics comes from covering the syllabus topics rigorously. Therefore, getting a self-assessment is an important part of earning success. Online C_TADM_22 practice tests are essential to assessing and boosting a candidate's confidence. Many aspirants fail the C_TADM_22 exam as they are unable to manage time and miss out on attempting all questions. Therefore, keep taking practice tests to become a pro with time management and get familiar with the exam structure.
Learn from the C_TADM_22 Training:
As you are going to work on the consultant's profile, only theoretical knowledge won't help you much. Therefore, improve your practical knowledge by joining the C_TADM_22 training.
The Benefit of Getting the C_TADM_22 certification:
Having the C_TADM_22 certification means you can explore more SAP HANA's good features and use them for the benefit of your organization.
Boost Your Performance:
With the underlying SAP HANA database technology, SAP's newest ERP platform allows real-time data insights and overall faster access to the entire data volume. This helps in performing big data analysis, which supports the user in his flexible decision-making, corporate-wide planning, and completing complex transactions in no time.
User Experience Is Better with SAP S/4HANA:
SAP S/4HANA platform is comfortable with usability, which is an added advantage. Due to SAP Fiori, you get an intuitive and customizable user interface that always offers you clear feedback on all your corporate data and transactions. You can keep an overview easily.
Customize the System:
SAP S/4HANA is an all-in-one solution with one major benefit. You can merge your SAP Business Suite in accordance with your industry depending on the line of business you. Many specific SAP S/4HANA modules offer you the exact functionalities required for your organization and all its subsidiary departments.
Bottom Line:
Organizations across all industries profit from the benefits of SAP S/4HANA. The most powerful SAP ERP provides agility and efficiency to the associated organization. Therefore, grab the C_TADM_22 certification to make a better career with S/4HANA System Administration.