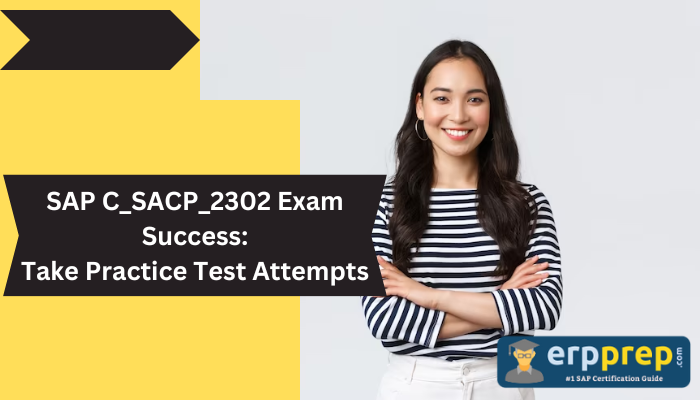 Practice tests are one of the best study materials, when it comes to the C_SACP_2302 exam preparation. Therefore, try out solving the SAP Analytics Cloud: Planning premium practice test questions to get the SAP Certified Application Associate - SAP Analytics Cloud: Planning certification.
Overview of the C_SACP_2302 Certification:
C_SACP_2302 or the SAP Certified Application Associate - SAP Analytics Cloud: Planning certification exam is all about proving your fundamental and core knowledge needed to work as a successful SAP Analytics Cloud Planning Consultant. The C_SACP_2302 certification proves that the candidate possesses the overall knowledge and technical skills to work as an SAP Project team member.
What Is the Level of the C_SACP_2302 Certification?
The C_SACP_2302 certification is suggested as an associate-level qualification. Once you earn the certification, it stays valid for five years.
Topics Covered Under the C_SACP_2302 Certification Exam:
The C_SACP_2302 exam covers the following domains-
Data actions and allocation processes

Forecasting, collaboration, and process control

Core planning functionality

Introduction, dimensions, and planning models
How to Pass the C_SACP_2302 Exam?
Start with Registration:
Pearson Vue conducts the C_SACP_2302 exam, therefore, register yourself and start with a solid approach. Once you are confirmed about taking the C_SACP_2302 exam, planning and preparation become systematic with the proper time knowledge.
Grasp the C_SACP_2302 Syllabus Topics from the Core:
You must learn about the syllabus domains well to score high in the C_SACP_2302 exam. If you are confident with the syllabus domains, attempting a maximum number of questions becomes simple. The C_SACP_2302 certification is an associate-level certification, but do not take its seriousness depending on the level. If you are new, associate-level certificates could feel tough, and learning each domain becomes essential, as it focuses almost equally on all sections.
Make A Plan to Cover the Syllabus:
Completing any work becomes easy if you are ready with a schedule. But, if you only create the schedule and do not work on it, it won't help. Count the total number of days till the actual exam and set your daily goals. Accomplish the daily study goals to stay organized and easily cover the syllabus.
Stay Persistent with Your Goals:
Don't get in fear of studying full day. Keep your plan sorted and study for two to three hours daily for the best results. If you are persistent with your goals and targets, you can conquer the exam in no time.
Join the SAP C_SACP_2302 Training:
Only theoretical knowledge is not enough in the long run. You must be practically strong to face the project challenges. Therefore, join the practical training and learn from the experts.
Check Your Preparation Level with Real Exams Like C_SACP_2302 Practice Tests:
Having a real exam-like experience before you take the actual exam plays an important role. You become familiar with the exam structure. The aspirant needs to assess his performance more to ensure it becomes easier during the exam. You must check your regular progress to earn maximum benefit in the exam with C_SACP_2302 practice test. Time management could be another challenge while you take the C_SACP_2302 exam. You can become good at time management and face the exam with ease through rigorous practice.
What Is SAP Analytics Cloud Planning?
SAP Analytic Cloud planning helps in seamless collaborative enterprise planning. You can combine powerful and right features with SAP Analytics Cloud for the betterment of your business.
How Does SAP Analytics Cloud Planning Help Organizations?
Make the Strategic, Operational, and Financial Planning Better:
An enterprise must opt for a 360-degree integration strategy to make the most out of a well-planned process. Businesses must blend their strategies, finances, and expenses into a uniform solution to boost business value. SAP Analytics Cloud helps the user plan all his business activities and can align each business function to make the right decisions.
Have Collaborative Enterprise Planning:
SAP aims to teach an increasing number of businesses the benefits of collaborative enterprise planning. SAP Analytics Cloud for planning divides business activities into silos and brings different business departments under one roof, including marketing, sales, supply chain, and finance.
Better Engagement and Accuracy:
SAP Analytics Cloud for planning allows the potential to improve business accuracy and engagement. Organizations get the ability to design effective budgets and plans for different business departments. SAP Analytics Cloud for planning can assist you in aligning departments, plans, and activities.
Bottom Line:
SAP Analytics Cloud Planning helps to plan, budget, analyze, forecast, and predict all in one enterprise planning solution. The solution allows delivering budgets, timely plans, forecasts, and reports with greater speed and accuracy with a full set of enterprise planning features at your fingertips. Therefore, study hard, and pass the C_SACP_2302 exam to utilize your SAP Analytics Cloud Planning knowledge for your organization.