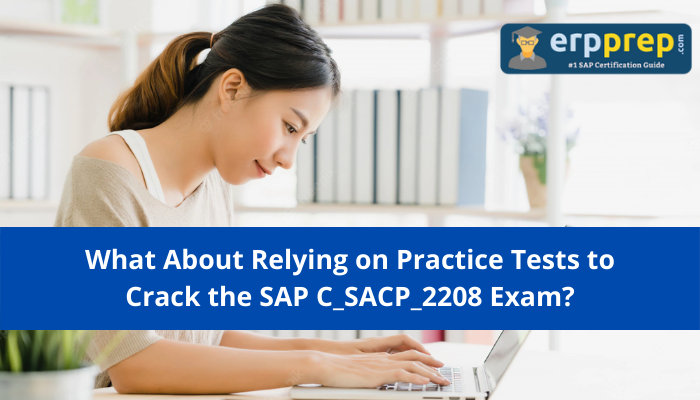 Explore practice tests to pass the C_SACP_2208 exam, and earn your SAP Certified Application Associate - SAP Analytics Cloud: Planning certification. Learn the benefits of SAP Analytics Cloud Planning to improve your organization's performance.
What Does the C_SACP_2208 Certification Talk About?
C_SACP_2208 or the SAP Certified Application Associate - SAP Analytics Cloud: Planning certification exam talks about the candidate's fundamental and core knowledge needed to work on the SAP Analytics Cloud Planning Consultant's profile. The C_SACP_2208 certification also proves that the candidate has an overall understanding and technical skills to become a part of an SAP project team.
Who Can Take the C_SACP_2208 Exam?
The C_SACP_2208 certification is recommended as an associate-level qualification; therefore, any candidate who wants to learn about SAP Analytics Cloud Planning could take the exam.
Topics Covered Under the C_SACP_2208 Exam:
The C_SACP_2208 exam covers the following topics-
SAP BPC Integration, Analytic Applications, and Microsoft Excel Integration

SAP S/4HANA Integration

Integrated Planning Overview & SAP BW Integration

Data actions and allocation processes

Forecasting, collaboration, and process control

Core planning functionality

Introduction, dimensions, and planning models
Preparation Tips to Pass the C_SACP_2208 Exam:
Design Your C_SACP_2208 Exam Schedule:
Making a schedule holds high importance regarding exam preparation. If you create a schedule before jumping into the C_SACP_2208 exam preparation, it helps to stay organized during the whole exam preparation time. Preparation without registration does not give you the needed boost and you might feel distracted to take the exam. But if you start preparing after registration, it proves your seriousness to take the exam and helps to stay motivated until the exam day.
Learn the C_SACP_2208 Syllabus without Skipping Any Section:
Your success in the exam lies in exploring the syllabus topics from the core. A firm knowledge of the syllabus is needed if you want to attempt a maximum number of questions. SAP modules are quite hard to understand if you are new to the field of SAP. Therefore, make your schedule and focus on learning from every syllabus section to avoid missing any questions in the exam hall.
Gain Practical Experience with C_SACP_2208 Training:
Getting the C_SACP_2208 training is one of the best means to study, especially when it comes to SAP Cloud certification exams. When you practically work with any software or technology for some time, you get the skills to deal with the solution easily. SAP C_SACP_2208 training allows you to learn from the experts directly and practically boost your exam knowledge.
Fix Your Study Hours:
Every Aspirant is different. Few are working professionals, and few are students. The different aspirants have different productivity times. Choose the most productive time from your daily schedule, make a target to study for at least two to three hours daily, and try learning a few topics from the core during the targeted hours.
Are Notes Making Helpful?
If you keep on only studying and you are unable to remember the topics at the end of the day, you won't be able to score well in the C_SACP_2208 exam. You must make sure to memorize the topics for longer for maximum benefit. Maintain a separate notebook where you can mention the short notes, and keep the notes ready for faster revision.
Check Your Confidence through C_SACP_2208 Practice Tests:
Are you confident enough to take the C_SACP_2208 exam? You should go through regular assessments to know if you are ready enough to take the C_SACP_2208 exam. You must make a habit of attempting practice exams once you finish the syllabus. The main purpose of practice exams is to make you familiar with the exam structure.
When you think about practicing and getting an evaluation, choosing the C_SACP_2208 practice tests over dumps is always better. You will gain knowledge from the dumps but cannot go through the self-evaluation process using dumps. The gradual practice will add valuable insights into your preparation level, and you can improve if you follow the guidance.
SAP Analytics Cloud Planning Overview:
SAP Analytics Cloud Planning help to analyze, budget, plan, forecast, and predict – all in one enterprise planning solution. Make strategic alignment across all departments, crowdsource plans across the business, and make confident decisions with SAP Analytics Cloud planning.
Benefits of SAP Analytics Cloud Planning:
Make Decisions Confidently:
Make operational and financial decisions confidently by turning insights into action. Instantly use a personal sandbox planning environment, visualizing performance metrics and simulating potential outcomes to make the decisions.
Make Continuous Collaboration:
Crowdsource plans and budgets with collaborative enterprise planning to improve engagement and accuracy while maintaining dynamic workflows and consolidating your data into a single source of truth.
Predict Future Outcomes:
Learn about the top influencers of your strategic, operational, and financial plans with the click of a button. With SAP Analytics Cloud Planning, you can automatically predict future benefits to save time and enhance business outcomes.
Bottom Line:
SAP Analytics Cloud Planning helps businesses make better end-to-end planning decisions using advanced built-in smart features like automated reporting, financial modeling, allocations, and intelligent insights. Therefore, pass the C_SACP_2208 exam to start your SAP associate career.