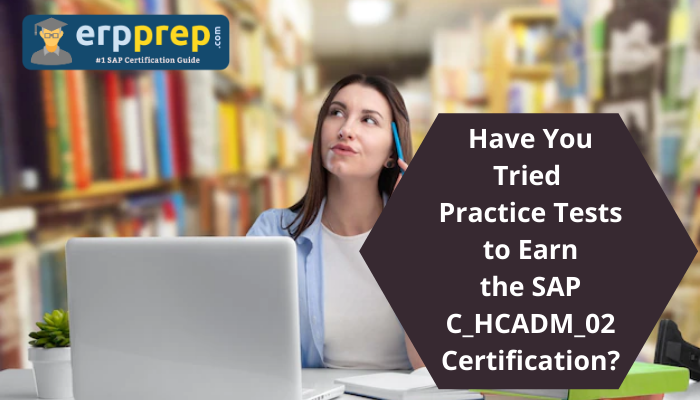 Earn the C_HCADM_02 certification, and become an SAP Certified Technology Associate - SAP HANA Cloud Provisioning and Administration with ease now. Use practice tests to get the real exam experience and increase your passing possibility.
What Is Proved through the C_HCADM_02 Certification Exam?
C_HCADM_02 or the SAP Certified Technology Associate - SAP HANA Cloud Provisioning and Administration certification exam prove the candidate's knowledge regarding the SAP HANA Cloud QRC03/2021, which is helpful to become an SAP HANA technology consultant.
What Else Is Proved through the C_HCADM_02 Certification?
The C_HCADM_02 certification makes the basic knowledge gained through related SAP HANA Cloud training and preferably refined by practical experience within the SAP HANA Cloud project team, whereby the consultant applies the acquired knowledge practically in projects.
Knowledge You Gain through the C_HCADM_02 Certification:
Through the C_HCADM_02 or SAP Certified Technology Associate - SAP HANA Cloud Provisioning and Administration certification exam, the candidates know about upgrading, deploying, and configuring an SAP HANA Cloud database. The knowledge helps the candidate while working as an SAP HANA Cloud technology consultant.
What Topics Are Covered under the Syllabus?
The C_HCADM_02 exam covers the following topics-
SAP HANA database explorer for SAP HANA Cloud

Set up an SAP BTP trial account

Security and User Management

Manage an SAP HANA Cloud database instance

SAP HANA cockpit for SAP HANA Cloud

Provision an SAP HANA Cloud instance

Introduction into SAP BTP and SAP HANA Cloud
Exam Acing Tips:
Focus on Learning from the C_HCADM_02 Training:
Learning from the C_HCADM_02 training always helps a candidate to prepare the practical aspects in a better manner. You might find some topics to be difficult, but clearly, these doubts while learning from the experts directly.
Plan When You Want to Take the Exam:
Random thought of taking the C_HCADM_02 exam can't always be fruitful. Therefore, plan it properly through registration and select a date for taking the exam. Take a healthy gap of at least two to three months between the registration and actual exam day. Set your exam strategies according to the total time you have.
Do Not Think to Skip Any Syllabus Section:
Some of the IT exams are highly focused on a few syllabus sections, so you get the scope to skip some sections. But for the SAP C_HCADM_02 syllabus, the syllabus distribution percentage is very close, making all areas important for getting questions. Therefore, try to grasp the syllabus from the core to attempt maximum questions in the exam hall.
Be Steady with the Study Hours:
If you set aside a few hours for study daily, you could be more organized during the C_HCADM_02 exam preparation process. A study routine helps you to do so. Choose the hours you feel most productive and set intentions to devote two to three hours daily. Only setting intentions is not enough; you must be steady with your study hours and work wholeheartedly.
Smart and Effective Studying Is Vital:
If you keep on studying and can't remember studying at the end of the day, that will not help. Recalling the complete syllabus is essential during the exam, and a good memory helps in this regard. You should level up your memory power through a simple habit of writing and making out notes from the essential topics. These notes are handy during revision too.
Become Familiar with the Actual Exam with C_HCADM_02 Practice Tests:
What could be better than getting familiar with the real exam structure? If you are already familiar with the C_HCADM_02 exam pattern, chances are less to face any difficulty in the exam hall.
Therefore, you must complete the C_HCADM_02 syllabus topics and enroll for practice test sessions. These time-based C_HCADM_02 practice tests would offer valuable insights regarding your preparation level. The insights are vital if you want to improve further. Time management is a big issue if you are taking multiple-choice-based exams, and continuous practicing helps you to become aware of time management in the exam hall. Many aspirants use the C_HCADM_02 dumps; they study from it but miss the valuable scope of getting any insights regarding their knowledge level.
What Is SAP HANA Cloud Provisioning and Administration?
SAP HANA Cloud - Provisioning and Administration helps to conduct administrative tasks using SAP HANA Cloud.
Benefits of Using SAP HANA Cloud:
SAP HANA Cloud offers users a single place to access, store, and create enterprise data in real-time. The advanced technologies offered by SAP HANA for multi-model data processing, both in-memory and on-disk, are available in the solution.

Organizations that use SAP HANA Cloud can set up and manage SAP HANA databases connects them to applications running on SAP BTP. Companies that need a more customized solution also get the option for a hybrid deployment instead of solely cloud.

The databases can be accessed using different languages and interfaces, and users can build applications and models using tools offered with SAP HANA Cloud. This allows them to manage where and how to store data and access it.

SAP HANA Cloud allows a business to have faster data processing. With high-performance scopes, customers gain high-speed access to data, independent computing and storage, and scaling abilities with no up-front costs.

Organizations can also benefit from SAP HANA Cloud's ability to provide one source of truth. This can be done by connecting with data across various data sources with ease, standardizing and streamlining data management, and controlling data duplication with virtualization and SAP HANA smart data access.
Bottom Line:
Every SAP certification allows a candidate to gain knowledge about a specific solution and opens up new career possibilities. The C_HCADM_02 certification will enable you to explore the SAP HANA cloud and apply for industry-suitable jobs. Hence, study hard and grab the certification.