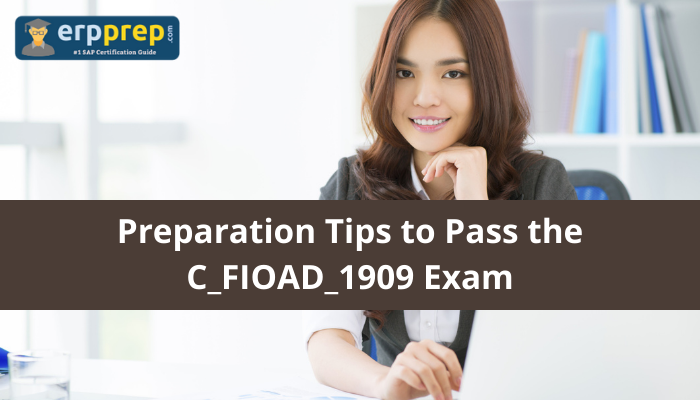 Are you looking for the C_FIOAD_1909 materials that are similar to the actual exam questions? No, need to worry; you are at the right place. Go through the certification details to learn more about the useful materials.
Overview of the C_FIOAD_1909 Certification:
The C_FIOAD_1909 certification proves that the candidate possesses an overall knowledge and in‐depth technical skills to take part as a member of an SAP Fiori team with a focus on system administration under any senior mentor's guidance.
Earning the C_FIOAD_1909, SAP Certified Technology Associate - SAP Fiori System certification exam confirms the candidate's fundamental and core knowledge needed to become a successful consultant.
What Is the Level of the C_FIOAD_1909 Certification?
The C_FIOAD_1909 certification exam is suggested as an entry-level qualification; therefore, any candidate interested in making a career with SAP Fiori could take the C_FIOAD_1909 exam.
What Topics Are Covered under the C_FIOAD_1909 Syllabus?
The following topics are there in the exam-
SAP Fiori Architecture

SAP Fiori Implementation and Operations

AS ABAP System Administration

SAP Fiori Infrastructure

SAP Fiori Foundation

SAP Fiori System Landscape

SAP Fiori Content Management

Technology Components for HTTP-based Communication
Are You Getting Ready for the C_FIOAD_1909 Certification Exam?
Where to Begin Your C_FIOAD_1909 Exam Preparation?
Start the preparation with registration. Registration is proof of your determination to appear for the C_FIOAD_1909 exam. Therefore, start studying with a serious approach after getting the confirmed date for your exam.
The devotion of Ample Time Is Needed to Pass the C_FIOAD_1909 Exam:
A candidate needs to plan in advance if he is interested in taking the C_FIOAD_1909 exam. It is suggested that a candidate begins studying at least two months before the scheduled exam date. Taking ample time would help a candidate avoid any unnecessary rush regarding the exam. Depending on the grasping level, a candidate can get ready for the exam in just one month, but if he devotes at least two months to prepare, he can prepare without any rush.
Depend on the Official Site for Valuable Information:
For getting more details about the exam, a candidate must visit the official page and get information regarding exam structure and related books. The C_FIOAD_1909 exam is 80 questions long exam, and the candidate must obtain a 61% mark to pass the exam.
Have Firm Grasp on the C_FIOAD_1909 Syllabus:
A candidate must chalk out a plan that helps him to cover the C_FIOAD_1909 syllabus with ease. There is a very wrong concept: one must devote or study for multiple hours to crack any exam. But studying for only two to three hours with devotion could earn you better benefits. Have a schedule to stay organized, and get the best result out of your C_FIOAD_1909 exam. You can follow additional resources like sample questions and other study materials once you compete for the syllabus topics with ease.
Be Part of an Online Study Group:
Being part of an online group helps immensely. There are many SAP C_FIOAD_1909 exam-related groups and forums that could help a candidate get ready. You can share your knowledge, ask questions and get valuable tips from your seniors through online forums.
Evaluate Your Learning with SAP C_FIOAD_1909 Practice Test:
The most important step of the C_FIOAD_1909 exam preparation is evaluating your preparation through the C_FIOAD_1909 practice tests. Using the practice tests would guide which syllabus areas need more attention. The practice exam questions are basically guided and created by industry experts. Therefore they provide you the experience of taking the real exam.
Remember that practicing more with SAP C_FIOAD_1909 practice test undoubtedly boosts a candidate's knowledge and helps him to improve over time. Evaluate your preparation level and keep track of the syllabus sections that require more attention.
Don't miss out on the Chance of Getting Practical Experience from C_FIOAD_1909 Training:
A candidate can study and get ready theoretically, but getting practical knowledge is highly dependent on SAP C_FIOAD_1909 training. Therefore, combine practical training with your preparation and get valuable insights from the experts.
Get Knowledge about SAP Fiori:
Fiori is a streamlined application that offers a role-based user experience. SAP Fiori can be personalized across all lines of tasks, business, and devices. The solution uses tiles to perform standard tasks like viewing sales orders or approving timesheets.
What Benefits Do Organizations Get from Using SAP Fiori?
SAP Fiori applications are user-friendly methods to get common SAP software for essential business works like approving timesheets and monitoring purchase orders over tablets, laptops, and desktop computers, and smartphones.

SAP Fiori combines the web apps developed to be multichannel for use on both PC and mobile browsers. Now with Fiori, a single instance of the app supports the users irrespective of device selection.
This is how Fiori has become a major departure from prior enterprise software users in several ways. The users who worked with other business interfaces can understand that, even though they offer a large assortment of scopes, many still turn out to be complicated. SAP Fiori takes less time and creates, anytime, any situation business situation.
Bottom Line:
If you pass the C_FIOAD_1909 exam, you make the way to stand out in the crowd through your certification knowledge. Having the certification improves your possibilities to bag a job easily. Therefore, grab the certification and earn benefits.