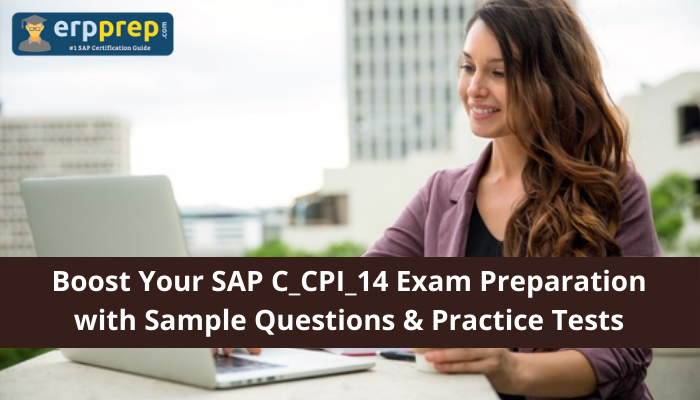 Gear up your chances to succeed in the C_CPI_14 exam by exploring proven sample questions and practice tests. Learn more about SAP Cloud Platform and its benefits.
Overview of the Certification:
C_CPI_14 or the SAP Certified Development Associate - SAP Integration Suite certification exam confirms that the candidate has the basic level and core knowledge needed to work on the SAP Integration Suite profile.
The C_CPI_14 certification also proves that the candidate has an overall understanding and in‐depth technical skills to join a project team member under a mentor's guidance. The C_CPI_14 certification builds on the basic knowledge earned through related SAP training.
What Topics Are Covered under the C_CPI_14 Syllabus?
The C_CPI_14 exam covers the following topics-
Model Extensions

Integration Advisor capability within SAP Integration Suite

Consume and Process APIs

API Provisioning

Fundamentals
Here Are the Study Tips:
How Determined Are You to Take the C_CPI_14 Exam?
Getting the registration is a method to show that you are truly determined regarding the exam. Once you register for the exam, your money is involved; in this case, there is less possibility that you would leave the exam preparation halfway. Therefore, register with Pearson Vue and get the exam date for better preparation.
Visit the Official Site for Valuable Information:
Checking out the official page is essential if you want to get valuable book links and other information. The C_CPI_14 exam is an 80 questions long exam with multiple-choice questions, and the candidate must get a 68% mark to pass the exam.
Take Your Time to Get Ready:
A candidate should always take enough time to get ready for the exam. The C_CPI_14 exam could be of associate level, but preparing for the exam could feel difficult if you are new to the field of SAP. Therefore one must take at least two to three months to get ready for the exam and focus on the syllabus topics from the core. Taking enough time would help manage your current career or job role and balance studying.
Have Firm Grasp on the C_CPI_14 Syllabus:
Enhance your grasp on the syllabus topics, but break the myth of studying for longer hours to learn the topics from the core. Have a schedule to stay organized for the C_CPI_14 exam, and you can earn the best results with two hours of study. Studying hard is important, but studying smart will lead you to success in no time. Decide before you sit for your study for a particular day. When your study plan and the target are sorted, you can effectively utilize only two hours. Make studying productive by writing notes and using these notes during revision.
Join Online Forums:
If you are part of any online group, you can enjoy studying with friends and exchanging ideas. There are many SAP C_CPI_14 exam-related groups and forums that could help a candidate to prepare better for the exam. You can put your knowledge, ask questions, share valuable materials being part of a group.
Evaluate Your Learning with SAP C_CPI_14 Practice Test:
The most crucial step of the C_CPI_14 exam preparation is evaluating your preparation through the C_CPI_14 practice tests. The practice tests result would provide valuable insights regarding the sections you are lacking. As industry experts usually design the practice questions, they offer you the scope to get familiar with the actual exam structure.
Remember that practicing more with the SAP C_CPI_14 practice test would boost a candidate's knowledge and would help him to improve over time. Get accustomed to time management and higher the chances of attempting a maximum number of questions during the actual test.
Don't miss out on the Chance of Getting Practical Experience from C_CPI_14 Training:
A candidate can study and get ready theoretically, but getting practical knowledge is highly dependent on SAP C_CPI_14 training. Therefore, combine practical training with your preparation and get valuable insights from the experts.
What Is SAP Cloud Platform?
SAP Cloud Platform is a cloud-based tool that helps to develop and deploy custom applications. The applications include a full range of service catalogs, including storage, database, backup of data, reporting service, and transaction layer to help multi-platform software development.
What Are Some Benefits of Using SAP Cloud Platform?
Get Flawless Integration of Existing Solutions:
SAP Cloud Platform allows the smooth interaction between the SAP HANA Data Management Suite tools and SAP Data Hub solution core SAP systems and SAP's software-as-a-service (SaaS) offerings and integrates seamlessly. The solution makes it possible for users to call up data from disparate systems and solutions within no time. Moreover, SAP Cloud Platform brings heterogeneous solutions and hybrid system landscapes together under one roof.
Development of Native Applications Is Possible:
SAP Cloud Platform is open standards-based and provides IT experts with a range of development tools and possibilities. Programmers can use their existing ABAP know-how with agile methods and DevOps principles to build new business services and apps. The blended programming framework Cloud Application Programming Model for SAP Cloud Platform focuses exclusively on the business logic for new applications and processes.
Better User Experience:
User acceptance is the key to an intelligent business app's success. The experience makes it more important to offer users intuitive application interfaces across all end devices. The PaaS provides all the software development kits (SDKs) that help companies create tailored, demand-based, and end-to-end interfaces. The process makes it user-friendly.
Bottom Line:
Associate-level certifications are always career boosters. They add value to your resume and prove your knowledge regarding a subject area. With the C_CPI_14 certification, the candidate proves his knowledge regarding SAP Cloud Platform to Potential employers.