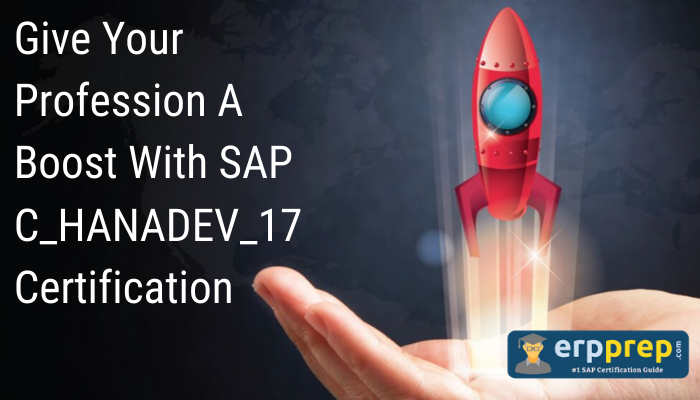 SAP certification can benefit IT professionals looking for a job within an SAP environment to prove their expertise and experience. The SAP Certified Development Associate - SAP HANA 2.0 SPS05 - C_HANADEV_17 certification exam verifies that the applicant perceives to develop native software applications running on the SAP HANA Platform. This SAP certification builds on the basic knowledge gained through related SAP HANA practice. The training covers the development tools and languages utilized to realize the various parts of an SAP HANA software application.
Benefits of SAP HANA Development - C_HANADEV_17 Certification
SAP C_HANADEV_17 certifications confirm your skills. This is vital because you can evidence that you are updated on your employers' latest SAP HANA concepts.

It allows you to enhance your skills and expertise. You will acquire new skills that will help boost your productivity and help your career to flourish.

SAP certification makes it straightforward to get promoted at work or a salary hike. This is because of the new skills that are beneficial to your organization and demand a higher salary.

The SAP C_HANADEV_17 certification makes your resume stand out. Having an additional certification on your resume may appeal to employers and get your ideal job.

A decent feeling of achievement. Achieving SAP certification is a success, and you must be proud of it. The satisfaction you get is unthinkable!

SAP certifications are accepted throughout the world. This means that you can apply for a job in any organization that uses SAP software anywhere in the world.
How to Succeed in Passing SAP C_HANADEV_17 Exam?
Studying for an SAP certification exam can seem a bit intimidating, especially when you look at the exam objectives you have to study before taking the exam. However, you can pass it with dedication and a bit of planning. This article will share some study tips that will help you have a proper preparation process and eventually boost your odds of success in the exam.
1. Break Your Study Into Small Parts
There is always the inclination to chunk your study over two to three weekends, but the fact is that this approach doesn't lead to a good result. You cannot study for ten to twelve hours in one stretch, and trying to do this is only a waste of time. So, instead of studying for SAP HANA Development - C_HANADEV_17 exam on weekends, why not spare time for exam prep every day. If all you can spend is one hour a day after or during your work, you will grasp exam topics in a better way.
2. Consistency and Focus Are Key
One reason that you should be consistence and focused on your studies are you are not going to study for exam forever. All you need is to be focused on your preparation process for two to three months, and you can drop everything. If you commit two to three months to your study and decide to spend at least one hour steadily every day, you can be sure that you will pass your certification exam with flying colors.
3. Video Tutorials
Video tutorials are very crucial to every individual who want to pass SAP C_HANADEV_17 exam. They include detailed information about the exam objectives. The tutorials can be obtained online. The individuals waiting to sit SAP certification exam can access videos on Youtube.
4. Explain to Others What You Have Learnt
Become a 'tutor' and find a 'student.' Explaining to others what you have learned is a compelling way to study for the SAP exam. That is why it is suggested that you find a 'student' and become a 'tutor.' Anyone can be your student. It can be a family member, a co-worker, or a friend. Explain to them what you're learned so far. By doing so, you can sit with them and explain the new concepts that you have already learned to them. With this, you can gauge how well you understand the content. If you can not explain it flawlessly, this indicates that you require to study it again.
5. Avoid Distractions
When you are about to sit for your SAP C_HANADEV_17 exam preparation, the first thing you need to do is to specify your study place. Have a specific study area and assure you have everything handy. Suppose you are planning to study while at work, you might want to reserve a conference room to evade any distractions or interruptions. If you're studying at home, define a study place and take off everything that will distract you. Do not carry your smartphone to the study area so as not to get distracted by the social media notifications. Moreover, do not listen to music also. Listening to music also reduces the level of concentration, so avoid that too.
6. Utilize SAP C_HANADEV_17 Practice Test
Practise tests will help the applicant perceive the understanding and knowledge that they have soaked up. Attempting SAP C_HANADEV_17 practice test is considered the most crucial step in the preparatory journey. Moreover, the result of the practice test shows the candidate about their weak areas so that they can work on them and improve them.
Conclusion
As you can perceive, passing the SAP C_HANADEV_17 certification exam demands hard work, consistency, Focus, and a lot of time. By following the above tips into action, you can be sure you will pass your SAP C_HANADEV_17 exam with relative ease at your first attempt.
Wishing You a Success!