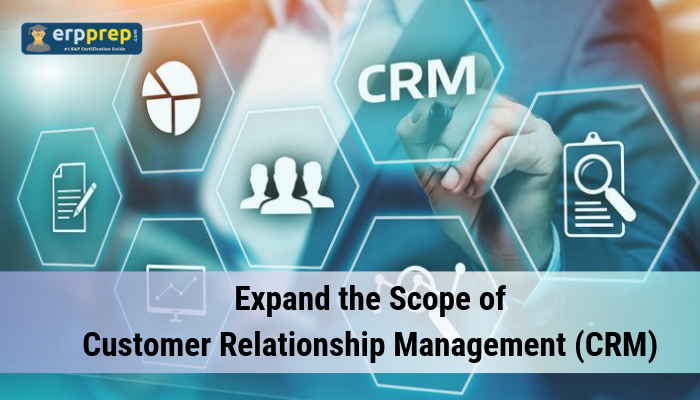 SAP CRM certification was created and outlined with a concept of managing and maintaining a relationship with clients by organizations. This certification qualifies you how to manage all your customer-related data and connections using SAP CRM. This certification will specifically focus on the essential aspects of business, such as marketing, sales, and service. In this course, the participant will also get acquainted with all the modules and features of SAP CRM.
What is SAP CRM Certification?
The SAP CRM certification "SAP Certified Application Associate - CRM Fundamentals with SAP CRM 7.0 EhP3" (C_TCRM20_73) proves the essential knowledge in the area of the SAP Customer Relationship Management. This certification confirms that an applicant has a fundamental knowledge within this consultant profile of the CRM solutions, and can practice this knowledge efficiently in projects under the guidance of an experienced consultant. This SAP certificate is the perfect -although not mandatory- a prerequisite for the qualification to CRM Application Professional in any of the specialist sectors. It is considered as an entry-level qualification to allow consultants to get acquainted with the basics of CRM.
Benefits of SAP CRM Certification for Business Professionals
Customer relationship management is an approach to business and marketing approach that acknowledges customers as the heart of the business. This methodology comprises business processes and activities related to searching and communicating with customers to meet their requirements with services, products, and customer experience methods. SAP CRM certification qualifies you to empower the business activities accompanying developing and conducting customer relationships. SAP CRM certification expose business users and technical professionals to CRM business conception, techniques, and strategy. This certification qualifies applicants to how to use CRM technology to allow these concepts.
SAP CRM certificate appropriate for sales, marketing, or other general business-focused professions and fields of study covers CRM topics such as:
Describe Business partners, organizational management and product master

Describe CRM Billing, partner processing, actions and pricing fundamentals

Describe SAP CRM Channel Management, SAP CRM Field Applications and SAP CRM Interaction Center

Describe SAP CRM Solution - Foundation & Architecture, SAP NetWeaver Fundamentals

Describe CRM user interface

Describe Activity management and transactional processing

Describe SAP CRM Marketing, SAP CRM Sales, SAP CRM Service and SAP CRM Analytics.

Describe CRM Middleware, Data Exchange with R/3 Backend
Because customer relationship management implies different things to different people, today's acronym CRM has many definitions. To some, CRM is a business philosophy that manages the processes associated with developing customer relationships, managing those interactions, and maintaining a loyal customer support because of the activities involved. To others, CRM is the technology that allows business processes to find, attract, and support a customer's requirements and work as the database to store the information resulting from these efforts.
Customer Relationship Management has become a significant part of any successful business. On the one hand CRM means a technological component – a software – that is capable of accomplishing all essential business processes in the area of marketing, sales and service. On the contrary CRM is becoming a strategy – not to say a theory – ever more.
SAP CRM certification can also help develope and manage (online-) marketing campaigns. For those that are keen on entering e.g. the areas marketing and sales, earning SAP CRM certification is extremely important. Additionally, the need for specialised CRM consultants is becoming higher and higher as well, making this a promising possibility for a future career.