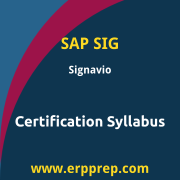 You can collect all the information about SAP Signavio Certification Exam (C_SIG_2201) from this page. The SAP SIG certification is mainly targeted to those candidates who are from SAP ERP & business consulting background and wants to build their career as a SAP Signavio consultant. The SAP SIG Certification Exam verifies that the candidate possesses fundamental knowledge and proven skills in the area of SAP Signavio. This exam validates that the candidate has a good and overall understanding within this consultant profile, and can implement this knowledge practically in projects under guidance of an experienced consultant.
SAP Signavio Certification Details:
SAP Signavio Certification Exam Topics:
C_SIG_2201
Topic Areas

Topic Details, Courses, Books

Weighting

Process Modeling

Read and create BPMN 2.0 compliant business processes models and identify also relevant process information

SIG110

> 12%

SAP Signavio Process Manager

Navigate and use all features in SAP Signavio process manager to structure content, model business processes and analyze KPIs.

SIG120, SIG170

> 12%

SAP Signavio Process Governance

Create workflows for process automation and explain best-practices

SIG300

> 12%

SAP Signavio Process Intelligence

Provide, explore and analyze a data set by by creating an investigation to reveal process inefficiencies.

SIG210, SIG220

> 12%

Process Mining

Explain the fundamentals of process mining and identify the basic data requierements in process mining projects

SIG200

8% - 12%

SiGNAL

Explain and use SiGNAL as query language to explore process data and analyze in more depth.

SIG230

8% - 12%

Business Process Management

Explain the areas of business process management and define the process levels and its architecture.

SIG100

< 8%

SAP Signavio Process Collaboration Hub

Navigate through process information and collaborate with other business users to share feedback on process content

SIG160

< 8%
The SAP Education has created this certification exam for the assessment of SAP skills, such assessments are defined based on the understanding of SAP Signavio. The SAP offers certification for associate, professional, and master levels, they have defined this certification levels considering the candidate's actual experience and domain expertise. To ensure success in SAP Signavio Certification Exam (C_SIG_2201), SAP recommends combining education courses and hands-on experience to prepare for your certification exam as questions will test your ability to apply the knowledge you have gained in training and professional experience.