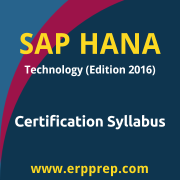 You can collect all the information about SAP HANA (SPS11) Technology Certification Exam (C_HANATEC_11) from this page. The SAP HANATEC 11 certification is mainly targeted to those candidates who are from SAP HANA & business consulting background and wants to build their career as a SAP HANA Technology consultant. The SAP HANATEC 11 Certification Exam verifies that the candidate possesses fundamental knowledge and proven skills in the area of SAP Certified Technology Associate. This exam validates that the candidate has a good and overall understanding within this consultant profile, and can implement this knowledge practically in projects under guidance of an experienced consultant.
SAP HANA (SPS11) Technology Certification Details:
SAP HANA Technology (SPS11) Certification Exam Topics:
C_HANATEC_11
| | | |
| --- | --- | --- |
| Topic Areas | Related Books/Courses | Weighting |
| System Architecture | Design a system architecture for an SAP HANA implementation that includes hardware sizing, data persistence, network requirements and integrates with the existing customer landscape. | 8% - 12% |
| Users and Authorization | Describe the SAP HANA authorization concept, the different types of privileges and the SAP HANA database repository. Set up authorization traces. | 8% - 12% |
| Security | Describe the SAP HANA authorization and authentication concepts and set up encryption and auditing for SAP HANA. | 8% - 12% |
| High Availability & Disaster Tolerance | Design a strategy for high availability and disaster recovery, explain the high availability and system replication features of SAP HANA. | 8% - 12% |
| Backup & Recovery | Design a backup and recovery strategy for SAP HANA, and understand the backup catalog and the configuration files. Explain database copy scenarios. | 8% - 12% |
| Troubleshooting of SAP HANA | Troubleshoot SAP HANA system performance by configuring traces, analyzing system files and using SQL console. | 8% - 12% |
| Monitoring of SAP HANA | Set up and execute monitoring for SAP HANA using DBA Cockpit, SAP HANA Studio, SAP HANA Cockpit and the trace files. | 8% - 12% |
| Operations of SAP HANA | Setup an administration and operations strategy for SAP HANA that includes starting and stopping, performance analysis and transport management using SAP HANA Studio and HDBSQL. | 8% - 12% |
| SAP HANA Installation & Upgrade | Evaluate pre-requisites for an SAP HANA installation, verify hardware and operation systems and describe installation and post-installation tasks. | 8% - 12% |
| Database Migration to SAP HANA | Describe the DMO benefits, the DMO procedure steps, the different migration options, the preparation steps for DMO and the techniques to reduce downtime. | 8% - 12% |
The SAP Education has created this certification exam for the assessment of SAP skills, such assessments are defined based on the understanding of SAP Certified Technology Associate. The SAP offers certification for associate, professional, and master levels, they have defined this certification levels considering the candidate's actual experience and domain expertise. To ensure success in SAP HANA Technology (SPS11) Certification Exam (C_HANATEC_11), SAP recommends combining education courses and hands-on experience to prepare for your certification exam as questions will test your ability to apply the knowledge you have gained in training and professional experience.