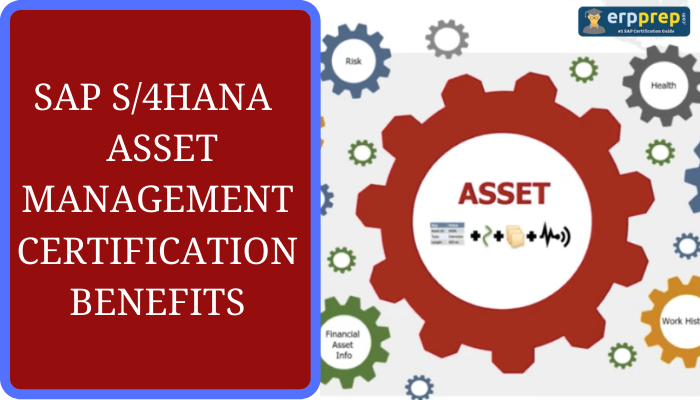 How the SAP S/4Hana Asset Managers Help Organizations?
SAP S/4Hana Asset Management certification holders, enable organizations to manage the entire asset lifecycle with real-time visibility efficiently.

The SAP S/4Hana Asset Management certification allows them to optimize asset usage, shrink costs, lower risks, better manage capital expenditures, and ultimately maximize return on assets.

They use the solution to provide real-time insights into asset performance data for timely, relevant decisions.

The knowledge gained through SAP S/4Hana Asset Management certification enables the employees to use simulation, prediction, and analysis. Thus they evaluate asset behavior, plan budgets, and forecast maintenance cost.

As outlined in ISO 55001, the SAP S/4Hana Asset Management certification gives a standard view of information technology (IT) and operational technology (OT) data for a holistic asset management system approach.

The solution supports and promotes proactively managing asset-related risks to minimize disruption.

The SAP S/4Hana Asset Management certification enables the users to access one standard view on the process risks that could be harmful to workers, assets, or the environment.

Facilitates the use of analysis, prediction, and simulation, to achieve greater insight, e.g. converting incident reporting and risk assessments into actionable knowledge.

The SAP S/4Hana Asset Management certification fully integrates with the capabilities of S/4Hana enterprise in the areas of finance, human resources, manufacturing, materials management, etc.
SAP S/4Hana Asset Management certification confirms that the candidate knows SAP S/4Hana Asset Management fundamentals and has in-depth knowledge in the Asset Management line of the business, which is required for the consultant profile.
The certification validates that the candidate has an overall knowledge and comprehensive technical skills to participate as a member of an SAP S/4Hana on-premise implementation project and mentor the team on Asset Management. This certification exam is recommended as an entry-level parameter.
What is Asset Management?
Asset management relates to a systematic approach to governance. It realizes value from the things that a group or entity uses, over their total life cycles. It is applicable for both tangible assets, which include physical objects like buildings or equipment and to intangible assets like human capital, intellectual property, goodwill, and financial assets.
It is a consistent process of developing, operating, upgrading, maintaining, and arranging of assets in the most budget-friendly manner.
Different Types of Asset Management
Infrastructure Asset Management:
It extends mainly in relation to the public sector, utilities, transport systems, and property. Additionally, Asset Management is used to reshape the future interfaces between the human, built, and natural environments through collaborative and evidence-based decision processes.
Physical Asset Management:
It is the practice of managing the entire life cycle (design, construction, commissioning, operating, repairing, maintaining, modifying, replacing and decommissioning of physical and infrastructure assets) such as production and service plant, structures, power, water, and waste treatment facilities, transport systems, distribution networks, buildings, and other physical assets.

The data obtained at a high level from asset systems is permitting the theories of Total Cost of Ownership, which can be applied to facility management of an individual policy, across a campus or a building. Physical asset management is associated with asset health management.
Fixed Assets Management:
It is an accounting process that is used in financial accounting to track fixed assets.
IT Asset Management:
It is the set of business practices that join contractual, financial, and inventory functions to assist life cycle management and strategic decision making for the IT environment.
Digital Asset Management:
It is a form of electronic media content management that includes digital assets.
Enterprise asset management (EAM):
These are asset information systems that assist the administration of an organization's assets. An EAM involves an asset registry (inventory of assets and their attributes) together with a computerized maintenance management system (CMMS) and other modules for example, inventory or materials management).

Assets that are geographically spread, interconnected or networked, are often also represented through the use of geographic information systems (GIS).
SAP S/4Hana Asset Management Certification Details:
Name of the Exam: SAP Certified Application Associate - SAP S/4Hana Asset Management

Exam Code: C_TS413_1809

Exam Price: $550 (USD)

Duration: 180 mins

Number of Questions: 80

Passing score: 60%

Topic Areas:
Below is the list of topics that may be covered within this certification and the courses that cover them.
Corrective Maintenance - Web and SAP GUI> 12%

Technical Objects> 12%

Preventive Maintenance> 12%

Organizational Units and Master Data8% - 12%

Mobile Maintenance< 8%

Project-oriented Maintenance< 8%

Refurbishment of Spare Parts< 8%

SAP S/4HANA OP Overview< 8%

Breakdown Maintenance< 8%

Maintenance Processing< 8%

User Interface and User Experience< 8%

Analytics< 8%
Safeguarding the Value of Certification
SAP has worked hard with the Certification & Enablement Influence Council to improve the exams and increase the value of certification. An increasing number of clients and partners are now looking forward to getting the certification. Because certification is a reliable source to safeguard their investments. Unfortunately, the increased demand for certification has made no of people high, who try to get certification unfairly. This ongoing issue has motivated SAP Education to place a new focus on test security.
Tip to Pass the SAP S/4Hana Asset Management Certification Exam:
Know the Benefits of SAP
Make sure that you know the benefits of SAP certification. Many people in the SAP community consider practical SAP experience as the most crucial factor when hiring a new SAP consultant. In their opinion, SAP certification does not hold much value, but you should still be aware of the fact that the SAP certification holds great value in the industry. This assurance will keep you motivated while preparing for the exam.
Read from the Correct Material
Whenever you are preparing for any examination, choosing the correct material is very important. Because the directionless study doesn't lead us towards success. So choose the right books and move forward to get SAP S/4Hana Asset Management Certification.
Fix Your Study Time
Dedication is very important to achieve success in any field. So keep regular 2 hours for study and take power naps to keep yourself rejuvenated. Focus more on the weighted topics of the syllabus.
Take Practice Exams
Take the practice exams provided on ERPPrep.com. Go through their sample questions. It will give you the proper idea about your strengths and weaknesses in the entire syllabus.
Benefits of SAP S/4Hana Asset Management Certification:
1. Job
The main reason that most people are enrolling for SAP S/4Hana Asset Management Certification is that they are hoping to get a job in the SAP field. There is a number of antecedents, where many people have achieved a decent career in SAP due to their SAP 4/Hana Asset Management Certification.
Their stories are considered to be the most successful ones. Many of these people have achieved professional victory and served a number of top Global Organizations. SAP S/4Hana Asset management Certification has helped them to move from distant places to the world's first cities. This also motivates their juniors, friends, colleagues, and others, and they also hope to reproduce the same success mantras.
2.Long Term Investment
People who are enrolling for SAP S/4Hana Asset Management certification take it as an excellent way too long term investment. They hope that this SAP Certification will allow them to get a reasonably good amount of returns on their investment.
Some people believe that SAP Certification could be like a jackpot. It may be valid to a certain extent as a number of consultants have seen rapid growth in their professional careers, even it has given them more than a thousand percent of growth and money.
The markets are very volatile, and the ever-increasing demand for quality people, still some of the employers believe that SAP Certification is the right way of measuring the knowledge of the people. With this intention, they are always looking for knowledgeable SAP S/4Hana Asset Management Certified consultants. The hope of getting a proper amount of money from those employers is one of the best motivators for people doing the SAP Certification.
3. Reputation
SAP S/4Hana Asset Management Certified Consultants will have an incredible reputation by their employers of being certified. They will enjoy this unique reputation from their employers, colleagues, friends, and family members. They will visualize this kind of status in society and still motivate others to a greater extent to become Certified Consultants.
The precedents of reputation that are being enjoyed by many numbers of people are one of the main encouraging factors to do the SAP S/4Hana Asset Management Certification. As wants to see themselves as successfully reputed individuals and professionals and there is no exception to this rule. This fundamental human psychology is driving people to go after SAP Certification.
4. Recognition
SAP S/4Hana Asset Management Certified consultants will enjoy special recognition with their employers and prospective employers. Many potential employers still publish their jobs by stating that "SAP Certification is mandatory/value-added advantage."
You will see there are several posts in the market with this kind of statement. These kinds of statements will drive the number of SAP jobs. For those employers, SAP certification which is confirming that the said individual has adequate knowledge in a particular area.
Besides, SAP is also serving Logos, ID cards to the people who cleared the SAP Certification exam. People are still crazy about these ID cards and logos to put on their CVs and show ID Cards to the public. These logos are still fetching the excellent amount of response from the employers. Individuals enrolling for SAP Certification are still hoping that they are being recognized by these employers.
5. Prospects
SAP S/4Hana Asset Management Certification gives the people a unique cushion in their career and opens up many career paths. Just before certification, nobody even bothers to talk about it, but as soon as they get SAP certification, their market value increases rapidly.
Everybody talks about their great success. People can utilize this opportunity to their advantage in a professional career where the SAP certification advances their professional goals.
6. Promotion
A decent number of employers have promoted the SAP S/4Hana certified consultants in their organizations. Organizations in remote areas find it challenging to get good quality consultants, and they are still encouraging their employees to do the SAP Certification. Many aspirants who want to grow their career in that organization will go for the SAP Certification to rank high in the company hierarchy.
7. Self-respect Increases
SAP S/4Hana Asset Management Certification is a confidence booster, and it acquires a lot of self-respect for the certification holder. Recognition and reputation make them feel special. To visualize this feeling make them much stronger, and they believe that they are not inferior to anybody.
There are many ways of developing one's self-respect, but when they are being certified by a reputed organization like SAP, it gives them a strong sense of responsibility and self-respect. This kind of self-respect is one of the strongest motivating reasons to enroll themselves for SAP Certification.
8. Prestige
Some people believe having a BMW car is a symbol of prestige, some believe having Sony 70″ 3D LCD TV is a symbol of prestige, some believe having Nikon high-end DSLR is a symbol of prestige, and some believe having a posh bungalow is prestige, etc.
In a similar way, there is any number of people who believe that having SAP S/4Hana Asset Management Certification also gives them the same kind of influence in their life. It is only a certification. But, still, there is a number of people believe that A4 size paper from SAP is a prestige symbol. You cannot resell unlike other luxury products, yet some people have a strong emotional bond for SAP Certification.
Summary:
SAP S/4Hana Asset Management certification is currently the most demanding certifications in the Information Technology world. It has created a tremendous buzz among the IT experts in each corner of the world. SAP S/4Hana Asset Management certification is one of the most evaluated certifications; therefore various applicants are dreaming of this certification and want to make a career in this field. This certification is the most successful and effective IT certifications for some time. SAP certification has provided job opportunities to millions of candidates worldwide.
However, there are several top certification providers such as Microsoft, Cisco, Sun, and Oracle, but still, the candidates want to get certified in SAP. In the present market trend SAP certification is the number one product based IT certification. The number of people joining for SAP certification all through the globe has set a target for other certifications.