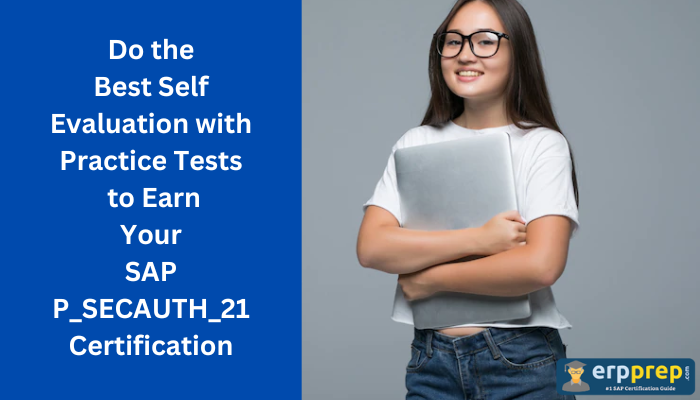 How to pass the professional-level SAP P_SECAUTH_21 certification exam? Let's get more into the preparation details and overview of the certification through this blog.
What Is the P_SECAUTH_21 Certification All About?
P_SECAUTH_21 or the SAP Certified Technology Professional - System Security Architect certification exam confirms that the candidate possesses the in-depth knowledge needed to work in SAP System Security and Authorization.
What Else Is Proved through the P_SECAUTH_21 Certification?
The P_SECAUTH_21 certification proves that the candidate possesses advanced knowledge within the Technology Consultant's profile and can apply his skills practically and offer guidance in the SAP project implementations team as an SAP Security Architect.
Furthermore, the P_SECAUTH_21 certification holder can review and evaluate the security level of complex cloud, on-premise, and hybrid system architectures.
Domains You Study During the P_SECAUTH_21 Certification Preparation:
The P_SECAUTH_21 certification exam covers the following topics-
User Administration and Identity Lifecycle Management in SAP

Access Governance and Compliance in SAP

SAP Cloud Platform Security

Secure an SAP System

Authorization Concept for SAP Business Suite

Security Monitoring and Security Auditing

SAP Netweaver Application Server and Infrastructure Security

Authorization, Security, and Scenarios in SAP HANA

Authorization Concept for SAP S/4HANA
Preparation Tips to Get the P_SECAUTH_21 Certification:
Boost Your Knowledge with the P_SECAUTH_21 Training:
As a P_SECAUTH_21 candidate you might feel stuck during the theoretical knowledge gain. But your difficulties become less when the candidate joins the training and clears his doubts from the industry experts. Therefore, attain the training and learn directly from the experts.
Become Confident with the Syllabus Domains:
SAP P_SECAUTH_21 syllabus focuses on an almost equal percentage of domain distribution and makes learning every section important. Ultimately, your success will be dependent on the number of questions you attempt. So, prepare hard and
Get A Study Plan:
If you are ready with a study plan from the beginning, covering the syllabus becomes smoother. Find out when you feel the most productive and utilize that time in the exam preparation. Set out the particular topics date-wise and accomplish them. If you are serious enough to use your study time, only two to three hours of study will work well for you.
Joining Groups and Forums Is Beneficial:
The best benefit of joining a study group or forum is that you don't feel alone while doing self-study. Other benefits include asking questions from the seniors and sharing your knowledge. All of these are vital for any exam preparation. When you regularly discuss a topic, you get stronger with the syllabus details, and it helps you solve the multiple-choice questions easily.
Self Evaluation with the P_SECAUTH_21 Practice Test Is A Must:
Self-evaluation helps a candidate learn about his strengths and weaknesses and prepare for the exam better. You can experience the real exam structure through time-based practice tests. Once you are done grasping the syllabus, try to keep track of your preparation through continuous practice. While practicing, a candidate needs to memorize all the topics at once, to solve the questions, just like in the actual exam scenario. So, take the help of P_SECAUTH_21 practice tests and assess yourself before reaching the exam hall.
Who Is A Security Architect?
As a P_SECAUTH_21 Security Architect, the aspirant is responsible for designing, building, testing, and implementing security systems within an organization's IT network. The Security Architect must possess a thorough knowledge of complex IT systems and should be updated with the latest security standards, systems, authentication protocols, and best practice security products.
What Could Be Your Possible Job Roles As A Security Architect?
Security Architect must respond readily and effectively to possible breaches of security. A Security Architect job description generally includes:
Conducting regular system tests and ensuring continuous monitoring of network security

Checking current system security measures and recommending and implementing enhancements

Developing project timelines for ongoing system upgrades

They ensure all personnel access the IT system, limited by need and role.

They work on disaster recovery procedures and conduct breach security drills.

The security architects respond to all security incidents and provide thorough post-event analyses.
Here Are the Benefits of Becoming P_SECAUTH_21 Certified:
Get Recognition and Credibility Across the Globe:
SAP certification is one of the most recognized technical certifications in the world. You will get your professional-level P_SECAUTH_21 certification after passing a rigorous specialized training program on a particular SAP module from authorized official training institutes.These institutes are directly associated with SAP, and when you flaunt the P_SECAUTH_21 certification on your resume, your credibilty is already proved.
Salary Negotiation Power Gets A Boost:
SAP certification improves your negotiation power. If you are an IT professional or consultant with the SAP P_SECAUTH_21 certification pitched against a peer with the criteria being at par. Due to your professional level skills, you will always be at an advantage over your peers.
Get Competitive Advantages in the Hiring Process:
With the help of SAP P_SECAUTH_21 Global Certification, recruiters can list their applications at a glance. SAP Global certification offers a competitive advantage in the recruitment method.
Bottom Line:
A professional-level certification proves your knowledge and shows your enthusiasm to get certified. That means your career path is undoubtedly bright with the SAP P_SECAUTH_21 certification. Therefore, study hard and pass the examination.