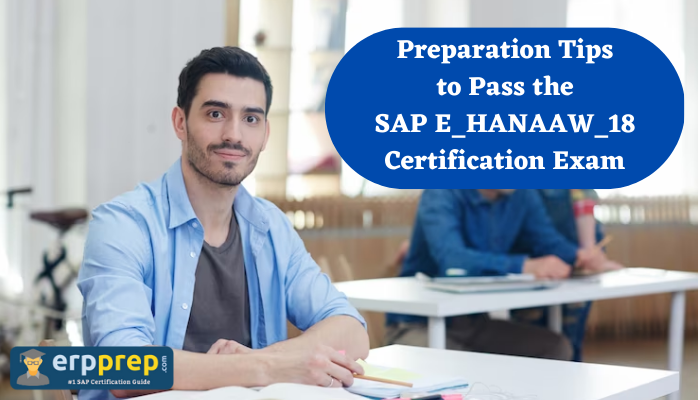 When it comes to exam preparation, E_HANAAW_18 practice tests are one of the best study materials to earn your SAP Certified Development Specialist - ABAP for SAP HANA 2.0 credential. Explore the preparation tips to pass the ABAP for SAP HANA exam in no time.
Overview of the E_HANAAW_18 Certification:
E_HANAAW_18, or the SAP Certified Development Specialist - ABAP for SAP HANA 2.0 certification exam, confirms that the individual possesses the necessary skills in ABAP programming for SAP HANA as required for the role of an SAP ABAP development consultant.
The certification is a continuation of the fundamental knowledge acquired through ABAP-for-HANA training and documentation and practical experience gained while working on an SAP HANA team, where the individual can apply their knowledge to real-world projects.
Prerequisite to Take the E_HANAAW_18 Certification Exam:
It is highly recommended that candidates have already passed one of the certification exams. These are C_TAW12_70, C_TAW12_71, C_TAW12_731, C_TAW12_74, C_TAW12_750. The E_HANAAW_18 certification stays valid for 5 years.
Here Are the Syllabus Domains:
The E_HANAAW_18 exam covers the following topics-
ABAP Programming based on SAP HANA Artefacts

SAP Development Tools for SAP NetWeaver

SAP HANA Basics and Technical Concepts

Integration of SAP HANA Coding into ABAP Programs

Guided Performance Analysis

SAP HANA Information Models and Database Procedures

Implications of SAP HANA on ABAP Programming
Go through the Functional tips to Ace the E_HANAAW_18 Exam:
Preparing for the E_HANAAW_18 exam requires understanding the exam structure and content and developing strong study habits. Here are some steps to help you prepare for the exam:
Review the E_HANAAW_18 Exam Content:
The E_HANAAW_18 exam tests your knowledge of SAP HANA 2.0 and the related topics. Review the exam content outline and familiarize yourself with the topics and subtopics that will be covered. Grasping the syllabus topics would be your next task to score well in the E_HANAAW_18 exam.
Develop a Study Plan:
Create a study plan that includes specific goals, study sessions, and review periods leading up to the exam. Make sure to allocate enough time for each exam topic and prioritize areas where you need more practice.
Utilize SAP Training Resources:
SAP offers a variety of training courses and materials that can help you prepare for the exam. Consider taking an instructor-led course or online training to deepen your understanding of the exam topics.
Use Quality Study Materials for the E_HANAAW_18 Certification:
Utilize study materials such as books, practice exams, and online resources to reinforce your knowledge and identify areas where you need to improve. These materials can help you identify your strengths and weaknesses, as well as provide additional practice questions to test your knowledge.
Get Familiar with the E_HANAAW_18 Practice Tests:
Taking E_HANAAW_18 practice exams can help you get familiar with the exam format and identify areas where you need to improve. Practice exams can also help you build confidence and reduce exam anxiety. The E_HANAAW_18 exam is timed, so it's important to practice time management during your study sessions, and practice tests help in improving that. Make sure to allocate enough time for each question and pace yourself throughout the exam.
Why do Organizations Use SAP ABAP for HANA?
One of the main benefits of using ABAP for SAP HANA is that it allows the user to take advantage of the speed and efficiency of the SAP HANA platform. Because ABAP is specifically designed for the SAP environment, it can be optimized to work seamlessly with SAP HANA, providing fast and efficient processing of your business data.
Another advantage of using ABAP for SAP HANA is that it provides high flexibility and customization. With ABAP, you can create custom reports, interfaces, and applications tailored to your business's unique needs. This customization level helps organizations gain insights into your business data that would be difficult or impossible to achieve with off-the-shelf solutions.
Benefits of Having the E_HANAAW_18 Certification:
Improved Credibility with the E_HANAAW_18 Certification:
This certification is recognized globally as a mark of excellence in a specific area of SAP technology. Certified professionals are seen as experts in their field and are trusted to develop innovative solutions that meet the needs of organizations. Therefore, the E_HANAAW_18 certification improves your credibility.
Increase Your Team's Potential:
Organizations can also benefit from having SAP Specialist level certified professionals on their team. These individuals can help organizations to leverage the full potential of SAP technology and develop custom solutions that are tailored to their unique business needs. It helps organizations to gain a competitive edge and drive innovation in their industry.
Improve the Quality of Operations within an Organization:
Furthermore, having SAP Specialist level certified professionals on staff can improve the overall quality of an organization's SAP-based solutions. Certified professionals have a deep understanding of the specific area of SAP technology and can ensure that solutions are developed according to best practices and industry standards. This can lead to more efficient and effective solutions that provide greater value to the organization.
Bottom Line:
SAP certifications are valid across the globe for their usage, and when you are equipped with a specialist-level certification, it undoubtedly opens up the path for multiple career opportunities. Therefore, improve your preparation level with practice tests and grab the E_HANAAW_18 certification.