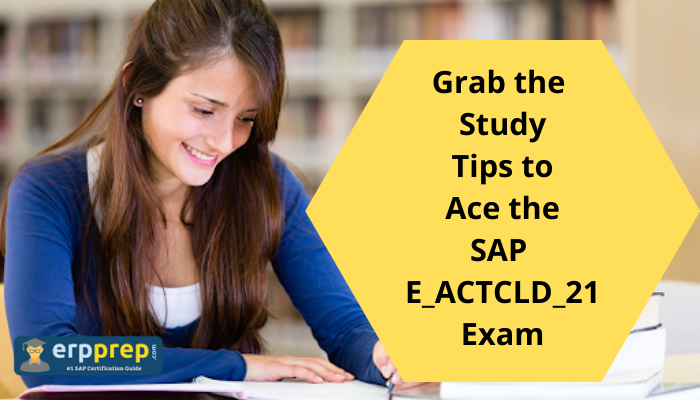 If you are keen to implement SAP Cloud in your work, getting the E_ACTCLD_21 certification is of great benefit. Your success in the exam becomes easy if you follow a study guide and keep practicing regularly with online practice tests.
What Is Checked through the E_ACTCLD_21 Exam?
The E_ACTCLD_21 or the SAP Certified Specialist - SAP Activate for Cloud Solutions Project Manager certification exam validates the candidate's knowledge required in SAP project management.
The E_ACTCLD_21 exam validates if SAP Cloud-focused project managers have advanced business skills and the ability to apply tools and methodologies. Apart from higher-level communication and presentation skills, the E_ACTCLD_21 certification also verifies that the project manager is versed in managing internal and external stakeholders, basic knowledge of change management processes, and communicating these processes to others.
What Is Validated through the E_ACTCLD_21 Certification?
This E_ACTCLD_21 exam validates that the project manager can successfully manage the end-to-end transition from Sales to Realization, develop roadmaps for project execution, and understand testing and quality management. In particular, for SAP Cloud-related projects, the exam verifies that the Project Manager can apply the SAP Activate Methodology.
Details of the E_ACTCLD_21 Certification:
The 40 questions long E_ACTCLD_21 exam is a multiple-choice exam and is taken within 90 minutes. A candidate needs to score a 65% mark to pass the E_ACTCLD_21 exam.
What Topics Are Covered under the E_ACTCLD_21 Certification?
The following topics are covered under the E_ACTCLD_21 syllabus-
Agile Project Delivery

SAP Cloud Application Lifecycle Management

Cloud example - New Implementation SAP S/4HANA Cloud

Workstreams Overview

SAP Activate Elements

SAP Activate Overview

Agile Project Planning
What Are Some Beneficial Preparation Tips to Pass the E_ACTCLD_21 Exam?
Get clarity on what you have to learn. Focus more on the exam objectives and cover the topics one by one. SAP syllabus of specialist level exam needs special devotion to cover, therefore chalk out your schedule and make an effort to cover the syllabus topics.

Write down important notes during the study. The habit of reading and writing down the E_ACTCLD_21 topics would help to boost your memory.

SAP training plays an important role in boosting your knowledge by offering practical support regarding the exam. In, that case learning from the experts through related training is essential.

Devoting enough time for daily study is needed. Once you follow a routine to cover the syllabus topics, your study plan becomes effective, and getting success becomes easy.

Focus more on practicing and evaluating your performance. It is highly recommended to evaluate your performance. Now, how to do the evaluation? A candidate can enroll for the valuable and trusted practice test and practice online to check their preparation level. E_ACTCLD_21 practice tests provide valuable insight into the preparation level of the candidate. You must follow the guidance to score better in the actual exam. Rigorous practicing would help you to deal with the syllabus topics you are lacking. Therefore, make a habit of practicing online, and evaluate your performance.
What Is SAP Cloud?
SAP Cloud Platform is more than a thing for customers to program new apps. The solution also covers things like integration and life-cycle management and comes with predefined templates that help customers transition to the intelligent business world of tomorrow. SAP Cloud Platform explains Dagmar Zoder, head of SAP Cloud Platform for Middle and Eastern Europe at SAP.
Benefits of Using SAP Cloud:
Get Flawless Integration of Existing Solutions and Hybrid System Landscapes:
SAP Cloud Platforms not only assure the smooth transition between core SAP systems and SAP's software-as-a-service (SaaS) offerings. The SAP Data Hub solution and SAP HANA Data Management Suite tools likewise integrate flawlessly. It makes it possible for users to call up data from disparate systems and solutions in the blink of an eye. Consequently, SAP Cloud Platform offers heterogeneous solutions and hybrid system landscapes together under one system.
Fast Deployment of Preconfigured Services and Applications:
With SAP Cloud Platform, organizations have access to a various range of preconfigured business services. Using ready-made application elements and integrated functions for authentication and provisioning, customers can now create and integrate innovative applications in next to zero time at all. They can also have partner-built solutions and apps at the push of a button on the platform. It means they also benefit from the ever-growing SAP ecosystem. There are already more than 1,500 enterprise-class applications are there in the SAP Store to date.
Have Simple Development of Native Business Functions:
SAP Cloud Platform is dependent on open standards and offers IT experts a range of development tools and possibilities. Programmers, for example, can use their existing ABAP know-how with agile methods and DevOps principles to create new business services and apps. SAP Cloud Platform concentrates exclusively on the business logic for new applications and processes.
Bottom Line:
Getting an SAP certification is highly recommended to enhance your value across the globe. In the case of, E_ACTCLD_21 the specialist level SAP certification, the probability of getting recognition becomes higher. Therefore, grab the certification and make the way towards a flourishing career.