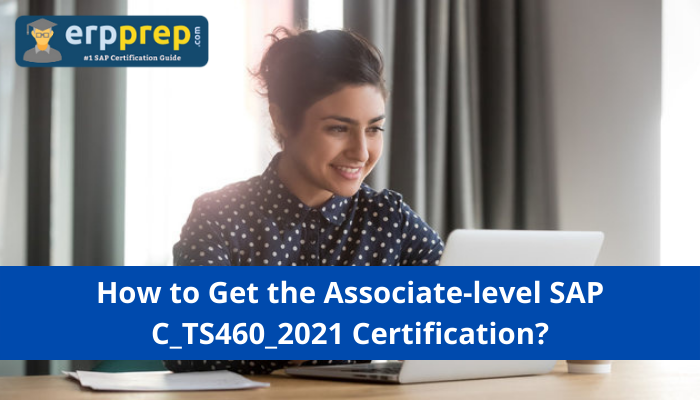 What is the best path to ace the C_TS460_2021 certification exam? Study, hard work, and practice test attempts combined are proven sources of success easily.
Overview of the C_TS460_2021 Certification:
C_TS460_2021 or the SAP Certified Application Associate - SAP S/4HANA Sales 2021 Upskilling certification exam proves that the candidate has the fundamental and core knowledge to work on the SAP S/4HANA Sales profile.
The C_TS460_2021 certification also proves that the candidate is versed with overall understanding and in‐depth technical knowledge to join as a project team member in a mentored role.
Level of the C_TS460_2021 certification:
The C_TS460_2021 certification exam is suggested as an entry-level certification, and the C_TS460_2021 certification exam is suitable for those who already possess any of the certification exams:
SAP Certified Application Associate - Sales and Distribution, ERP 6.0 EhP6

SAP Certified Application Associate - Order Fulfillment with SAP ERP 6.0 EHP5

SAP Certified Application Associate - Sales and Distribution, ERP 6.0 EhP7
Topics Covered Under the Certification:
The C_TS460_2021 exam covers the following topics-
Intelligent Technologies

Cross-functional Topics

Billing

Reporting and Analytics

Shipping

Simplifications

Sales

Pricing

Master Data and Organizational Structures

Performance
Preparation Tips to Ace the C_TS460_2021 Exam:
Grasp the C_TS460_2021 Syllabus Topics:
You might be well versed with SAP exam topics, as the C_TS460_2021 exam needs you to have some of the certifications mentioned above. Certifications could widen your knowledge, but every specific exam requires you to learn more about syllabus topics. The SAP C_TS460_2021 exam equally puts weightage on every syllabus section, so you must learn the C_TS460_2021 syllabus topics from the core to attempt maximum questions.
Make A Routine to Cover the Syllabus Quickly:
You can't wait for lifelong to take the C_TS460_2021 exam; covering the syllabus is mandatory, and making a study routine could help you in this regard. If you are new to taking the SAP certification exam, associate-level certifications could feel challenging, too; therefore, take ample time to get ready. Pearson Vue administers the S/4HANA Sales Upskilling exam, so register for the exam and choose the date when you want to take the exam. If you are aware of the exam date, you can plan for the exam better.
Get Clarity on the Concepts with C_TS460_2021 Training:
Enroll in SAP online training for more clarity regarding the C_TS460_2021 topics. Through training, you get a chance to learn from the experts directly. For success in SAP exams, you must incorporate study, training, practice test together.
Choose the C_TS460_2021 Practice Test Wisely:
When you are done with exploring the syllabus, your focus must shift to learning from practice tests. Be aware while choosing the best study resources, as the quality of materials would decide your success in the exam. Go through google searches, read reviews testimonials, and definitely look for the budget-friendly option.
The C_TS460_2021 practice tests help assess your performance and preparation level. Experts design the most reliable practice tests, so the chances are higher to have the real exam-like experience. You must try to take the test within the given time and try to gradually score higher in the practice exams. Scoring higher would boost your confidence to do well in the actual exam. Take these tests as learning and work on the sections you feel difficult, and attempt questions from those sections.
Why Should You Get the C_TS460_2021 Certification?
Earning the associate-level C_TS460_2021 certification boosts your career-building scopes. Besides, this certification improves your knowledge regarding SAP S/4HANA and its amazing benefits.
User-Friendly Solution:
The end-user interface of SAP S/4HANA is entirely SAP Fiori oriented. This makes the user-friendly rendition of real-time business decisions and intelligence on any mobile device a laudable business advantage, anytime and anywhere.
Get Powerful Performance:
S/4HANA works only on SAP HANA, SAP's flagship in-memory computing database. It demonstrates that running an SAP solution such as S/4HANA naturally takes benefit of the speed of transaction processing and reporting native to SAP HANA. S/4HANA allows them to experience better performance as it is connected to complex and time-driven business activities such as real-time execution, reporting, planning, and analytics based on live data and prompt period closing, and improved forecasting. SAP S/4HANA also aids in providing a better service level for customer-centric applications.
Get Simplified Administration:
SAP S/4HANA provides unparalleled simplicity to the management and administration of the complete IT landscape. The solution helps to use network and hardware resources in a centralized manner.
Using S/4HANA Is A Cost Effective Solution:
The inclusion of S/4HANA is a cost-effective option when you check that you can combine all the analytical and transactional possibilities of different systems into a single source of truth which helps acute and proactive business making.
Innovation Is Better with SAP S/4HANA:
SAP S/4HANA is one of the SAP solutions that drive cloud adoption by organizations. The cloud provides a platform for different software vendors to provide innovative products that integrate and extends the scopes of S/4HANA.
While choosing between traditional SAP ERP solutions and SAP S/4HANA, making the decision is not easy. Undoubtedly, S/4HANA represents an offering from SAP that is central to executing business in today's complex and radically changing environment.
Bottom Line:
Therefore, grab the C_TS460_2021 certification if you are keen to boost your SAP career scopes. Earn the associate-level certification and prove your knowledge regarding SAP S/4HANA to potential employers.