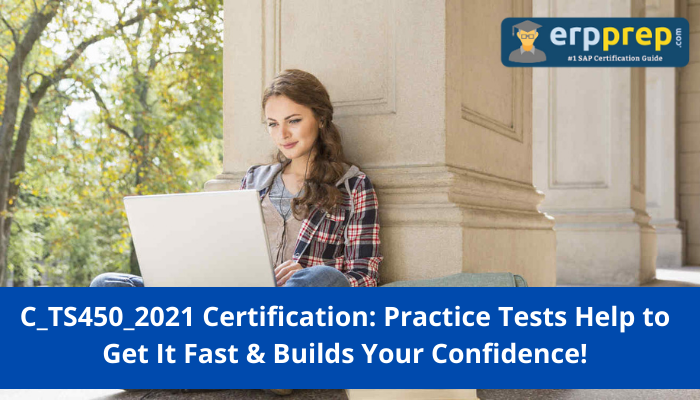 Are you getting ready for the C_TS450_2021 certification? Explore the real-exam-like practice tests, and get the SAP Certified Application Associate - SAP S/4HANA Sourcing and Procurement - Upskilling for ERP Experts certification fast.
C_TS450_2021, or the SAP Certified Application Associate - SAP S/4HANA Sourcing and Procurement - Upskilling for ERP Experts certification exam validates that the candidate has the core and fundamental knowledge regarding sourcing and procurement needed for the consultant profile.
What Else Is Proved through the C_TS450_2021 Certification?
The C_TS450_2021 certification proves that the candidate has an overall knowledge and can implement the knowledge practically in projects to become part of the success of the planning and implementation phases in a mentored role.
Previous project experience is not mandatory; a prerequisite to passing the C_TS450_2021 exam. However, previous knowledge about the sourcing and procurement method in SAP ERP is beneficial.
Candidates without any SAP ERP background knowledge are suggested to take the certification exam. The certificate issued for passing the exam will be valid for five years.
Syllabus Topics Covered Under the C_TS450_2021 Certification Exam:
The C_TS450_2021 exam covers the following topics-
SAP S/4HANA Essentials

Procurement Configuration

Consumption-based Planning

Procurement Processes

Sources of Supply and Source Determination

Purchasing Optimization

Logistics Processes in SAP S/4HANA

Valuation and Account Assignment

Inventory Management

Master Data and Enterprise Structure Configuration

SAP S/4HANA Innovations in Sourcing and Procurement
Here Are the Useful Tips to Pass the C_TS450_2021 Certification Exam:
Being Organized Is the Key to Success:
Your first step towards success is to stay organized throughout the exam preparation. You should go through a step-by-step plan to take the registration, cover the syllabus, and then move to other valuable study resources to stay organized and learn well.
Have Firm Grasp on the C_TS450_2021 Syllabus Topics:
You must pay attention to the syllabus section and its percentage distribution to chalk out a solid plan. You would find out that the C_TS450_2021 exam syllabus focuses almost equally on all syllabus domains. Therefore, focusing on and learning all syllabus domains becomes essential. If you want to have a good score on the exam, having a firm grasp is important.
Always Find the Way to Make Studying Enjoyable:
You should not lack motivation throughout your preparation and must maintain a study pace to do well in the exam. You can make flashcards ad charts to make studying enjoyable. Mention columns like daily study, topics to be reviewed, and important links separately. You can use colors to highlight the already completed topics. Making a colorful study chart would help you easily follow the routine and stay at a good pace.
Utmost Devotion Is Needed to Ace the C_TS450_2021 Exam:
If you want to be successful in the C_TS450_2021 exam on your first attempt, staying devoted to your schedule is highly important. Don't jump into unrealistic study plans; better devote two to three hours from your daily routine to studying for the exam. Choose the most productive time from your schedule to learn fast and effectively.
Track Your Preparation Level through C_TS450_2021 Practice Tests:
Studying hard is essential to crack the C_TS450_2021 exam, but do not keep yourself stuck in only studying. You must assess yourself from time to time to improve further. What materials do you choose to play an important role in getting ready for the C_TS450_2021 exam. Some candidates opt for dumps, and they face difficulty while taking the exam, as they face the exam pattern for the first time. On the other hand, C_TS450_2021 practice tests help you learn more about your strengths and weaknesses.
Moreover, you will get familiar with the C_TS450_2021 exam structure and be good at time management. In short, the practice tests offer valuable guidance to work on the syllabus sections and score well in the exam structure. Therefore, keep on boosting your knowledge and have the scope to perform well in the actual exam.
What Are the Benefits of Using SAP S/4HANA Solution?
Earning the C_TS450_2021 certification offers you the scope to work with SAP S/4HANA. Experts say SAP S/4HANA offers multiple benefits for businesses, including flexibility, lower costs, and faster analytics due to the HANA in-memory database.
Better Analytical Insights:
S/4HANA increases performance exponentially as it runs on the HANA in-memory database. The smart data design reduces aggregate tables and data redundancy for better efficiency. The core ERP system now offers analytics and faster insights instead of data stored in a data warehouse and without any load.
SAP S/4HANA helps business transactions, and analytics possibilities exist in the same system to speed up. This helps businesses easily and quickly make decisions and cover business processes in one single application using a single source of facts. There is no need to change between systems and applications.
Get Better Forecasting:
Machine learning applications and Embedded AI are continuously evolving slowly but steadily in S/4HANA to improve predictive outcomes, modeling, and forecasting. Now a retailer, for example, could use the Universal Data Element Framework for wanting to forecast based on historical data and pull in third-party factors.
Ownership Cost Is Low:
S/4HANA brings works like Global Available-to-Promise (Global ATP) and master data governance into the core. Fewer things to manage mean lower ownership and maintenance costs from an infrastructure perspective.
The shared infrastructure allowed by S/4HANA allows businesses to move away from basic metal infrastructures that need upgrading every five years. Organizations can now use public or private cloud deployments and SAP's virtualization to consolidate their infrastructure.
Bottom Line:
Getting the C_TS450_2021 certification helps you to prove your SAP S/4HANA skills and opens up the path to have a lucrative career. Therefore, get ready and earn the certification.