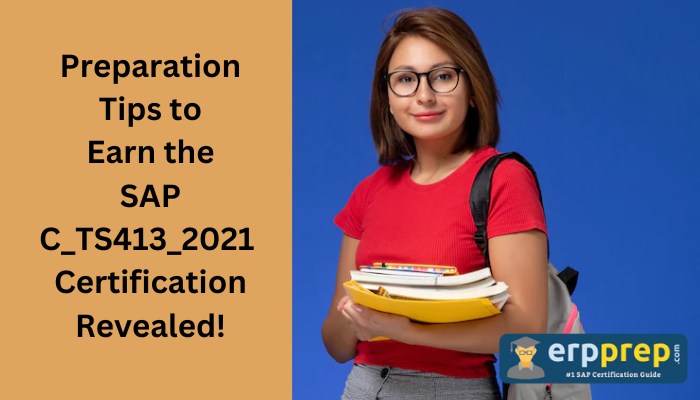 Are you looking for study materials for the C_TS413_2021 exam? Practice tests could be one of the best preparation sources for the exam. Learn more about SAP S/4HANA Asset Management and get some practical tips to pass the exam.
What Is Proved through the C_TS413_2021 Certification Exam?
C_TS413_2021 or the SAP Certified Application Associate - SAP S/4HANA Asset Management certification exam proves that the aspirant possesses the fundamental and core knowledge regarding SAP Asset Management needed to work on the consultant's profile.
What Else Is Proved through the C_TS413_2021 Certification?
The C_TS413_2021 certification also talks about the candidate's overall knowledge and the aspirant can use his knowledge practically in projects to add to the success of the planning and implementation phases under a mentor's guidance.
How Long Does the C_TS413_2021 Certification Stay Valid?
The certificate issued for passing the C_TS413_2021 exam will be valid for five years. You don't need to have the previous project experience to pass the exam.
What Domains Do You Learn While Preparing for the C_TS413_2021 Certification Exam?
The C_TS413_2021 exam covers the following topics-
Inspection Checklists

Refurbishment of Spare Parts

Mobile Maintenance

Analytics

Maintenance Processing - Phase-based

Maintenance Processing - Simplified

User Interface and User Experience

Organizational Units and Master Data

Maintenance Processing - Standard

Preventive Maintenance

Technical Objects
Preparation Tips to Pass the C_TS413_2021 Exam:
Learn the Syllabus Topics and Utilize Book Resources:
Learning the syllabus domains from the core is the first usual task one must do to get ready for the C_TS413_2021 exam. Books are always the best resources to prepare for an exam, and a candidate must follow books like S4130 and S4131 to complete the syllabus topics. Every aspirant must go through the syllabus topics and chalk out the plan to learn in a way that suits them.
Set A Study Schedule to Do the Preparation within Time:
If you don't follow any schedule, you won't be able to prepare well for the C_TS413_2021 exam and may end up missing valuable domains in a hurry. But setting a study schedule helps you stay motivated till the end. Spending quality time in the study is essential; therefore, study for at least two to three hours and boost your grasping.
Learn from the C_TS413_2021 Training:
Whatever your method of studying or grasping the theoretical part, you must join the C_TS413_2021 training and learn from the experts to strengthen your practical base. The theoretical part of the exam will check your study base, but the practical part will check and help to perform future projects.
Do Not Ignore Taking Practice Tests:
You might be very confident about the exam preparation, but you must never ignore the importance of taking practice exams. Taking the C_TS413_2021 practice test would help a candidate assess his preparation level. You can easily detect your strengths and weaknesses through the C_TS413_2021 practice test and work on those areas to improve your performance. Therefore, keep on practicing to get familiar with the exam and become better with time management.
Know More About Asset Management:
Asset management is generally known as work that evolves around the maintenance of a business's fixed assets. These things include manufacturing components, vehicles, and plants, replacing broken infrastructure on the manufacturing floor, and checking a downtime schedule to replace components when their work has been done completely.
How does SAP S/4HANA Help in Asset Management?
SAP S/4HANA Asset Management helps organizations that use SAP S/4HANA Utilities. Asset management can be helpful in the following manner-
Equipment Calibration with SAP S/4HANA:
Before starting up a new type of machinery for the first time, it's important to take it through its paces to become assured that it is easy for the task. Equipment calibration functionality helps organizations such as water utilities to test pipes and pumps and heating utilities such as gas companies to pressure sensors and emergency cutoff devices to work correctly.
Status Management Gets Better:
For organizations that offer services via a network of cables, such as electric utilities, SAP S/4HANA Asset Management has ways to guarantee that those components are working in a proper manner. Managing the status with SAP S/4HANA means any information is at the fingertip. If something goes wrong, they'll be alerted immediately and can dispatch help wherever the issue occurs.
Preventive Maintenance with SAP S/4HANA:
Even the best-oiled machine needs a tune-up from time to time. SAP S/4HANA Asset Management's preventive maintenance functionality offers users the tools needed to schedule and perform preventive maintenance activities.
Bottom Line:
SAP S/4HANA Asset Management allows a holistic approach to maintenance planning, scheduling, and execution with the integrated maintenance management software. Connect material management and plant maintenance functionalities, track costs, thoroughly analyze damages, and more with this solution. SAP S/4HANA Asset Management is a well-used solution that can help you make a better career. Therefore, grab the C_TS413_2021 certification and start your SAP career.