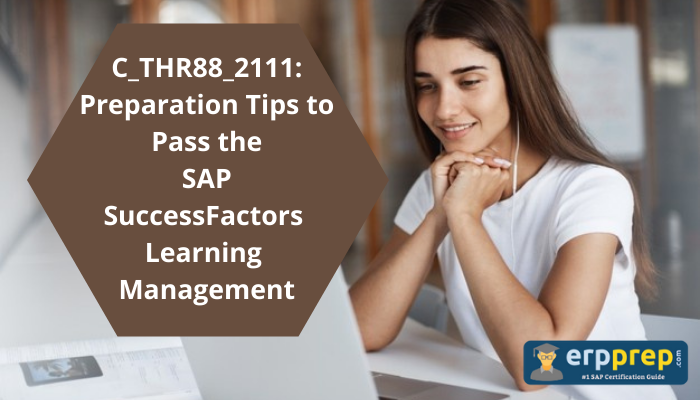 Passing the C_THR88_2111 exam becomes easy when the aspirant uses sample questions and practice tests along with some proven study tips. Here is the certification overview and some benefits of using SAP SF LMS explained through this article.
What Is the C_THR88_2111 Certification All About?
C_THR88_2111 or the SAP Certified Application Associate - SAP SuccessFactors Learning Management 2H/2021 certification exam checks if the candidate is versed with the basic knowledge regarding the area of the SAP SuccessFactors Learning Management application.
What Is Proved through the C_THR88_2111 Certification?
Earning the C_THR88_2111 certification proves that the candidate possesses a basic and overall knowledge within the consultant's profile of the industry solution and can use his knowledge practically in projects under the guidance of an experienced consultant.
The C_THR88_2111 certification is suggested as an entry-level qualification to allow consultants to get familiar with the fundamentals of SAP SuccessFactors Learning Management.
What Topics Are Covered under the C_THR88_2111 Exam?
The C_THR88_2111 exam covers the following topics-
Integrate SAP SuccessFactors Learning with the SAP SuccessFactors HXM Platform

Global Application Settings

Scheduling

Learning Management – Programs

Online Content Management

System Configuration

Security

Learning Management

Connectors
How Should You Go with the C_THR88_2111 Exam Preparation?
Join SAP Training to Learn More about the C_THR88_2111 Topics Practically:
SAP topics are not so easy to understand. But learning becomes easy if you join the training and clear your doubts from the industry experts. Success depends on theoretical and practical knowledge, and training helps boost your knowledge practically. Therefore, join the training and enhance your knowledge.
Focus on Completing the C_THR88_2111 Syllabus:
The firm grip on the C_THR88_2111 syllabus decides who can attempt how many questions in the exam hall. So for attaining sure success, a candidate must cover all syllabus topics from the core. The almost equal distribution of all syllabus topics makes it tough to skip any section regarding SAP C_THR88_2111 exam preparation. Therefore, make your mindset cover all syllabus sections. You might find some topics very hard to grasp; learn the basics from those sections.
Make Syllabus Completion Easier with A Study Plan:
Covering the syllabus becomes easier when you have a study plan. Choose the most productive time and dedicate two to three hours effectively to learn the topics. SAP syllabus is almost equal percentage-based, so a candidate should not skip any topics.
Join Groups and Forums for Valuable Advice:
Join communities, groups, or forums for a regular discussion on C_THR88_2111 exam-related topics. If the candidate keeps discussing with other aspirants, the discussions can help him clear his visions. More discussions on the topics mean you have earned good knowledge and can remember it for a longer time. One to one question in the forums can solve your subject-related doubts.
Practicing with C_THR88_2111 Practice Test Is Crucial:
Are you ready to face the exam? Self-evaluation is always vital when getting prepared for the C_THR88_2111 exam. The time-based C_THR88_2111 practice tests would help you get familiar with the actual exam. The candidate gains valuable insights into his strengths and weaknesses while taking the C_THR88_2111 practice exams. That means practice tests not only offer you guidance, but they offer you the chance to improve and perform better in your upcoming attempts.
Get an Overview of SAP SuccessFactors LMS:
SAP SF LMS is recognized as a talent and learning management system software leader. The solution puts your employees at the center of the learning experience to develop new skills, gain insights and drive people engagement.
It comes with features like automated assignment profiles, structured programs, and multipart e-signature support. With these features, SAP SuccessFactors Learning Management System offers the industry's most powerful and flexible Cloud LMS systems on the market.
Benefits of Using SAP LMS:
Plan Courses and Curriculums:
SAP SF LMS helps make web-based content that supports performance goals, career and succession plans, organizational development, and compliance objectives.
Tracking the Progress of Your Employees Is Easy:
Make a learning strategy with SAP SuccessFactors LMS and their online learning platform that offers exams, assessments, and certifications.
Get Insights with Analytics:
With the advanced SAP LMS portal that offers comprehensive metrics, the user can measure the effectiveness and value of his training and then make better decisions based on those metrics.
Recommend Courses:
Help users learn which courses will help them in their development plans with a superior course management system; show course ratings to get feedback and improve course offerings.
Assure Regulatory Compliance:
Organizations in highly regulated industries can use the validated SaaS for LMS option in order to ensure regulatory compliance.
Bottom Line:
Associate-level certifications are building blocks for many higher-level certifications. The C_THR88_2111 certification proves the candidate's knowledge regarding SAP SF LMS and helps them get multiple benefits for an organization.