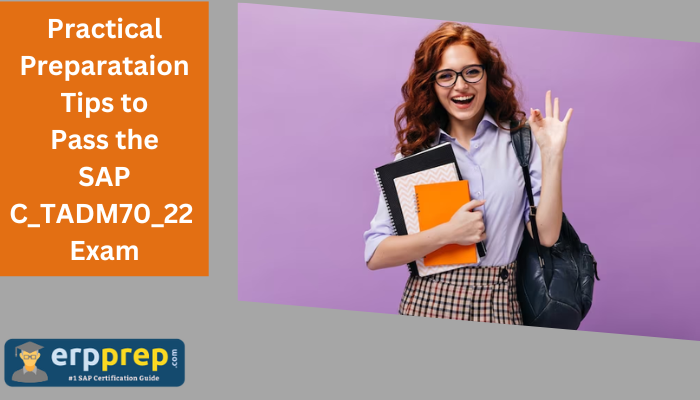 If you are preparing for the C_TADM70_22 certification exam, assessing your knowledge from time to time is essential to improve in the areas you lack. Practice tests help in this regard. This blog explores practical preparation tips and study materials to score higher.
What Is the C_TADM70_22 Certification All About?
The certification exam, C_TADM70_22 or SAP Certified Technology Associate for OS/DB Migration in SAP NetWeaver 7.52, confirms that a candidate is a skilled and trained technologist who can assist clients in managing and carrying out essential business processes. With expertise in SAP NetWeaver 7.52 and OS/DB migration for SAP systems, the candidate can apply this knowledge as a technology consultant for various projects.
What Domains Are Covered Under the C_TADM70_22 Syllabus?
The C_TADM70_22 exam covers the following topics-
Export and Import of System Copies

Technical Background and Troubleshooting

The System Migration Process

Special System Copy Procedures

SAP Migration Tools

Control and Data File Structure for System Copies

Advanced Migration Techniques

SAP System Migration
How to Prepare for the C_TADM70_22 Exam?
Understand the C_TADM70_22 Syllabus Thoroughly:
It is essential to have a thorough comprehension of the C_TADM70_22 curriculum. A committed approach is required regardless of the certification level. Even for associate-level certifications, the subject matter covered in the C_TADM70_22 certification may appear challenging. Some IT exams permit skipping certain curriculum topics and focusing on a specific section. However, the SAP C_TADM70_22 exam curriculum is well-rounded, and it is crucial to have a comprehensive understanding of all the curriculum domains.
Create A Plan to Cover the C_TADM70_22 Syllabus Efficiently:
The essential aspect of acing an exam is finishing the curriculum, and it is crucial to establish a study plan early on. To get ready for the C_TADM70_22 certification exam, create a checklist of the curriculum topics and adhere to a routine. Having a fixed schedule for daily study can save time and help with more efficient studying, avoiding time spent deciding what to study each day.
Make the Most of Your Study Time:
Maintaining a clear agenda for daily studying helps to remain on course with completing the curriculum. Strive to study two hours daily and maintain a consistent preparation routine. Attempt to comprehend two to three subjects per study session and use the time efficiently by taking notes. Keeping notes can be time-saving during revision, providing easy access to essential details.
Solve Sample Questions for Widening Your Knowledge:
Solving different SAP C_TADM70_22 sample questions will offer you an idea about your preparation level. Your knowledge gets boosted while solving the sample questions.
Join the C_TADM70_22 Training:
Answering various sample questions for SAP C_TADM70_22 can provide insight into your level of preparation. Your understanding will improve as you work through these sample questions.
The Importance of Practice Tests in Your C_TADM70_22 Exam Preparation:
Acquiring appropriate study materials is essential, as your exam results rely on both your efforts and available resources. C_TADM70_22 practice tests are a beneficial study tool that you can utilize to evaluate your comprehension. By taking practice tests, you can assess your strengths and weaknesses and recognize the areas that require improvement.
Some candidates opt to study from exam dumps, but this approach lacks the chance to assess their comprehension. Conversely, those who utilize practice tests gain a deeper insight into their readiness and can make relevant adjustments. It is recommended to depend on practice tests and approach exam preparation strategically.
What Is SAP OS/DB Migration for SAP NetWeaver?
OS/DB migration for SAP NetWeaver is the process of transferring an SAP system from one operating system and database platform to another. This migration is necessary when an organization wants to upgrade its hardware or change its database provider.
The migration process involves several steps: system analysis, data backup, migration planning, migration execution, and post-migration testing. It is a complex process that requires careful planning and execution to minimize the risk of data loss or system downtime.
How Does OS/DB Migration for NetWeaver Helps Organizations?
OS/DB migration for SAP NetWeaver offers several benefits to organizations, including:
Improved System Performance:
Migrating to a new operating system or database platform can improve the performance of the SAP system, resulting in faster response times and increased productivity.
Reduced Costs:
OS/DB migration can help reduce costs by moving to a new hardware or database platform that is more cost-effective or has lower licensing fees. It can also reduce the costs associated with maintaining and supporting legacy systems.
Increased Stability:
Moving to a new operating system or database platform can help increase system stability and reduce the risk of system failures or downtime.
Access to New Features and Functionality:
OS/DB migration can provide access to new features and functionality that are not available on the old system, allowing organizations to take advantage of the latest technologies.
Simplified IT Environment:
Consolidating SAP systems onto a single platform can simplify the IT environment and reduce complexity, making it easier to manage and maintain.
Bottom Line:
Every SAP certification is proof of your skills regarding a specific solution and helps you to prove your skills. The C_TADM70_22 certification demonstrates your associate-level OS/DB Migration skills and opens up career opportunities. Therefore, study hard and pass the exam in no time.