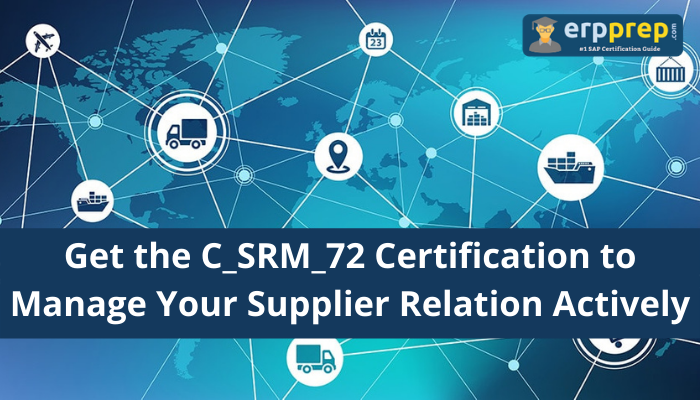 Supplier Relationship Management or the C_SRM_72 exam could be your best career option when planning to coordinate with your business suppliers. A candidate needs to pass the C_SRM_72 exam to use the most of SAP SRM.
Who Should Take the Exam and Is There Any Prerequisite?
The C_SRM_72 exam is an associate-level exam, so any candidate could take this exam. But candidates with Basic knowledge of procurement processes can work well with the certification knowledge. The C_SRM_72 certification is suitable for the following candidates-
Application Consultant

Business Analyst

Business Process Architect

Business Process Owner / Team Lead / Power User

Change Manager

Help Desk / COE Support

Program / Project Manager
What Does the C_SRM_72 Certification Verify?
The C_SRM_72 certification or the Solution Consultant Supplier Relationship Management SAP SRM 7.0 EHP 2 exam verifies the knowledge of a candidate in the area of SRM for the application associate ll consultant profile.
The C_SRM_72 certification acknowledges the basic understanding of a candidate within the consultant profile. It proves that he can implement this knowledge practically in projects. The C_SRM_72 holder or SAP Certified Application Associate can contribute to the success of the making and implementation stages of any project under a mentor's guidance and would typically have a maximum of three years of experience in the solution area. There is no need for any Project experience for a competent and well-trained candidate to pass this exam.
What Topics Are Covered under the SAP C_SRM_72 Exam?
The syllabus covers topics like-
Master data (product and business partner), Organization structure and user management, and customizing data synchronization +

Workflow implementation and features

Catalog Management

Bidding, Auctioning, and E-Sourcing Processes

Monitoring of documents, processes, and system communication; BADI concept

Accounting and ERP integration

Basic Netweaver Portal administration and integration, Portal UI and WebDynpro UI configuration; field control

Procurement Documents in SRM and ERP

Contract Management

Plan Driven and Service Procurement Processes

Operational sourcing

Supplier Self Services and Supplier Registration

Self Service Procurement Processes
How to Prepare for the C_SRM_72 Exam?
Start with Covering the C_SRM_72 Syllabus:
Learning the syllabus holds the key to pass any exam. When you grasp the syllabus topics from the core, the knowledge makes it easier to attempt the 80 questions asked in the exam. SAP C_SRM_72 syllabus is almost equally distributed in percentages. It creates the possibility of having questions from all sections. So, when you grip the syllabus, you gain the confidence to ace the exam easily.
A SAP C_SRM_72 Study Plan Could Be Your Saviour:
When you create a study plan you can keep track of your preparation easily. You can highlight the topics you complete learning to track your progress. Keep more time for the topics you find hard. Work on a realistic study plan and keep at least two to three hours for daily study. Many people plan to study for five to six hours and at one go, which does not help them at the end. So, make a habit of covering small syllabus portions every day.
C_SRM_72 Practice Test Can Be the Best Assessment Tool:
Assessment is one of the most important steps for your exam preparation. Every candidate should check if they are able to answer questions within the given time, otherwise, they can face challenges in the exam hall. You can have the real-time exam experience through C_SRM_72 practice exams. Practicing continuously guides you about the syllabus portions you are unable to attempt. If you follow the result section and work on your mistakes, you can better mark in the actual exam.
What Is SAP Supplier Relationship Management?
SAP SRM or SAP Supplier Relationship Management is a solution that provides you with innovative ways to coordinate your business plans with your key suppliers and make them more productive. SAP SRM helps you optimize your procurement strategy, work more efficiently with your supplier pool, and get long-term benefits from all your supplier relationships. With SAP SRM, you can examine and predict purchasing behavior, shorten procurement cycles, and work with your partners in real-time. The solution allows you to develop long-term relationships with all those suppliers who have proven themselves, reliable partners.
Benefits of Using the SAP SRM:
The goal of SRM is to manage relationships with suppliers in order to build value and profits for a business. If used right, supplier relationship management can lower wholesale costs, improve efficiency and decrease redundancies in the supply chain.
Get Effective Cost Reduction through SAP C_SRM_72 Certification Knowledge:
Using supply chain management practices can drastically reduce the costs associated with establishing relationships with new suppliers. Getting new suppliers, sampling products, and negotiating contracts is a costly, time-consuming process, and mistakes made can delay a company's growth.
Listing out existing suppliers who have the probability of meeting an organization's current and future demands can mean stable costs and a trusted supply chain.
Get Higher Efficiency:
Discovering supplier relationships that align with corporate goals can also lead to higher efficiency. Communication improves over time, with every type of healthy, mutually beneficial relationship. The same way suppliers gain a clearer knowledge of the specific needs of the businesses they work closely with helps reduce supply chain delays.
Stable Pricing Is Obtained Using SAP C_SRM_72 Knowledge:
Having a supplier scorecard is a key part of supplier relationship management because it quickly checks the various pricing strategies used by each supplier.
SRM helps organizations spot the suppliers who offer fixed pricing, which reduces concerns over cost changes. Analyzing supplier relationships and checking on the most beneficial ones can also give organizations the leverage to negotiate lower costs in exchange for a higher minimum order level, longer contract term, and other negotiable issues.
Bottom Line:
A certification always helps you to earn knowledge about a specific field. Having the SAP C_SRM_72 certification boosts you at the career level, and if you are a business owner, you can improve your supplier relationship through the certification knowledge.