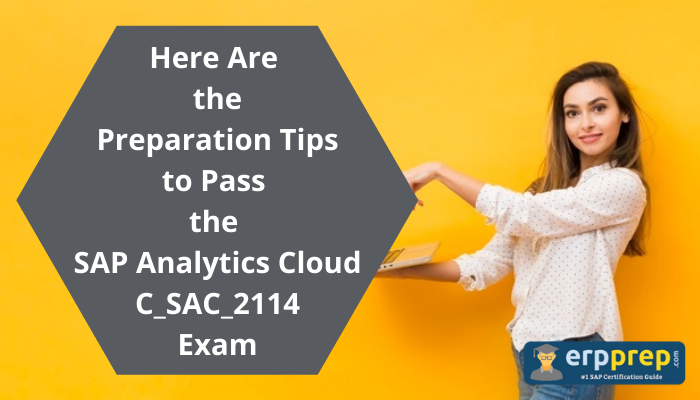 Get introduced to valuable C_SAC_2114 practice exam questions to earn your SAP Analytics Cloud certification in no time. Explore the most effective study tips and materials to pass the SAP Analytics Cloud exam on your first attempt.
Overview of the C_SAC_2114 Certification?
The SAP Certified Application Associate - SAP Analytics Cloud or the C_SAC_2114 certification exam validates if the candidate has the core and fundamental knowledge required to become an SAP Analytics Cloud consultant. Earning the C_SAC_2114 certification also confirms that the candidate possesses overall knowledge and technical skills to work as a project team member.
Who Can Take the C_SAC_2114 Certification Exam?
The C_SAC_2114 certification exam is recommended as an entry-level certificate, so any candidate interested in making a career with SAP Analytics Cloud can take the C_SAC_2114 exam.
Syllabus Topics Are Covered under the C_SAC_2114 Exam:
The C_SAC_2114 exam covers the following topics-
SAP Analytics Cloud Administration, Connections and Integration

Overview and Core Functionality

Content presentation, Sharing, Collaboration

Predictive Analytics

Data Preparation: Data Model

SAP Analytics Cloud Analytics Designer and Microsoft Office Integration

Business Intelligence
How Should You Get Ready for the Exam?
Gear Up Your Confidence about the C_SAC_2114 Syllabus:
Every candidate should be confident about covering the C_SAC_2114 syllabus to qualify for the C_SAC_2114 exam. Design a schedule to cover the syllabus topics one by one. SAP syllabus is always equal percentage-based. Therefore, it focuses equally on syllabus topics and covers them from the core to apply them during practical actions. So grasping the topics without fail should be your priority.
Focus on Daily Studying While Covering Small Sections:
Get optimal scope to learn from the syllabus. A candidate can make the exam preparation easier if he plans to make a chart and cover the topics daily with ease. What you want to study on a specific day, how many topics you would cover, everything should be noted down in the study chart for easy use. The purpose of using a study chart is, save your time to decide the topics at that moment. Already decided topics would help to save time during the study hours.
Stay Loyal to Your C_SAC_2114 Schedule:
Making a schedule is easy, but not following it does not lead you to success. So, while getting ready for the C_SAC_2114 exam, remember to follow your study schedule without fail. A candidate can crack the C_SAC_2114 exam within one month, but he should devote ample time learning the topics from the core and memorizing them.
Be Focused about Your Study Hours:
Set your study hours. The random decision of studying could lead you to trouble. Give importance to studying daily for at least two to three hours, and stay devoted to your study hours. Whatever work you do, focus on using your study hours wisely. Try to avoid other works during your study hours and stay consistent with the schedule.
Check Your Preparation with C_SAC_2114 Practice Test
What is the method of deciding if you are ready enough or not? The decision could be easier if you take the evaluation with C_SAC_2114 practice tests. Once you are confident with the C_SAC_2114 syllabus and learn from different resources, it would be best to get habituated with C_SAC_2114 practice tests. Most of the time, the C_SAC_2114 practice tests are created in a manner that a candidate can get the feel of taking the actual exam. The time-based practice test makes a candidate ready to face the questions within a defined time.
Some people also choose easy options like reading from dumps, and finally, they do not perform well or fail in the exam. Candidates using dumps miss the opportunity of evaluating themselves and face trouble during the exam.
Join the Related Training:
A candidate should learn about the related C_SAC_2114 training to broaden his knowledge. SAP exam success is highly dependent on both kinds of knowledge, practical and theoretical. Therefore, don't miss your scope to learn from the experts.
Get an Overview Sap Analytics Cloud:
The SAP Analytics Cloud is a solution that combines BI, augmented and predictive analytics, and planning possibilities into one cloud environment. As the analytics layer of SAP's Business Technology Platform, it helps advanced analytics enterprise-wide.
Here Are the Benefits of Using SAP Analytics Cloud:
You can explore data across the organization and deliver insights at the point of decision with intuitive self-service analytics with business intelligence characteristics.

The SAP Analytics Cloud solution helps meet the analytics demands of all types of people and decisions with an end-to-end analytics solution.

You can create and link financial and operational plans flawlessly in one solution to drive better decisions with integrated thoughts.

Get to the last mile of data-driven decision-making with machine-generated analytics and insights with SAP Analytics Cloud's augmented analytics possibilities.
Bottom Line:
If you are keen to work with SAP solutions and you want to explore SAP Analytics Cloud, the associate level C_SAC_2114 certification could be a great choice. The certification proves your value in the industry and inspires you to take higher-level certifications.