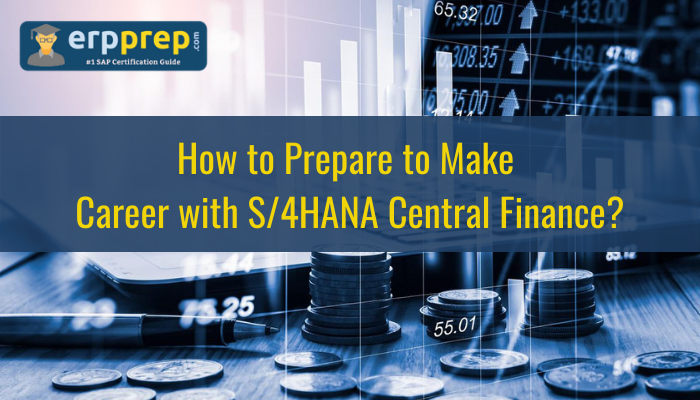 Should you follow a C_S4FCF_2020 study guide to become SAP Certified Application Associate-Central Finance in SAP S/4HANA? The answer is yes. Once you plan the C_S4FCF_2020 exam preparation, it makes you one step ahead to pass the exam at the first go.
What Is Confirmed through the C_S4FCF_2020 Certification?
A candidate with the C_S4FCF_2020, SAP Certified Application Associate-Central Finance in SAP S/4HANA certification exam confirms his fundamental and core knowledge about SAP S/4HANA central finance.
The C_S4FCF_2020 certification proves that the candidate has an overall understanding and in‐depth technical skills to take part in a project under a mentor's guidance.
What Is the Level of the C_S4FCF_2020 Certification?
This C_S4FCF_2020 certification exam is suggested as an entry-level qualification. The exam is conducted to verify if the consultant is ready to contribute successfully to Central Finance implementation projects. It clears the path for a consultant to take part in the implementation project quickly and to contribute to the project's success right away. The C_S4FCF_2020 certification works as the ideal starting point for a career as a Central Finance consultant.
Syllabus Topics Covered under the C_S4FCF_2020 Exam:
The SAP Certified Application Associate-Central Finance in SAP S/4HANA exam deals with the following topics-
System Integration Concepts

Integration Technology ALE

Central Finance Landscape Architecture

Run Phase in Central Finance

Enhancements in the Controlling Area (CO-PA, WBS)

Corporate Finance Processes supported by Central Finance

Central Finance Setup and Configuration

SAP Master Data Governance

System Landscape Transformation Server (SLT)

Real-time Replication in Central Finance

Initial Load in Central Finance
How Can You Benefit a Business through Your C_S4FCF_2020 Certification Knowledge?
Getting the C_S4FCF_2020 certification helps you use SAP S/4HANA central finance, which helps businesses in many ways.
Many SAP customers are planning their transition from ERP systems to SAP S/4HANA in the near future. The customers are interested in taking benefits of the process improvements promised with SAP S/4HANA Finance. Central Finance can be a popular root for businesses that seek to avoid long and expensive migration projects. Businesses can maintain a multi-ERP system landscape easily through SAP S/4HANA central finance.
Through Central Finance, businesses can make a non-disruptive transition from their existing ERP landscape. Companies don't need to migrate all their data from one system to other systems and the implementations of Central Finance involve a replication method throughout the entire business models and data.
Once this mapping is done, moving data to separate applications for financial processes like planning, reporting, and consolidation is no longer needed since these methods are already embedded in the Central Finance system. Users or businesses can jump right in and utilize many of SAP S/4HANA's in-memory, predictive, cloud, and machine learning innovations common to the new suite.
Study Guide to Ace the C_S4FCF_2020 Exam:
Where Should You Start Your C_S4FCF_2020 Journey?
Many candidates are confused about where and how to begin the preparation. It is always beneficial to register yourself at the beginning of your preparation. If you only think of taking the C_S4FCF_2020 exam, and you do not take the registration, you can back out at any moment. But once you have invested in any exam, your study path becomes more sincere. After registration, you know exactly how much time you have to take the exam, so you can plan accordingly and effectively.
Take Ample Time to Prepare for the Exam:
Don't think that you don't need enough time as you are preparing for an entry-level exam. You need to learn the C_S4FCF_2020 exam topics well to work successfully in a project team.
Many candidates possess the potential to take the C_S4FCF_2020 exam within three weeks of the registration period. But, it is suggested to take at least two months' time to get ready for the exam. If you have enough time, you can easily manage your daily chores, office and still get ready for the exam. Devoting at least two hours daily would help you learn the topics from the core and significantly apply them in projects.
The C_S4FCF_2020 Exam Topics Should be in Your Grasp:
Covering each syllabus section is a must to get success in the C_S4FCF_2020 exam. Use books like S4F60, S4F61, etc. to complete the syllabus topics. SAP topics are divided in equal percentages, so a candidate must focus on all the syllabus topics. Remember that completion of the C_S4FCF_2020 syllabus is the key to attempt 80 questions asked in the exam. A candidate must get 64% marks to pass the exam.
Taking Practice Test Should be Your Top Priority:
Practice makes you perfect by pointing out the weaknesses. Don't just study well for the C_S4FCF_2020 exam; keep track of your preparation from time to time. How to do so? The answer is simple, you must evaluate yourself through an online practice test. Many websites offer C_S4FCF_2020 practice questions. You can choose the reliable one through a google search. Just google it and google will help you out about different sites. You can easily get an idea about the questions through free mock tests, sample questions, reviews. Select any of the reliable sources once you are confident with the syllabus topics. Don't be disappointed if you fail to score well in the initial practice exams. Find your strengths and weaknesses through practice test results and try to improve the lacking sections gradually.
Bottom Line:
SAP C_S4FCF_2020 certification is a beneficial option to level up your career. Once you take the entry-level certification in SAP S/4HANA central finance, it opens up the path to take other professional level certifications and boosts your value compared to non-certified peers.