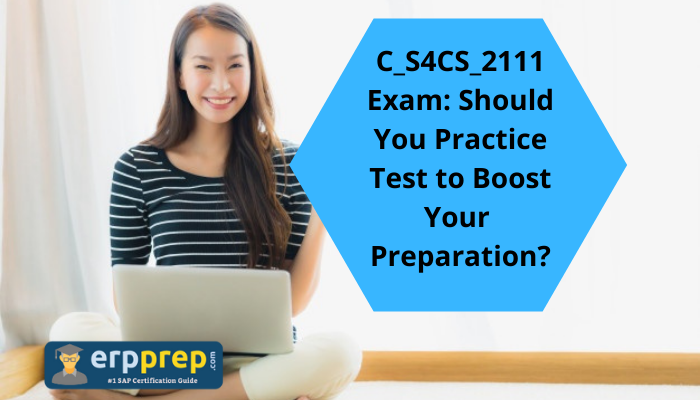 Using C_S4CS_2111 practice tests could help you have a stress-free preparation for the SAP S/4HANA Cloud Sales Implementation exam. Get some clarity on the subject topics and learn how to prepare for the exam with practice tests. Learn more, why practice tests work better than dumps through this article.
Overview of the C_S4CS_2111 Certification:
C_S4CS_2111 or the SAP Certified Application Associate - SAP S/4HANA Cloud (public) - Sales Implementation certification exam proves that the candidate has SAP Activate onboarding fundamentals and core knowledge regarding the Sales line of business area that helps to work as a consultant.
The C_S4CS_2111 certification also confirms that the candidate has an overall understanding and in‐depth technical knowledge to join as a RISE member with SAP S/4HANA Cloud (public) implementation project team that focuses on Sales under a mentor's guidance.
Who Should Take the C_S4CS_2111 Exam?
The C_S4CS_2111 certification exam is suggested as an entry-level certification; therefore, any candidate who wants to work with SAP S/4HANA Cloud can take the exam. The 2111 version of the exam is a part of the Stay Current with SAP Global Certification program. Once the aspirant passes the 21111 version of the exam, they must start taking the stay current process. The aspirants need to take the stay current assessment for all subsequent RISE with SAP S/4HANA Cloud releases through the SAP Learning Hub, starting with the 2202 release to keep his RISE with SAP S/4HANA Cloud (public) consultant certification status and badge.
What Topics Are Covered Under the C_S4CS_2111 Syllabus?
The C_S4CS_2111 syllabus covers the following topics-
Configuration and Reporting

SAP S/4HANA Cloud (public) - Sales Overview

Data Migration

Organizational Units and System Data for Sales

Business Process Testing

Integration and Extensibility

SAP Activate Methodology and Best Practices

Scope Item Level Implementation for Analytics

Scope Item Level Implementation for Core Sales
Study Strategy to Pass the C_S4CS_2111 Exam:
Get Determined to Register and Pass the Exam:
Where to Start? If you start the preparation with the thought of passing it, you could put extra effort into passing the exam. The exam could be tough to crack, but having a positive approach to pass it should be your first step. Take the next step by registering for the C_S4CS_2111 exam. Pearson Vue conducts the C_S4CS_2111 exam. Once you choose a particular date that assures that you are going to appear for the exam, choose the C_S4CS_2111 exam center wisely.
Take Ample Time to Get Ready with the Syllabus:
Once you are done exploring the syllabus, it is time to go through the percentage distribution and make a plan to get ready for the exam. To put a better effort into the exam preparation, a candidate should take ample time and prepare. Take a gap of at least two months between the registration and exam day to perform better in the exam. Study for at least two to three hours daily and work on a few topics for better understanding. Write down notes while studying and boost your grasping power.
Join the Related C_S4CS_2111 Training;
Joining training helps a candidate to learn from the experts directly. You might face difficulty during the preparation, but training sessions would help to gain clarity on the topics.
Keep Assessing Yourself through C_S4CS_2111 Practice Test:
Do you need to take practice exams for the C_S4CS_2111 exam? The answer is yes. How much you read, or how much you feel confident, assessment is a must to know where you stand. When you have completed your preparation, start taking practice exams. Time-based C_S4CS_2111 practice exams will make you familiar with the real exam. You can get valuable insights regarding your strengths and weaknesses through practicing. You can change your weaknesses into strengths if you work hard through rigorous practice. If you choose dumps as the study material, you won't get the chance to evaluate your preparation level, and only reading would land you in trouble during time management.
Learn More about SAP S/4HANA Cloud:
SAP S/4HANA Cloud is a total enterprise resource planning (ERP) system with built-in intelligent technologies. It includes AI, machine learning, and advanced analytics. The solution helps companies get new business models, manage business changes at speed, create internal and external resources, and use the predictive power of AI. The user gets benefit from tight, native integration between processes, industry depth, and a consistent in-memory data model.
Benefits of SAP S/4HANA Public Cloud:
High Standardization:
Highly standardized Cloud ERP functions for selected business areas and industries (digital core).
Great Speed:
The fastest transition of the ERP solution due to highly standardized software and processes allows low costs for implementation and operation.
Innovation & Currentness:
Automatic updates and releases up to four times a year assure currentness, IT security, and continuous system improvement.
Shared Cloud Infrastructure:
All customers work on the same hardware and network infrastructure; data processing in protected areas.
Bottom Line:
Certifications always help a candidate to get better job scopes. The C_S4CS_2111 certification being an associate-level exam helps a candidate have a better career. Therefore, study and pass the C_S4CS_2111 exam.