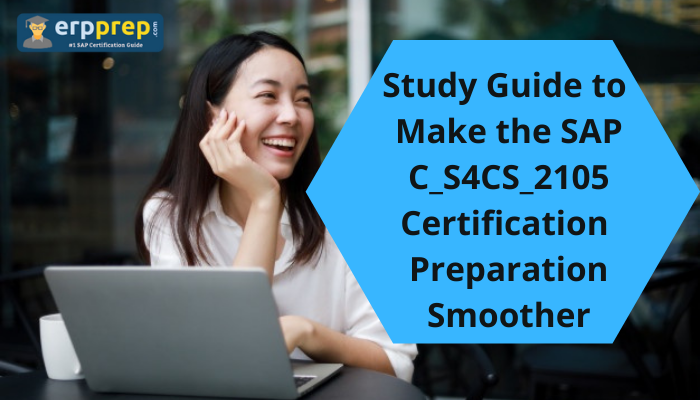 Boost your career with S/4HANA Clouds for sales implementation. Here is the study guide and practice test to get the C_S4CS_2105 certification fast. Explore the overview and benefits of the certification.
What Is Proved through the C_S4CS_2105 Certification?
The C_S4CS_2105, the SAP Certified Application Associate SAP S/4HANA Cloud (public)-Sales Implementation certification exam, proves that the candidate has core and fundamental knowledge regarding SAP Activate onboarding.
He is knowledgeable about the sales line business area that is needed to work as a consultant. The C_S4CS_2105 certification confirms that the candidate possesses an overall understanding and in‐depth technical skills to join as a RISE member with SAP S/4HANA Cloud (public) implementation project team. The aspirant can focus on sales under a senior consultant's guidance.
Can Anyone Take the C_S4CS_2105 Exam?
Anybody interested or any newbie can take the C_S4CS_2105 certification exam as it is suggested as an entry-level exam. Once a candidate cracks the exam, he must start his stay current process depending on the version.
The qualified candidate needs to assess through the quarterly stay current assessment for all subsequent RISE with SAP S/4HANA Cloud releases via the SAP Learning Hub starting with the 2108 release to maintain his RISE with SAP S/4HANA Cloud (public) consultant certification status and badge.
To be part of the stay current program and get the stay current enablement and assessment, the aspirant will need an SAP Learning Hub edition for SAP S/4HANA Cloud subscription.
Target Audience for the C_S4CS_2105 Exam:
The C_S4CS_2105 exam is beneficial for the following candidates-
Business Process Architect

Application Consultant

Business Analyst

Business Process Owner / Team Lead / Power User

Change Manager

Data Consultant / Manager

Developer Consultant

Enterprise Architect

Solution Architect
Discover the C_S4CS_2105 Syllabus Topics:
The exam deals with topics like-
Organizational Units and System Data for Sales

SAP S/4HANA Cloud (public) - Sales Overview

Integration and Extensibility

Data Migration

Business Process Testing

SAP Activate Methodology and Best Practices

Configuration and Reporting

Scope Item Level Implementation for Core Sales

Scope Item Level Implementation for Analytics
What Can You Learn from the C_S4CS_2105 Certification Preparation?
A candidate learns about-
Practice the implementation of scope items linked to Sales-related Analytics.

Exploring various extensibility topics such as In-App and Side-by-Side Extensibility.

The aspirant learns about SAP native integrations and Data Migration.

The candidate learns the implementation of scope items relate to core sales.

Explore how to apply SAP S/4HANA Cloud best methods on system data used in an SAP S/4HANA Cloud situation. The situations are Organizational Units of Default Company, plants, sales org, etc.

The candidate learns to control Master Data with a focus on Sales-related master data.

Conduct a Fit to Standard Workshop.

Execute the SAP Activate Implementation Methodology for SAP S/4HANA Cloud from a Sales line of business perspective.
Preparation Tips to Pass the C_S4CS_2105 Exam:
Learn the C_S4CS_2105 Syllabus Thoroughly:
SAP exam could feel challenging, but it becomes easier if you have a grasp on the syllabus topics. SAP C_S4CS_2105 exam sections usually carry almost equal percentages, so unfolding and gaining knowledge from each section is essential in SAP exam success.
The C_S4CS_2105 exam is 80 minutes long, and a candidate needs to obtain a 58% mark to pass the exam. Studying becomes easy if you can make short notes and make a habit of studying and writing. Recalling all
Make A Dedicated Time Table for the C_S4CS_2105 Exam:
Have a dedicated time slot for the C_S4CS_2105 exam preparation so that you are aware of the study hours and targeted topics to cover within a single day.
If you do not make the study plan, you can fail to cover the syllabus topics, like many other candidates. Therefore, make a routine to get ready for the exam within a specific time. But once a candidate includes a routine or makes a chart and dedicates certain hours for the C_S4CS_2105 exam preparation, the candidate swiftly covers all sections in an organized manner.
Have a special emphasis on spending two to three hours in the study. Don't stretch the study hours for longer. You can become exhausted, and it could harm you rather than giving benefits.
Check Your Memory Power through the Practice Test:
A C_S4CS_2105 practice test helps a candidate assess his memory power. Whatever means you follow to cover the C_S4CS_2105 syllabus, taking the online C_S4CS_2105 practice test enables you to evaluate your performance and learn more about your strengths and weaknesses. Remember, taking practice tests needs you to recall the exam topics simultaneously, just like taking the real C_S4CS_2105 exam.
What Is the Benefit of Using SAP S/4HANA Cloud?
Moving to SAP S/4HANA Cloud will create a new type of contract that will be in place. The user can reduce the support cost quickly. An annual subscription is used in SAP S/4HANA cloud, and included in this are the core licenses, the box level support, and the hosting of the solution. Recent jobs like back-ups and performance monitoring are all included, allowing the customer to focus on their business rather than managing the record system. In addition to this, as the core SAP S/4HANA solution is not as customizable as a traditional SAP ECC on-premise solution, the application support costs will reduce as well due to the reduction of bespoke objects.
Bottom Line:
SAP S/4HANA Cloud is a beautiful platform for customers wishing to implement a simplified ERP solution and get the associated benefits. That means the solution creates a huge demand for knowledgeable candidates. Therefore grab your C_S4CS_2105 certification and take a step towards a brighter future.