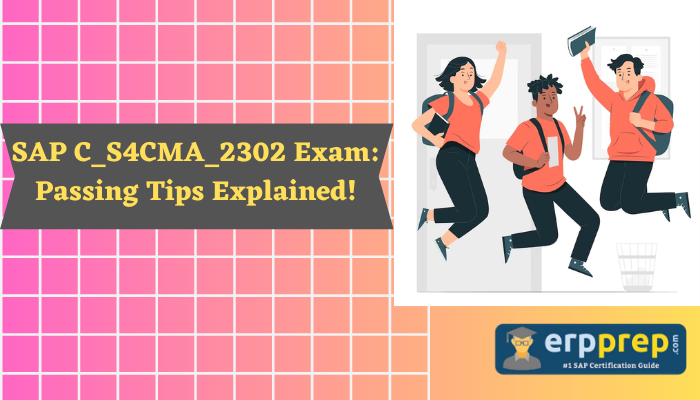 The C_S4CMA_2302 certification preparation needs quality materials, and practice tests work better than dumps to make you exam ready. Learn more about certification preparation through this blog.
Overview of the C_S4CMA_2302 Certification:
C_S4CMA_2302 or the SAP Certified Application Associate - SAP S/4HANA Cloud public - edition Manufacturing Implementation certification exam confirms your core and fundamental knowledge regarding SAP Activate onboarding in the Manufacturing line of business area needed to work as an SAP consultant.
What Else Is Proved through the C_S4CMA_2302 Certification?
The C_S4CMA_2302 certification also proves that the candidate possesses the overall knowledge and in‐depth technical skills to become a RISE member with SAP S/4HANA Cloud public edition implementation project team and focuses on Manufacturing under a mentor's guidance.
What Is the Level of the Certification and How to Maintain It?
The C_S4CMA_2302 certification exam is suggested as an entry-level certification; therefore, any newbie can take this exam. A candidate must note that the 2302 version of the SAP exam is part of the Stay Current with SAP Certification program.
Once an aspirant starts the 2302 version of the exam, they must start the stay current process. The aspirant must take the Stay Current Assessment for all subsequent major releases via the SAP Learning Hub that starts with the 2308 release. It helps maintain his SAP S/4HANA Cloud (public) consultant certification status and badge.
What Domains Do You Learn through the C_S4CMA_2302 Certification Preparation?
The C_S4CMA_2302 exam deals with the following domains-
Cloud Security, GDPR, and Identity Access Management

SAP S/4HANA Cloud public edition Manufacturing Overview

SAP Activate Methodology and Best Practices

Business Process Testing

Data Migration

Configuration

Integration and Extensibility

Scope Item Level Implementation and Configuration for Quality Management

Scope Item Level Implementation and Configuration for Basic Production Processing

Scope Item Level Implementation and Configuration for Basic Production Planning
Practical Tips to Earn the C_S4CMA_2302 Certification:
Proceed with the C_S4CMA_2302 Exam Preparation the with Proper Planning:
If you start the C_S4CMA_2302 exam preparation without proper planning, it could take much longer to cover the syllabus domains. Therefore, as the C_S4CMA_2302 aspirant, begin with registration as your first step. You must fix the exam date once you take the registration, which helps you set a routine for the exam. Devote at least two to three months in the exam preparation to learn the exam objectives and manage your daily chores well.
Prepare the C_S4CMA_2302 Syllabus from the Core:
Your success in the C_S4CMA_2302 exam highly depends on your grasp of the syllabus sections. SAP C_S4CMA_2302 exam keeps the syllabus weightage distribution almost equal for all the domains. Therefore, focus on each domain and try to learn them from the core for present and future use.
Devote Particular Hours in Exam Preparation:
Staying organized is crucial during exam preparations, and following a study routine helps in that regard. Please choose the most productive hours from your daily routine and devote two to three hours to them in exam preparation. When you set a target of studying daily, covering the syllabus gets easier.
Recall the Topic with Ease through Writing Practice:
Can you recall the exam topics well? This is important in determining how you would perform in the multiple-choice exam. Recalling the whole syllabus seems tricky, but you can do it easily by developing a writing habit. Therefore, keep on making notes, and use them for faster revision.
Yes, Practice Tests Are Better than Dumps:
Regular evaluation plays a vital role in exam preparation, and practice tests are one of the best resources. Therefore, cover the syllabus topics and enroll for C_S4CMA_2302 practice test sessions to get insights into your preparation level.
Practice tests help aspirants have real exam experience and make them aware of their strengths and weaknesses. But, if you choose C_S4CMA_2302 dumps, you can only prepare from it, but the part of self-evaluation goes missing.
What Is SAP S/4HANA Cloud?
SAP S/4HANA Cloud is an intelligent, next-generation Cloud ERP business suite that helps to grow your business.
What Are the Benefits of Using SAP S/4HANA Cloud?
Shorter Subscription Time with SAP S/4HANA Cloud:
SAP S/4 HANA cloud is a very cost-effective solution because organizations can pay per month per user demands, increasing or decreasing. SAP S/4HANA cloud needs less implementation time because of its user-friendly and browser-based user interface. Moreover, the plug-and-play option available deducts the deployment time drastically.
Get Better Production Support:
An organization's business analyst can address almost all the issues by using standard business methods and SAP best practices for deployment. The S/4 HANA Pubic deployment needs minimal effort to maintain post-production support. SAP provides delivered data migration templates and scripts to reduce the effort to load data into the new system.
On-premise Incidents Are Low:
SAP S/4 HANA has high-level process standardization and a simplified user front-end, which reduces the internal team's involvement in incident support. The users can directly report the incidents to SAP, reducing the time needed to solve any issue.
Cost Cutting with Less Manpower:
SAP manages most of the changes and incidents when it is compared to the on-premise ERP landscape. This reduces the number of IT staff and the time needed; therefore, organizations get a scope to cut costs with SAP S/4HANA Cloud.
Bottom Line:
Switching to S/4HANA Cloud reduces the time an organization on implementation and management. Thus, organizations get more scope to focus on their core activities. Therefore, get your C_S4CMA_2302 certification, and put your skills forward for your growth and an organization's growth.