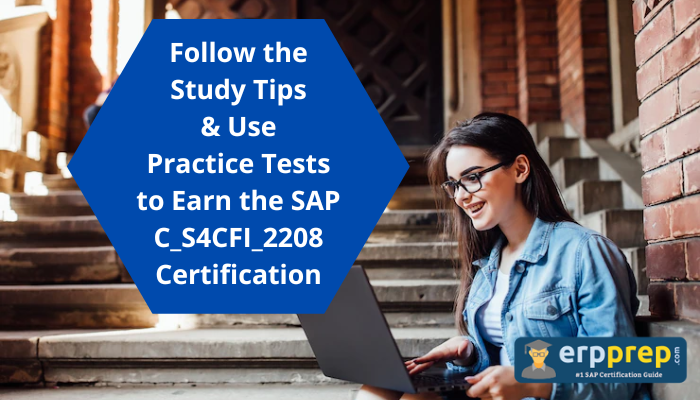 When you prepare for the C_S4CFI_2208 certification exam, boost your preparation level with practice test assessments. Study hard and include reliable materials to earn the SAP Certified Application Associate - SAP S/4HANA Cloud - Public - Finance Implementation certification with ease.
C_S4CFI_2208 or the SAP Certified Application Associate - SAP S/4HANA Cloud (public) - Finance Implementation certification exam is all about validating that you possess the SAP Activate onboarding fundamentals and core knowledge in the Finance line of the business area for becoming a consultant.
What Else Is Proved through the C_S4CFI_2208 Certification?
The C_S4CFI_2208 certification proves that the candidate has an overall understanding and in‐depth technical skills to join as a member of a RISE with SAP S/4HANA Cloud implementation project team with a focus on Finance in a mentored role.
What Is the Level of the C_S4CFI_2208 Certification?
The C_S4CFI_2208 certification exam is suggested as an entry-level qualification. Remember that the 2208 version of the exam is part of the Stay Current with SAP Global Certification program. Once you pass the 2208 version of the exam, be sure to start your stay current methods. You will need to take the Stay Current Assessment for all subsequent major releases via the SAP Learning Hub, beginning with the 2302 release. It helps maintain your SAP S/4HANA Cloud (public) consultant certification status and badge.
What Topics Are Covered Under the C_S4CFI_2208 Syllabus?
The C_S4CFI_2208 exam covers the following topics-
SAP S/4HANA Cloud (public) - Finance Overview

Data Migration

Integration and Extensibility

Business Process Testing

Configuration and Reporting

SAP Activate Methodology and Best Practices

Scope Item Level Implementation and Configuration for Cost Management & Profitability Analysis

Scope Item Level Implementation and Configuration for Financial Operations

Scope Item Level Implementation and Configuration for Treasury Management

Scope Item Level Implementation and Configuration for Accounting and Financial Close C_S4CFI_2208
Preparation Tips to Earn the C_S4CFI_2208 Certification:
Have You Registered for the C_S4CFI_2208 Exam?
If not, make the first step with the registration. You have registered means you know the exam date and will be making the necessary efforts to appear for the exam on time. But, if you keep on planning to take the exam, you may only end up planning rather than taking any action. Therefore, register and solidify your exam-taking approach.
Visit the Official Page for All Necessary Information:
Visiting the official page would help you with knowledge of the exam structure, book links, and C_S4CFI_2208 syllabus topics distribution. Check out the topic weightage and make a schedule for syllabus completion. SAP C_S4CFI_2208 exam syllabus focuses almost equally on all the syllabus domains. Therefore, you won't get much scope for learning selected topics. Some topics could be difficult to understand. Don't get scared and focus on covering the fundamentals of the topics you don't like. Add more to your knowledge base by covering some of the sample questions.
Make Syllabus Completion Easy with A Study Schedule:
You must cover the syllabus topics within time, and a study schedule helps you do so with ease. Making a schedule could be of immense help in covering the syllabus topics on time. Therefore, start your preparation with a chart and follow it till the exam date. This chart must mention all the essential details like what you want to study on a particular day, how much time you want to spend studying what should be your time limit to cover the syllabus topics. Remember, only setting out intentions won't work; therefore, stay devoted to your routine.
Learn the Best with Experts:
Do not hesitate to gain knowledge from the experts. SAP exams need both theoretical knowledge and practical skills. The exams need you to have hands-on training for better applications in the future. Therefore, join the C_S4CFI_2208 certification training and become confident.
Keep Assessing Yourself through C_S4CFI_2208 Practice Test:
You might study hard but be in trouble during the actual exam if you do not take any practical experience of the exam pattern. C_S4CFI_2208 practice tests are here to make you familiar with the exam structure. The C_S4CFI_2208 practice tests are valuable insights providers that help the aspirant grow his confidence over time.
Overview of SAP S/4HANA Finance Cloud:
SAP S/4HANA Finance Cloud is a solution that helps to increase the agility of the finance processes and gain end-to-end analytics.
What Are the Benefits of Using SAP S/4HANA Finance Cloud?:
Manage Cost and Profitability:
Enhance profitably and cost using complete analytics.

With real-time reporting, predictive analytics, and integrated business planning, check out profit and margin contribution.

Manage profitability and analyze customer experience methodologies.
Subscription Based Billing:
Use subscription-based revenue models.

Check out the product and service mix that best suits your customers.

Offer consolidated invoices, manage credit scoring, and resolve disputes with a complete view of the customer.
Revenue Accounting and Reporting Made Simple:
Get familiar with new statutory regulations for revenue recognition, such as IFRS 15, while you support existing requirements.

Deal with orders, invoices, and events from multiple SAP and non-SAP systems.

Earn flexibility by decoupling revenue recognition rules from order entry and billing systems
Treasury Management Is Done with Ease:
Enhance treasury and financial risk processes.

Optimize straight-through processing with audit trails, real-time analysis, and compliance reporting.

Learn about cash flow accurately, manage liquidity efficiently, and mitigate risk proactively.
Support Financial Operations:
Help in collaborative and automated finance operations.

Boost working capital and financial health with real-time data to check customer credit risk, streamline billing, and resolve disputes

Prioritize collections to reduce outstanding sales days.
Effectively Manage Enterprise Risk and Compliance:
Manage enterprise risk and compliance effectively

Integrate and automate processes for risk management, compliance assurance, and international trade

Optimize business operations, protect organizational assets, and improve financial operations.
Bottom Line:
Getting a certification always opens you to new learnings and boosts your skills to new dimensions. Therefore, grab the C_S4CFI_2208 certification and explore more about SAP HANA Cloud.