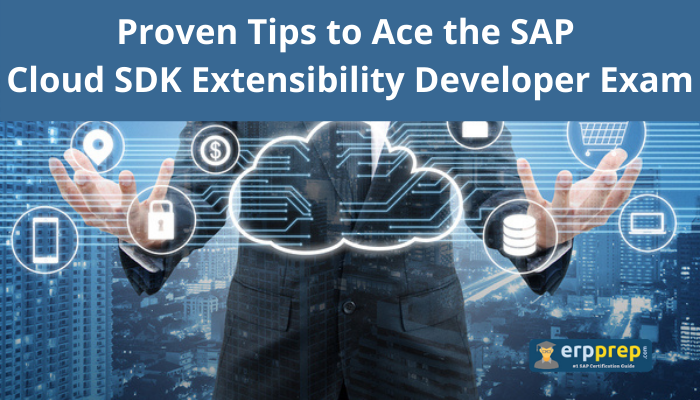 Are you worried about passing the C_S4CDK_2021 exam? Get rid of your worries with some proven study tips to ace the SAP Cloud SDK Extensibility Developer exam in first attempt.
The C_S4CDK_2021, the SAP Certified Development Associate-SAP Cloud SDK Extensibility Developer certification exam, validates that the candidate has the fundamental and core-level knowledge required for the SAP Cloud SDK developer profile.
The C_S4CDK_2021 certification also proves that the candidate has the overall understanding and in‐depth technical skills to join any project and offer to the success of any project under any mentor's guidance.
What Is the C_S4CDK_2021 Exam Structure?
The C_S4CDK_2021 exam is a multiple-choice exam and asks 80 questions. The certification exam is suggested as an entry-level qualification so that any SAP beginner can take the exam. A candidate becomes SAP Certified Development Associate-SAP Cloud SDK Extensibility Developer after passing the exam. He needs to get 65% mark to crack the exam.
What Topics Are Covered under the C_S4CDK_2021 Syllabus?
The C_S4CDK_2021 exam deals with topics like-
Multi-Tenancy

SAP S/4HANA Cloud and Extensibility Overview

SAP S/4HANA Cloud Activate Methodology

Advanced Extensibility Scenarios

Performance Testing

Security

Basic Extension Apps

Side-by-Side Extensibility

In-App Extensibility

DevOps and Continuous Delivery
Preparation Tips to Ace the C_S4CDK_2021 Exam:
1. Accept the C_S4CDK_2021 Exam Challenge and Learn the Exam Objectives:
If you have thought of passing the C_S4CDK_2021 exam, accept the challenge and learn the exam objectives through various means. A candidate carves the path to success when he is confident about the exam objectives and learns them by heart for maximum use. You can use the books like S4C80, S4H13, S4C00, etc., to cover the syllabus topics. SAP divides the C_S4CDK_2021 syllabus in almost equal percentages, so learning every domain becomes essential.
Learning SAP C_S4CDK_2021 topics could be challenging to understand, but there is a solution to every problem. A candidate must join the SAP Training to make their knowledge stronger for the C_S4CDK_2021 exam. The training is a scope to learn from the SAP experts to utilize most of the knowledge in passing the exam.
There are few points to remember during study:
Set a goal and try to cover specific topic areas every day. Take it as a challenge to cover the targeted C_S4CDK_2021 syllabus topic.
Try to write down the important points. Writing down has two benefits. It helps you to remember the topics for longer and saves your revision time.
2. Be Persistent with Your Schedule:
When preparing for the C_S4CDK_2021 exam, your approach should be serious, and you must fix few hours for study. You should not compromise with your study hours for any other activity. Once you decide to study for two hours daily, try to do so without fail. Don't hesitate to take breaks during study hours. You may continuously study for hours without any problem, but when you feel tired, charge up your brain with some fresh air or healthy snacks.
3. Practicing Keeps You One Step Ahead than Non-Practice Takers:
Many candidates fail in their C_S4CDK_2021 exam attempts. The reason behind their failure is a lack of practice. So, don't rely on your preparation only; evaluate yourself through the C_S4CDK_2021 practice test. Continuous practice on the C_S4CDK_2021 practice test helps you to become familiar with the actual exam. You get prepared for the exam in no time through rigorous practicing, evaluating, and working on the weak areas.
Many candidates think of using C_S4CDK_2021 dumps, but they forget that dumps are read-only material and don't help to figure out their strengths and weaknesses. So, remember to choose the proper materials and follow the proven tips to become SAP Certified Development Associate - SAP Cloud SDK Extensibility Developer in your first attempt.
What Is SAP Cloud SDK?
The SAP Cloud SDK is a handy set of libraries and tools for developers to create applications in a cloud-native way and host them on the SAP Business Technology Platform or other runtimes.
What Are the Benefits of using SAP Cloud SDK?
The SAP Cloud SDK is available for Java and JavaScript / TypeScript, providing the following benefits and capabilities:
The set of pre-generated type-safe client libraries for different SAP published OData and REST services allows for convenient consumption and bullet-proof developer experience.

Robust connectivity abstractions help use SAP Business Technology Platform to conveniently manage destinations, authentication, CSRF, e-tags, multitenancy, and more.

The tailor-made type-safe client code generator permits OData services that flawlessly integrate with other SAP Cloud SDK value-adds.

The type-safe client code generator for REST services wraps the open-source generator with custom code templates to make it deeply integrated with other SAP Cloud SDK features.

An easy-to-use CLI offers code scaffolding capabilities.
Bottom Line:
Certifications are always helpful in boosting your career, and when it comes to SAP certification, the C_S4CDK_2021 accreditation plays a vital role in promoting your career. So, study hard and pass the exam.