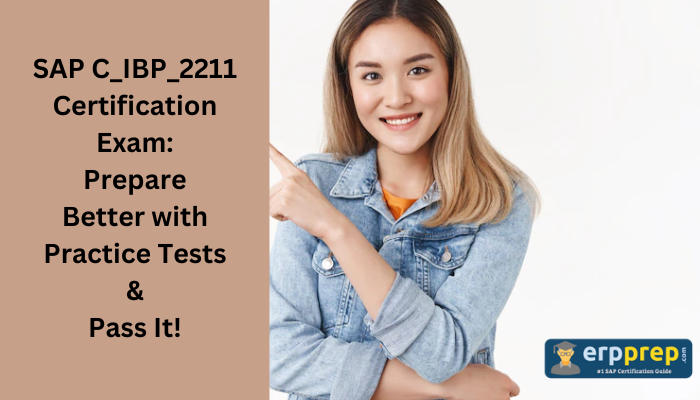 Getting ready for the C_IBP_2211 certification is no longer challenging if you keep solving C_IBP_2211 practice test questions and keep track of your preparation.
What Is Proved through the C_IBP_2211 Certification?
C_IBP_2211 or the SAP Certified Application Associate - SAP IBP for Supply Chain (2211) certification exam is about proving a candidate's fundamental knowledge of SAP supply chain planning.
What Else Is Proved through the C_IBP_2211 Certification?
Through the C_IBP_2211 certification, a candidate proves that he is familiar with the basic and overall knowledge regarding the consultant profile of the industry solutions and can apply his knowledge in practical projects under the leadership of a senior consultant.
Is the C_IBP_2211 Certification of Entry Level?
The C_IBP_2211 certification is recommended as an entry-level certification to make consultants become familiar with the fundamentals of SAP Integrated Business Planning. The aspirants must be aware that the 2211 version of the exam is a part of the Stay Current with SAP Global Certification program.
Once the aspirant qualifies for the 2211 version of the exam, they must get ready to cope with the stay current process. The C_IBP_2211 aspirant needs to take the quarterly stay current assessment for all subsequent SAP IBP releases via the SAP Learning Hub, which starts with the 2208 release to maintain the SAP IBP consultant certification badge and status.
Topics Covered Under the C_IBP_2211 Exam Syllabus:
Here are the C_IBP_2211 exam topics listed below-
Analytics and Reporting

Solution Architecture & Data Integration

Inventory

Model Sales & Operation Processes

Demand Planning

User Interface

Planning Operators & Application Jobs

Key Figures & Attributes

General Configuration of a Planning Area

Supply and Response
Preparation Tips to Pass the C_IBP_2211 Exam:
Take the Registration First Approach:
Register first without delay if you are serious enough to take the C_IBP_2211 certification exam. When you are done with the registration, it means you know the exam date, and you can proceed with a study plan to take the exam in a better manner. Your money gets involved in the registration process; therefore, it is expected that you will be serious regarding the exam preparation.
Official Page Offers Better Ideas Regarding the Exam:
You must learn about the exam structure and figure out the study materials from the sources. Therefore, visit the official page, and get better details on the exam materials to plan a fruitful execution.
Learn the C_IBP_2211 Syllabus Topics from the Core:
Preparing for the C_IBP_2211 exam means you are getting ready for an associate-level certification exam, which makes your base for the future. Therefore, you must set a goal of learning the syllabus domains from the core. When your knowledge base is strong with the syllabus domains, it creates the path to score maximum questions in the exam hall.
Use Your Study Hours Productively:
Staying persistent is the key to success and how much time you devote to exam preparation impacts you highly. Daily studying helps you learn the topics better and stay stress-free throughout the exam preparation. You can follow a study chart while you get ready for the C_IBP_2211, SAP Integrated Business Planning certification. You must mention your daily study plans and goals on the study chart and accomplish the goals regularly. When everything is preplanned, studying becomes easy, and you can use time productively. There is no study hassle when you follow a study chart, and you need to go through the chart daily.
Improve Your Practical knowledge through C_IBP_2211 Training:
Confidence in the theoretical part of the exam is essential, and you can do it through rigorous studying. But you should be practically sound too, and the C_IBP_2211 training helps you to reach that goal. Therefore, join the C_IBP_2211 training and enhance your knowledge with the experts.
Should You Trust the C_IBP_2211 Practice Tests More than Dumps?
Yes, you should. The C_IBP_2211 practice tests are the study material that offers you a real-time experience of the actual exam pattern. You get to learn about time management and will get valuable feedback on your preparation level. Dumps are readily available but won't provide you the scope to have a real exam-like experience. Therefore, try to avoid dumps and rely more on practice tests. Try to learn from these practice test attempts, and increase your focus on the areas, that you are unable to attempt.
What Is SAP IBP?
SAP IBP is a solution that focuses on bringing sales, inventory, financial, and supply planning methods into a single, consistent, and seamless plan. It is a cloud-based solution that aids businesses manage their operational and strategic goals in an integrated environment effectively. Some of SAP IBP's primary features include:
Collaboration across systems in an organization.

Exceptional, user-friendly interface

Real-time simulations for different business scenarios in order to meet the growing business demand, supply, and financial models of an organization.
Here Are the Business Benefits You Get Using SAP IBP:
Sales & Operations Get Better:
SAP IBP for sales & operations is a major part of integrated business planning. The solution allows seamless integration of sales and operations planning within an organization. Typically, the solution includes the steps of supply and demand review, integrations, and balance. Users can easily work on different analyses and integrations, which help them to envision and model different situations. SAP IBP also allows stakeholders to get their long-term strategic plans with short-term operational planning to enhance the utilization, supply, and timely delivery to customers.
Get Better Demand Plans:
SAP IBP for demand offers a precise demand plan which is used to forecast accurately and helps for efficient execution. SAP IBP's ability to calculate exact forecasts using advanced algorithms through demand sensing is extremely beneficial. A fully integrated demand planning helps lower inventory costs and service levels.
Have Advanced Inventory Planning:
SAP IBP for inventory helps in advanced inventory planning for highly complex supply chains. Planners can easily work on single, multi-level inventory optimizations as well as analysis based on different scenarios. This helps to standardize inventory target settings at each level of the supply chain.
Bottom Line:
SAP IBP works as an integral part of the broader SAP S/4HANA ecosystem. The solution has been specifically designed to help different businesses manage complex supply chains and streamline operations at different levels. Therefore, earn the C_IBP_2211 certification and contribute your SAP IBP knowledge for the growth of your organization.