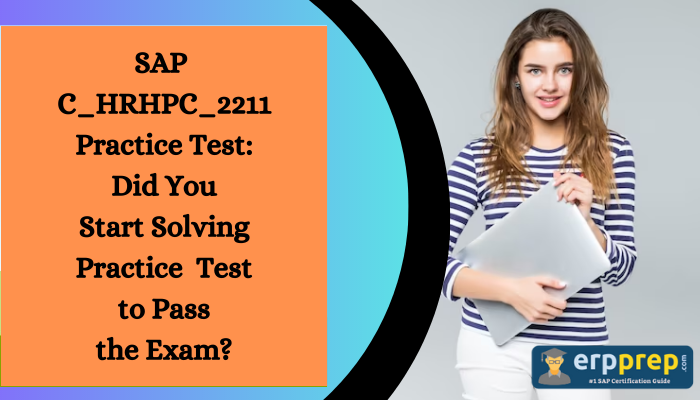 C_HRHPC_2211 practice tests help you to review your preparation level before taking the actual exam. Therefore, study hard and gradually boost your confidence with constant practice.
Overview of the C_HRHPC_2211 Certification:
C_HRHPC_2211 or the SAP Certified Application Associate - SAP SuccessFactors for Employee Central Payroll 2H/2022 certification exam proves that the candidate has the fundamental and core knowledge needed to work on the SAP SuccessFactors for Employee Central Payroll profile.
What Else Is Proved through the C_HRHPC_2211 Certification?
The C_HRHPC_2211 certification also proves that the candidate has an overall knowledge and in‐depth technical skills to join as a member of a project team in a mentored role.
Level of the C_HRHPC_2211 Certification:
The C_HRHPC_2211 certification exam is suggested as an entry-level qualification. Therefore, any newbie could take this exam and earn knowledge regarding SAP SuccessFactors Employee Central Payroll.
What Topics Are Covered under the Syllabus Topics?
The C_HRHPC_2211 exam covers the following topics-
Integration Employee Central Payroll and SAP Financials

Payroll Process using Payroll Control Center

Authorizations In Payroll Control Center

Payroll Processing

Provisioning Settings for Employee Central Payroll

Integration Kronos Workforce Central and WorkForce Software

Payroll Control Center Tools

Payroll Control Center Configuration

Declustered Payroll Results

Point-to-Point Integration (Employee Central, Employee Central Configuration)

Point-to-Point Integration (Employee Central, Employee Central Time Off)
Preparation Tips to Pass the C_HRHPC_2211 Exam:
Explore the Syllabus Topics:
Every C_HRHPC_2211 aspirant must visit the official website and learn about the syllabus topics weightage. SAP exams usually distribute the C_HRHPC_2211 syllabus topics in an almost equal manner. Therefore, a candidate must possess a strong grasp of the syllabus domains to score well in the exam. The stronger your grasp of the syllabus topics, the better the scope to get well in the exam.
Design A Study Schedule:
Write down the best suitable study plan depending on your productive hours. You might be a working professional or a student; make your C_HRHPC_2211 study schedule according to that. Take ample time of about two to three months and balance preparation and regular work accordingly. If you follow a routine, doing any regular work becomes easy; therefore, proceed with a study schedule.
Study Devotedly for a Few Hours:
You might get nervous during exam preparations. It is a fear for many candidates that they need to study for the whole day or for 5-6 hours daily. But, if a candidate studies for 1 to 2 hours daily with devotion, he could also grasp the syllabus well.
Studying becomes easy if you follow a C_HRHPC_2211 exam schedule and decide what you want to study on a particular day. Following your schedule would help you save time from any confusion. Therefore, you would be able to study more effectively within the limited hours. Setting a writing habit is one of the best things to make your learning better. If you write the topics as notes, you can use them later during revision.
Learn from the C_HRHPC_2211 Training:
Having sound practical knowledge is essential to boost your preparation level. Therefore, join the SAP C_HRHPC_2211 training and learn the syllabus topics elaborately from the experts.
Track Where You Stand through C_HRHPC_2211 Practice Tests:
Where do you stand in the exam preparation? Keep track of your weaknesses and strengths through online practice tests. Make yourself exam-ready with real-time practice questions. Solving C_HRHPC_2211 practice tests would guide you regarding your strengths and weaknesses, and you will get a scope to improve further.
What Is SAP SuccessFactors for Employee Central Payroll?
The SAP SuccessFactors Employee Central Payroll solution helps the aspirant to make payments to his workforce in a timely and efficient way. The solution uses automating and accelerating payment processing, reduces the risk of errors, and simplifies payroll management.
Benefits of Using SuccessFactors Employee Central Payroll:
Global Payroll Is More than Ever:
Employee Central Payroll aids over 30 countries in payroll processing out of the box. Since it is based on SAP's proven on-premise payroll product, the user can expect to see the list of supported countries grow rapidly. As the organizations grow around the globe or want more visibility and control in other countries, SAP SuccessFactors helps accurately.
Payroll Cost Savings:
When it comes to global payroll possibilities, SAP SuccessFactors is a leader and is used across the globe. Running payroll in-house is a costly proposition. Reap the benefits of in-house processing coupled with the cost savings from the Cloud with SuccessFactors. The solution easily scales as business demands expand while offering constant innovation without disruption.
Enterprise-Grade Payroll Functionality Offer:
SAP SuccessFactors Employee Central Payroll has all of the robust functionality that is expected from a global payroll solution. The solution is fully integrated with the entire SAP SuccessFactors HR Suite, in addition to the SAP ERP on-premise products. It includes retro pay, garnishment processing, gross-ups, and localized and global standards.
Bottom Line:
Payroll is a vital part of any organization, and when you work with a new solution, integration and configuration processes can be complex. SAP SuccessFactors Employee Central Payroll helps SAP users execute their payroll tasks with ease. Therefore, earn your employee central knowledge with the C_HRHPC_2211 certification and move towards a better career.