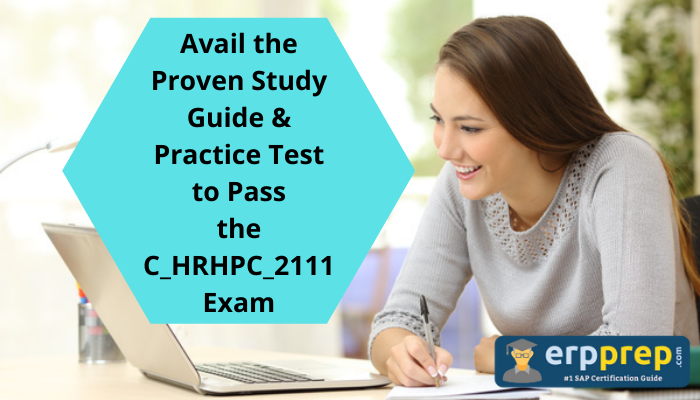 Don't get confused over choosing the suitable material to pass the C_HRHPC_2111 exam. It is proven that practice tests aid better than read-only dumps during exam preparation. Get some valuable tips and learn about the study materials through this article.
Overview of the C_HRHPC_2111 Certification:
C_HRHPC_2111 or the SAP Certified Application Associate - SAP SuccessFactors for Employee Central Payroll 2H/2021 certification exam proves that the candidate has the fundamental and core knowledge needed to work on the SAP SuccessFactors for Employee Central Payroll profile.
The C_HRHPC_2111 certification also proves that the candidate has an overall knowledge and in‐depth technical skills to join as a project team member under a mentor's guidance.
Who Can Take the C_HRHPC_2111 Exam?
The C_HRHPC_2111 certification exam is recommended as an entry-level qualification, hence suitable for candidates interested in working with SAP SuccessFactors Employee Central Payroll.
What Are the Syllabus Topics Covered under the C_HRHPC_2111 Exam?
The C_HRHPC_2111 exam deals with the following topics-
Payroll Processing

Payroll Process using Payroll Control Center

Authorizations In Payroll Control Center

Provisioning Settings for Employee Central Payroll

Integration Kronos Workforce Central and WorkForce Software

Payroll Control Center Tools

Payroll Control Center Configuration

Declustered Payroll Results

Integration SAP SuccessFactors Employee Central Payroll and SAP Financials

Point-to-Point Integration (Employee Central, Employee Central Configuration)

Point-to-Point Integration (Employee Central, Employee Central Time Off)
How to Study for the C_HRHPC_2111 Exam?
Check Out the Syllabus Percentage Distribution:
Exploring the syllabus topics is the first step of the aspirant to start his preparation journey. A candidate can chalk out the more essential topics through the percentage division. The SAP exam syllabus is mostly divided into equal percentages; therefore, the scope of skipping any topic is not much. One can learn about the important book links and resources to take the exam through the official site visit.
Stay Committed to Learning:
Though the C_HRHPC_2111 certification is of associate-level, the C_HRHPC_2111 exam needs a grasp of the syllabus topics. Associate-level certifications are the building blocks of any preparation; therefore, staying committed to learning is a must. Whatever is your study plan, work on that and stay devoted till the exam day.
Use Your Time Productively through A Schedule:
Productive use of your time is a must when preparing for the C_HRHPC_2111 certification. Getting a study schedule could help you in this regard. Be sure about the topics you want to study for a particular day, and work on them. Through prior planning, restrain yourself from deciding the study topics during study hours and wasting any time. Have a focus on studying daily for at least two to three hours and working on limited syllabus topics. Try to get the knowledge from the core through a habit of reading, writing, and making notes.
Learn from the Official Training:
Official training is mandatory if you want to pass the C_HRHPC_2111 exam smoothly. You can boost your theoretical knowledge through studying, but taking the training would enhance your practical skills. You would be able to perfo0rm better during projects through this knowledge.
Track Your Preparation Level through C_HRHPC_2111 Practice Tests:
Don't underestimate the level of any SAP associate-level certification to avoid any difficulty in the exam. You must continuously judge your learning through valuable assessment. During the C_HRHPC_2111 exam preparation, your first task should be learning the syllabus, and the next target should be checking your learning level through C_HRHPC_2111 practice tests. These tests are time-based; therefore, you get the real exam-like experience through these tests. A candidate faces multiple-choice questions and learns about time management within a given time. Moreover, C_HRHPC_2111 practice tests point out the syllabus areas they lack, and knowing the weaknesses boosts the chance to improve their performance in the future.
What Is SAP SuccessFactors Employee Central Payroll?
SAP SuccessFactors Employee Central Payroll is a software that can help you automate and accelerate processing, reduce risk, and simplify payroll management. You can streamline and integrate the global payroll processes to get assurance that your workforce is paid accurately and on time with SAP's cloud payroll management system.
Benefits of Using SAP SF EC Payroll:
Improve employee trust through effective payroll administration.

Reduce costs by harmonizing processes on a single payroll platform that offers localization for more than 45 countries

Enhance user experience with simple and consistent processes across HR, payroll, and time and benefits management.
Bottom Line:
The SAP SuccessFactors Employee Central Payroll solution is fully integrated with the SAP SuccessFactors HCM Suite. It offers an end-to-end solution to assure that employees are accurately paid for their recorded work time and based on their contractual obligations in their core HR system. The solution thus eliminates double data entry and ensures accuracy. SAP's market-leading solutions provide a proven global payroll engine that is effortlessly tied with a leading next-generation core HR system, so the user can be assured that his payroll will be safe, fast, and accurate. Getting the C_HRHPC_2111 certification would ensure the potential employers regarding your SAP SF EC skills and would help you boost your career.