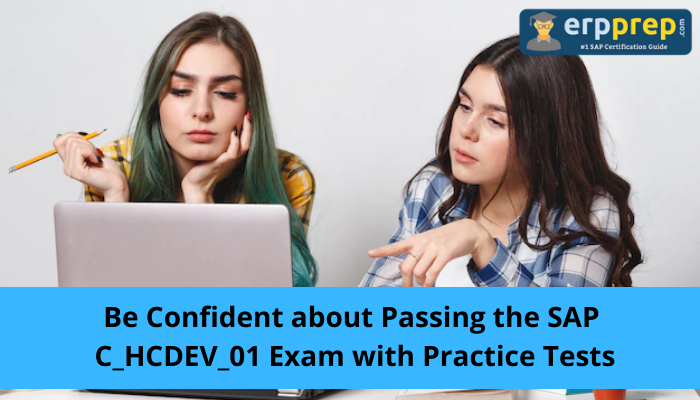 Passing the C_HCDEV_01 exam and earning your SAP Certified Development Associate - SAP HANA Cloud 1.0 certification is simple now. You can assess and boost your preparation level with practice tests, to ace the exam on your first attempt.
Overview of the C_HCDEV_01 Certification:
C_HCDEV_01 or the SAP Certified Development Associate - SAP HANA Cloud 1.0 certification exam verifies that the candidate possesses the knowledge and skills to develop native software applications that run on the SAP Business Technology Platform using the SAP HANA Cloud DB.
The C_HCDEV_01 certification builds on your basic knowledge earned through related SAP HANA Cloud training. The training works on the development tools and a programming model. It is needed to realize the different parts of a software application in SAP HANA Cloud.
What Are the Syllabus Topics?
The C_HCDEV_01 exam covers the following topics-
SQLScript Development

Source Control Using Git

Application Security

Basic Multi-Target Application (MTA) Development

Application Development using the SAP Cloud Application Programming Model

SAP HANA Cloud, Modeling, and Administration Basics

Event Handling and Error Handling

Expose Data as OData Services and Create and Integrate the UI

Persistence Data Model Creation and Deployment
Practical Tips to Earn the C_HCDEV_01 Certification:
Focus on Learning from the C_HCDEV_01 Training:
Learning from the C_HCDEV_01 training is essential to boost your knowledge and earn the certification with ease. Remember, making your theoretical base stronger is vital, but you must be practically sound too to do better in future projects.
Plan the Exam in Advance:
Plan in advance if you want to perform well in the C_HCDEV_01 exam. Stay serious from the beginning with the registration first approach. Fixing a date would help you to plan the exam. Take the exam at least two months after the registration. You might cover the syllabus within one month also, but taking enough time would help you manage your daily tasks and preparation smoothly.
Cover the C_HCDEV_01 Syllabus Topics from the Core:
Some IT exams highly focus on a few topics so that you can put more focus on the higher weightage sections. But for the SAP C_HCDEV_01 certification, the syllabus sections hold an almost equal percentage. Therefore, cover all the syllabus sections from the core to attempt a maximum number of questions during the actual exam.
Be Devoted Towards Your Study Hours:
The best way to learn for the exam is by making a study plan. Set your intentions to cover two to three topics daily, and stay determined to accomplish your daily goals. Find out the most suitable time from your daily schedule, be it early hours of the morning or midnight, and devote these hours in exam preparation in a distraction-free manner.
Enhance Your Memorization Power:
You need to be smart with studying to ace the C_HCDEV_01 exam on your first attempt. Attempting a multiple-choice exam means you must recall the complete syllabus and essential details in one go. You can boost up your memory power through a simple habit of writing. Make out notes from the essential topics. These notes are handy during revision too.
Build up Your Confidence through C_HCDEV_01 Practice Tests:
Time management and self-assessment play a vital role in acing the C_HCDEV_01 certification exam. Attaining C_HCDEV_01 practice test exams will help you in both cases. Regular assessment helps a lot to determine if you are ready to take the C_HCDEV_01 exam. Therefore, complete the syllabus topics and enroll in practice test sessions to get insights into your preparation level.
Get the real-exam experience, be better in time management, and work on the areas you are unable to answer. Thus, gradually build up your confidence with actual analysis. Many aspirants use the C_HCDEV_01 dumps; they study from it but miss the valuable scope of learning about their strengths and weaknesses.
What Is SAP HANA Cloud?
SAP HANA Cloud solution is a fully managed in-memory cloud database as a service (DBaaS). As the cloud-based data foundation for SAP Business Technology Platform, it combines data from across the enterprise, allowing faster decisions based on live data.
Benefits of Using SAP HANA Cloud in Businesses:
SAP HANA Cloud offers users a single place to access, store, and process enterprise data in real-time. SAP HANA offers advanced methodologies for multi-model data processing, both in-memory or on-disk, which are available in the solution.
Organizations that use SAP HANA Cloud can set up and manage SAP HANA databases. The solution connects them to applications running on SAP BTP. The user can also opt for the hybrid deployment, as opposed to solely cloud, for organizations that need a more customized solution. You can get the databases using a variety of languages and interfaces, and users can create applications and models using tools offered by SAP HANA Cloud. It allows them to manage where and how data is accessed and stored.
Decision Making Is Better with Live Data:
Explain the fundamental concepts of Core Data Services context, Core Data Services (CDS) such as Core Data Services entity, Core Data Services association, and Core Data Services view. You can explain the deployment options of the persistence models.
Integrate Data Across Your Enterprise:
Connect to distributed data with native integration, develop applications and tools across clouds and on-premise, and store volatile data.
Develop Trust in Your Business Data:
Tap business-ready information by creating one source of truth. Enable security, privacy, and anonymization with enterprise reliability.
Bottom Line:
Companies benefit from SAP HANA Cloud's ability to offer one source of truth. It is done by connecting with data across various data sources with ease, standardizing and streamlining data management, and reducing data duplication with virtualization and SAP HANA smart data access. Therefore, get your C_HCDEV_01, HANA Cloud Development certification, and enhance your scope to have a stable career.