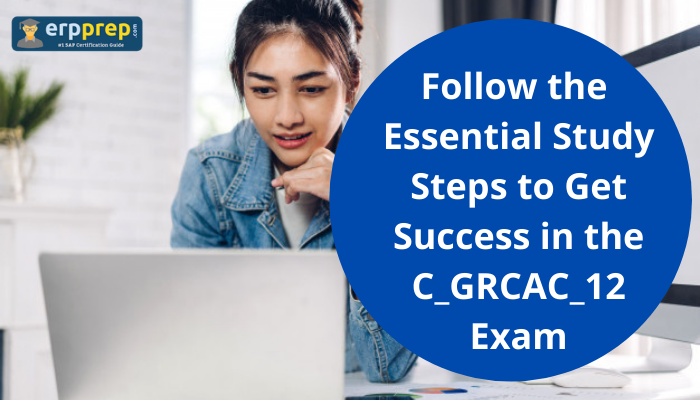 Is your C_GRCAC_12 exam success dependent on something? Yes, it depends highly on your study resources and study plan. Here is a step-by-step guide to passing the C_GRCAC_12 exam.
The SAP Certified Application Associate-SAP Access Control 12.0 or the C_GRCAC_12 certification exam for essentials edition, validates that the candidate has core knowledge regarding the SAP Governance, Risk, and Compliance line of business areas. The certification proves his skills to work as a consultant.
The C_GRCAC_12 certification exam also proves that the candidate has an overall knowledge and in‐depth technical skills to join as a member of an SAP Access Control implementation project. The candidate can focus on SAP Governance, Risk, and Compliance with a mentor's guidance.
What Is the Level of the C_GRCAC_12 Certification?
This C_GRCAC_12 exam is suggested as an entry-level qualification. So, any candidate wishing to make an SAP career can take this exam.
What Topics Are Covered under the C_GRCAC_12 Syllabus?
The exam deals with topics like-
Periodic Review

GRC Configuration Settings

Business Rule Framework

Business Role Management

Access Risk Management

Integration Framework

Emergency Access Management

User Provisioning

MSMP Workflow
What Is the C_GRCAC_12 Exam Structure?
The C_GRCAC_12 exam is an 80 questions long, multiple-choice exam. The exam is 180 minutes long, and you need to get a 61% mark to pass the exam. Passing the exam leads you to become SAP Certified Application Associate - SAP Access Control 12.0.
C_GRCAC_12 Exam Preparation Steps Explained:
Register Early to Take Your Preparation Approach Seriously:
Once you register and start preparing, it is expected that you would take the preparation seriously. If you only think about taking any exam, you might not start taking the preparation seriously, and you can delay taking the C_GRCAC_12 exam without any solid reason. So, register at the beginning, get the exam date, and plan accordingly.
A Study Schedule Is Very Helpful:
It would help if you had a study schedule that mentions your study time, hours of devotion, and key planning to cover the syllabus. When you set a routine for daily study, productivity increases. You don't waste your thinking about what to study, as is already mentioned.
You Should Have A Firm Grip on the C_GRCAC_12 Syllabus:
Once you have written a study plan, it is time to explore the syllabus and start covering the topics. A candidate must have a target of covering two three topics daily. Some topics may take longer to grasp, but try to maintain your schedule. Writing down the C_GRCAC_12 exam topics helps in two ways. You can remember the topics for longer, and you can save revision time using these notes.
SAP Training Is Always Beneficial:
A candidate does not have the capacity to understand every topic on his own. In that case, learning from the SAP experts could help a lot. Get the theoretical and practical knowledge from SAP training.
Take the Winning Step through Practicing Hard on C_GRCAC_12 Practice Test:
"One who practices more wins the race" works well for an IT exam. Only studying and only hard work may lead you towards failure if you do not check your answering speed and recalling capacity. A C_GRCAC_12 practice test could help you assess yourself with real-time questions. Every candidate should practice on the online C_GRCAC_12 practice test before rushing to the exam hall. The practice exams will help you discover if you are able to take the exam on time and which syllabus topics need more attention. Follow the guidance, study more and get ready to score well in the actual exam.
What Is SAP Business Objects GRC Access Control?
SAP Business Objects Governance, Risk and Compliance (GRC) application allows the customers to define policies or rules and enforce these policies through provisioning methods. SAP Access Control helps web services to allow the Identity Management vendors to integrate for compliance provisioning.
Benefits of SAP BO GRC AC:
The solution allows centralized access (and identity) management.

Out-of-the-box rules automatically reduce access and authorization risks.

It protects from improper access to assets automates compliance.

Helps in generating segregation of duties and access management.

You can get real-time oversight and perform real-time detective controls and transaction monitoring efficiently.

The combination of automated IT and Line of Business leads the road to compliance.

You can get quick, effective, and comprehensive identification of risks.

Avoid business obstructions with faster emergency response.

Improve productivity of end-users Mitigate risk through continuous monitoring Effective management oversight.

Provide capabilities for management oversight.

Facilitate internal audit, minimize audit cost & time.
Conclusion:
SAP C_GRCAC_12 certification helps a candidate to learn well about the SAP Business Objects GRC AC. Understanding the topics and gaining the C_GRCAC_12 certification helps a candidate to make his resume stronger for better job roles and improved salaries. So, worry less and say yes to the C_GRCAC_12 certification.