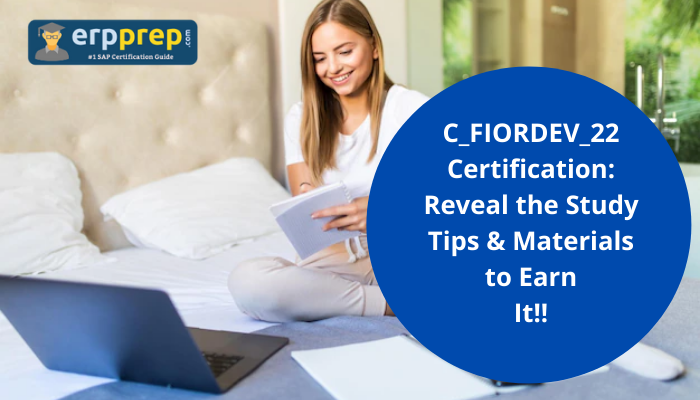 Getting the C_FIORDEV_22 certification needs serious effort, but what is required more is utilizing quality materials. This article will explore more beneficial study tips and resources like C_FIORDEV_22 sample questions and practice tests to ace the exam.
Overview of the C_FIORDEV_22 Certification:
C_FIORDEV_22 or the SAP Certified Development Associate - SAP Fiori Application Developer certification exam validates that the candidate possesses the needed knowledge regarding SAP Fiori application development, which helps to work on the Developer consultant's profile.
What Is the Level of the C_FIORDEV_22 Certification?
The C_FIORDEV_22 certification is an entry-level qualification. The certification works on the basic knowledge earned by a developer from formal SAP Education training. The certification knowledge preferably gets refined by practical experience within an SAP Fiori application development project team under a senior consultant's guidance. The certificate issued for passing the C_FIORDEV_22 exam stays valid for five years.
Syllabus Topics Covered Under the C_FIORDEV_22 Certification Exam:
The C_FIORDEV_22 exam covers the following topics-
SAP Fiori Architecture Overview

SAP Fiori Launchpad Configuration

Extensibility in SAPUI5

OData and Advanced Data Handling

SAP Business Technology Platform (SAP BTP) and SAP Business Application Studio

SAP Fiori Strategy, Standards, and Guidelines

SAPUI5 Foundations

Deployment & Testing

SAP Fiori Elements & Smart controls
Go through the Study Guide to Pass the C_FIORDEV_22 Certification Exam:
Register Early for an Ideal Start for Your Preparation:
You should never spend much time in confusion to deciding the starting point of your preparation. Registration could always be the ideal starting point for your preparation. Early registration would help you to stay organized throughout the preparation. Fix the exam date at the beginning, so you can calculate the preparation time and work accordingly.
Explore the Official Page for Important Details:
Exploring the official C_FIORDEV_22 page might feel simple, but you will get important information from the official page. Discover more about the exam structure, valuable study links, books, and training from the official page. The C_FIORDEV_22 exam is 80 questions long, and the candidate must get a 66% mark to pass the exam. You must keep a look at the details to pass the multiple-choice based question.
Devote Enough Time for the C_FIORDEV_22 Exam Preparation:
The C_FIORDEV_22 exam is an associate-level exam, but do not judge the exam difficulty depending on the level. You must always learn topics from the core with dedication if you are new to SAP. Therefore, take a gap of at least two to three months to get ready for the exam.
Make A Syllabus Acing C_FIORDEV_22 Study Plan:
Completing the syllabus topics would become easy if you proceeded with a study plan. It is essential to have an intelligent study routine to spend a few hours in study and cover the topics with ease. Having a study schedule would help you avoid study time hassles, topic deciding times, and many more. Therefore, make a schedule at the beginning of your preparation and follow it rigorously.
Boost Your Practical Knowledge with the C_FIORDEV_22 Training:
Success in the C_FIORDEV_22 exam depends highly on improving your theoretical and practical knowledge. Therefore, join the C_FIORDEV_22 training and boost your knowledge with experts.
Check Where You Stand with C_FIORDEV_22 Practice Tests:
You must keep track of your preparation level with practice tests if you want to do better in the C_FIORDEV_22 exam. These tests are highly beneficial to point out your strengths and weaknesses. Therefore, keep on taking C_FIORDEV_22 practice exams and try to score higher during these exams. Earning a good score in the practice exams will also assure you to have a good score in the final exam; moreover, you will become a pro at dealing with multiple-choice questions on time.
Earn the Benefits of SAP Fiori with the C_FIORDEV_22 Certification:
Studying and earning the C_FIORDEV_22 certification allows you to work more with SAP Fiori and implement it for your organization's benefit.
Learn More about SAP Fiori:
SAP Fiori is a design system that helps users create business apps with a consumer-grade user experience. The solution turns casual users into SAP experts with simple screens that work on any device. Here Are the Benefits of Using SAP Fiori:
Fulfill Your Business Targets:
The user can speed up onboarding and reduce training time with SAP Fiori. With simple and intuitive screens, users can have their work done faster and more perfectly with greater satisfaction based on how people work.
Create New Solutions:
The SAP Fiori design system offers the templates, tools, and guidelines to make beautiful enterprise apps that users will enjoy working with. With SAP Fiori, you can help assure that your app designs are consistent across all devices.
Make Faster and Better Apps:
SAP Fiori technologies, tools, and templates can speed up how you build, test, and deploy enterprise applications using your favorite development framework. With SAP Fiori, the user can offer a consistent user experience across the apps.
Bottom Line:
SAP Fiori is an easier, more intuitive way to run SAP applications. With the focus on an intelligent, consistent, and integrated user experience, SAP Fiori helps you redefine the way someone works in the age of digital transformation. Therefore, get the C_FIORDEV_22 certification to prove your skills to potential employers, and for elevating your career to a new level.