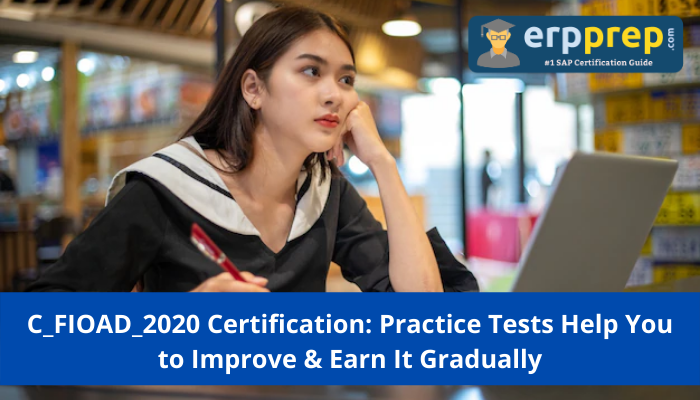 You can easily earn the SAP C_FIOAD_2020 certification by keeping an eye on your preparation level. For better self-assessment, use C_FIOAD_2020 practice tests and work on your flaws effectively.
Overview of the C_FIOAD_2020 Certification:
C_FIOAD_2020 or the SAP Certified Technology Associate - SAP Fiori System Administration certification exam confirms that you possess the fundamental and core knowledge needed to work as a consultant.
What Else Is Proved through the C_FIOAD_2020 Certification?
The C_FIOAD_2020 certification also proves that the candidate possesses an overall understanding and in‐depth technical skills to join as a member of an SAP Fiori team while focusing on system administration in a mentored role.
Can Anyone Take the C_FIOAD_2020 Certification Exam?
The C_FIOAD_2020 certification exam is suggested as an entry-level qualification; therefore, any newbie to SAP can take this exam. After passing the exam, you will earn the SAP Certified Technology Associate - SAP Fiori System Administration certification, and the certification stays valid for five years.
Syllabus Topics Covered under the C_FIOAD_2020 Exam:
The C_FIOAD_2020 exam covers the following topics-
SAP Fiori Infrastructure

SAP Fiori Architecture

SAP Fiori Foundation

SAP Fiori Implementation and Operations

SAP Fiori Content Management

SAP Fiori System Landscape

Technology Components for HTTP-based Communication

AS ABAP System Administration
Some Practical Tips to Pass the C_FIOAD_2020 Exam:
What Should be the Ideal Beginning Point for Your Preparation?
Don't waste much time thinking about the starting point of your preparation. If you start by taking the registration at first, it determines that you are quite serious about taking the SAP C_FIOAD_2020 exam. Fix your exam date at the beginning and prepare accordingly.
Visit the Official Page for Essential Details:
Visiting the official page might feel like a simple task, but you will learn about the exam structure and valuable study and training links from the official page. The exam format for the C_FIOAD_2020 exam is the multiple-choice type, and you need to get a 61% mark to pass the exam.
Take Enough Time to Get Ready for the C_FIOAD_2020 Exam:
The C_FIOAD_2020 exam might be of associate level, but you must plan if you want to pass the exam on your first attempt. Take at least a time gap of two to three months to maintain your daily work and keep the pace of the preparation. You can easily avoid the exam preparation hassle if you have enough time. If your learning power is good, you can also cover the syllabus topics within one month, but taking time would help stress-free preparation.
Make A Study Plan to Cover the C_FIOAD_2020 Syllabus Topics within Time:
Making a study plan would help you cover the syllabus topics within time. You don't need to devote multiple hours to exam preparation, but having a smart schedule helps you cover multiple topics within two to three hours. Note down the topic names and preschedule what you want to study on a particular day. Follow the study schedule during your study hours and save topic selection time. Study for at least two to three hours daily and make the study hours productive by making notes.
Join Online C_FIOAD_2020 Study Groups:
Studying solo could feel boring sometimes, but you don't need to worry about the time of using the internet. There are multiple C_FIOAD_2020 study groups online and forums online where you can discuss and exchange knowledge with like-minded people.
Strengthen Your Practical Knowledge with the C_FIOAD_2020 Training:
Success in the C_FIOAD_2020 exam is highly dependent on combining both theoretical and practical knowledge. Therefore, join the C_FIOAD_2020 training and improve your practical knowledge to work smoothly in future projects.
Keep A Check on Your Preparation Level with C_FIOAD_2020 Practice Tests:
You must keep a check on your learning, and you can do it easily by using C_FIOAD_2020 practice tests. You will get insights into the areas you lack while you keep on solving the practice tests. As industry experts design the C_FIOAD_2020 practice tests, you can have the actual exam experience, and the probability of getting similar questions is high.
Do not get stressed; if you are unable to solve the questions during your initial attempts, take these tests as learning and focus more on the sections you lack. Thus, improve your preparation level gradually with practice tests.
What Is SAP Fiori?
SAP Fiori is a solution that offers an easier, more intuitive way to run SAP applications within the organization. With the focus on a consistent, intelligent, and integrated user experience, SAP Fiori helps restructure how organizations work in the age of digital transformation.
What Are the Benefits of Using SAP Fiori in Businesses?
Accomplish the Business Goals:
SAP Fiori apps can boost onboarding and reduce training time. Due to the intuitive and straightforward screens, users can get their work done faster and more effectively with greater satisfaction depending on how people work.
Develop New Solutions:
The SAP Fiori design system offers you the templates, tools, and guidelines to make beautiful enterprise apps that users love to work on. With the use of SAP Fiori, you can help assure that your app designs are consistent across all devices.
Get Improved and Faster Apps:
The tools, technologies, and templates of SAP Fiori can boost how you test, build and deploy enterprise applications using your favorite development framework. SAP Fiori allows you to have a consistent user experience across your apps.
Bottom Line:
The SAP Fiori solution offers a quickly-deployable digital user experience for the enterprise. The solution is used by more than 6,500 customers and is available in multiple languages. The biggest benefit of SAP Fiori software is that it allows IT to become a strategic business partner and helps employees to work more effectively. Therefore, start your SAP Fiori career with the C_FIOAD_2020 certification to contribute to the success of your organization.